What is GrabBuklat? 
GrabBuklat is a service from Grab that allows passengers to donate books to selected schools under Teach for the Philippines. 📚
How does it work?
1. Look for GrabBuklat on your App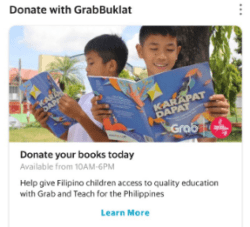 2. Input Pick-up Point. 
3. Type "GrabBuklat" as your destination and select the closest available drop off point to you for the lowest fare.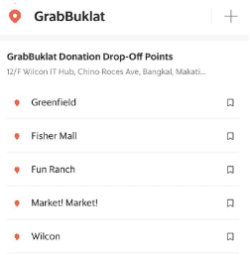 4. Book. The fare will be matched by Grab. Total collected fares from the campaign will be used to purchase school supplies for selected schools.
*Please note that the delivery will be carried out by our partner-riders via motorcycle. The maximum total package weight is 20kg 🛵
Terms and Conditions:
Campaign duration- Sept 18 (Wed) – Sept 25 (Wed)

Operating Hours:

10AM

– 6PM

The service is only available on the app to users within the servicing areas
Book specifications:
Story books for Grades 4-6 / Ages 6-10

Reference books for Grades 4-6 / Ages 6-10 

Young adult books for Ages 10-16 

Reference books for high school Science 
For reference- Grades 4-6 and Young Adult