Grab, Victory Liner team up on P2P bus rides for Clark, Dagupan, and Olongapo routes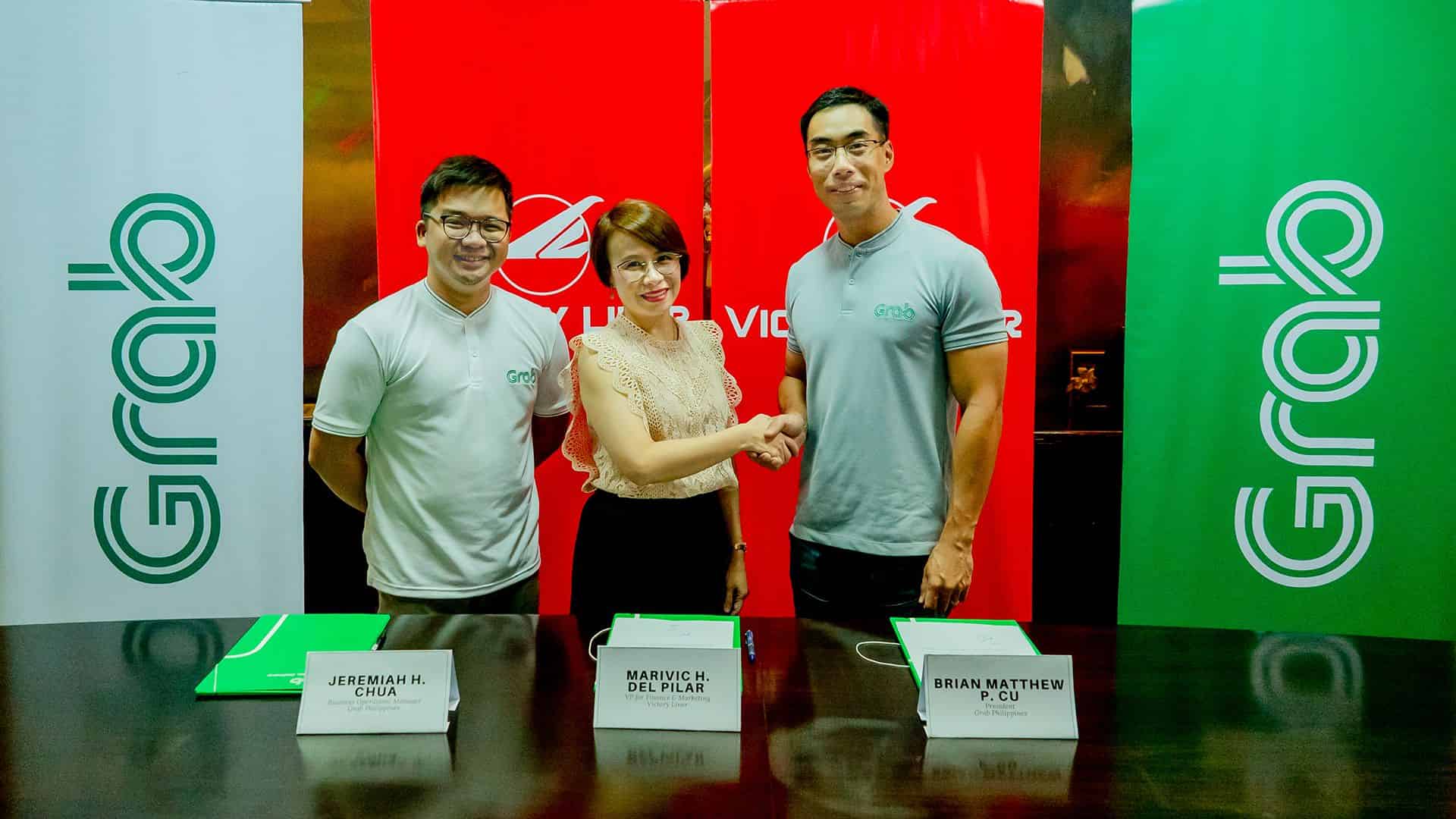 Photo: (from left) Jeremiah Chua, Grab's Bus Marketplace Business Operations Manager; Marivic del Pilar, Victory Liner's Vice President for Treasury and Marketing – Victory Liner; Grab Philippines President Brian Cu
Quezon City, Philippines—Two of the country's most recognized names in the transport service sector recently launched its partnership which now enables Filipino commuters to book a Victory Liner bus ride to and from Clark-Dagupan, and Clark-Olongapo through the Bus Marketplace feature in the Grab app.

In signing ceremonies at the Victory Liner offices, Marivic del Pilar, Vice President for Treasury and Marketing met with Grab Philippines President Brian Cu and Jeremiah Chua, Grab's Bus Marketplace Business Operations Manager, in an event touted as a landmark partnership that could eventually become a model even to other Point-to-Point (P2P) bus services in Northern and Central Luzon.

"This partnership is based on our mutual desire to give innovative services and convenience to our Filipino commuters. Thru the powerful technologies provided by Grab, our kababayans abroad can go straight from the airport to their homes using the Grab application," says del Pilar

"Grabbing a bus ride to the North is as easy as using your smartphone," adds del Pilar. Though Victory Liner has its online booking services, it only caters to services provided by their provincial buses from Manila to other points in Northern and Central Luzon.

With Grab, commuters can now book a Victory Liner ride going to and from Clark-Dagupan City, and Clark-Olongapo.

Clark is one of the fastest rising megacities in the Philippines, with its sprawling Clark City and international airport.

Dagupan, Pangasinan's principal city, meanwhile, has a significant OFW population who rely on Victory Liner buses to reach the Clark international airport in a jiffy. Victory Liner is the only bus service company granted with authority to ply the Clark-Dagupan P2P route.

"As we continue to be a reliable partner to many Filipinos, we are excited with this new partnership that we launched with the Victory Liner, which for seventy-five years remains as the number one bus services in Luzon. Now, many of our kababayans in Central Luzon can enjoy safe, reliable, and best-in-class services from both Grab and Victory Liner. Through this partnership, Filipinos can skip the long lines and do more things that matter to them – through Grab and Victory Liner," says Brian Cu Grab Philippines President.