What is G! Pass?
A best value for your money subscription that allows passenger to pay an upfront amount to access discounted rides for a time period.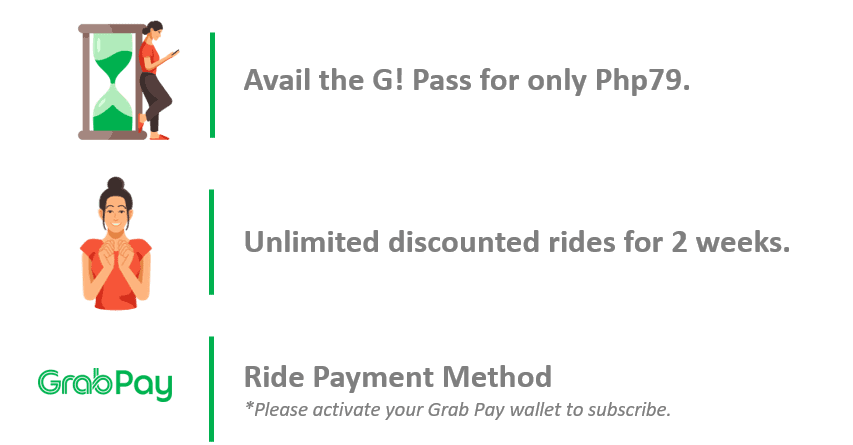 How to Subscribe to G! Pass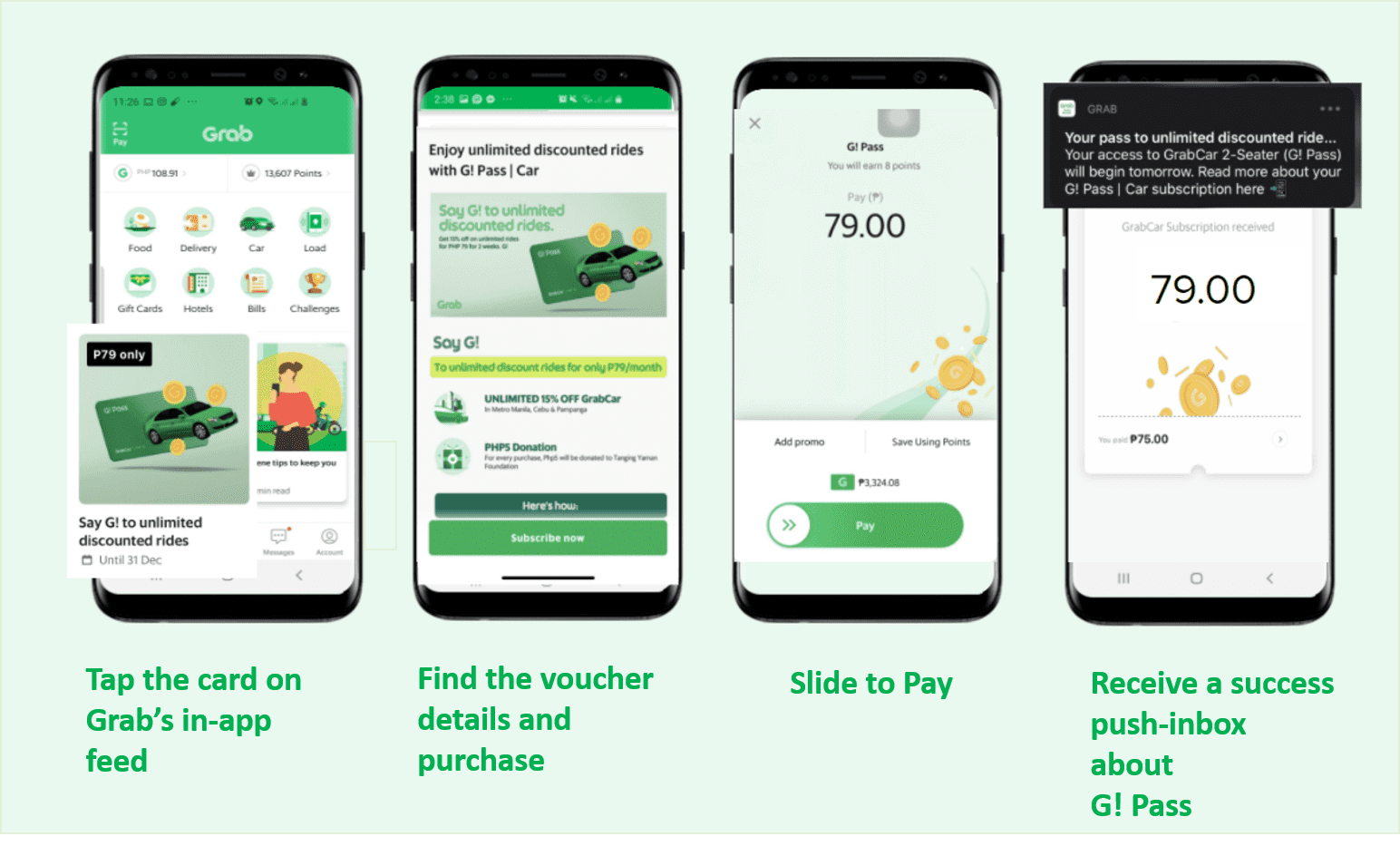 Terms & Conditions
Transport G! Pass is valid for 14 days from the start of the activation date. The up to 15% discount will be valid on that period and will appear as  GrabCar 2-Seater (G! Pass)

Access to GrabCar 2-Seater (G! Pass) starts 24 hours after purchase.

Discount is valid for unlimited rides within the activation period.

Valid in GrabCar cities only (Metro Manila, Cebu & Pampanga)

Not convertible to cash.

Mandatory discounts and other GrabCar discounts/promo codes are not applicable to the discounted GrabCar.

G! Pass only be purchased with GrabPay credits.

Rides on GrabCar 2-Seater (G! Pass) can only be paid with GrabPay credits.

The subscription fee is non-refundable.

Grab reserves the right to make changes to your plan at any time. Users will be notified in advance via email and/or in-app notification

Grab reserves the right to withdraw, amend and/or alter any part or the entire terms and condition of this promotion at any time without any prior notice if it believes that that subscription transaction may be suspicious, illegal, involves any criminal activity or involves points that have been obtained through dishonest or fraudulent means or abusive behavior.

Grab also reserves the right to disqualify any participant(s) and/or reject any participant(s) for the subscription, including users who are using modified devices or have unauthorized or modified apps installed in their devices, as such tools may have the potential to modify Grab's intended user experience and compromise privacy and account security of users.

Subscription Plans are only available on the latest version of the Grab App.
How to Activate GrabPay Wallet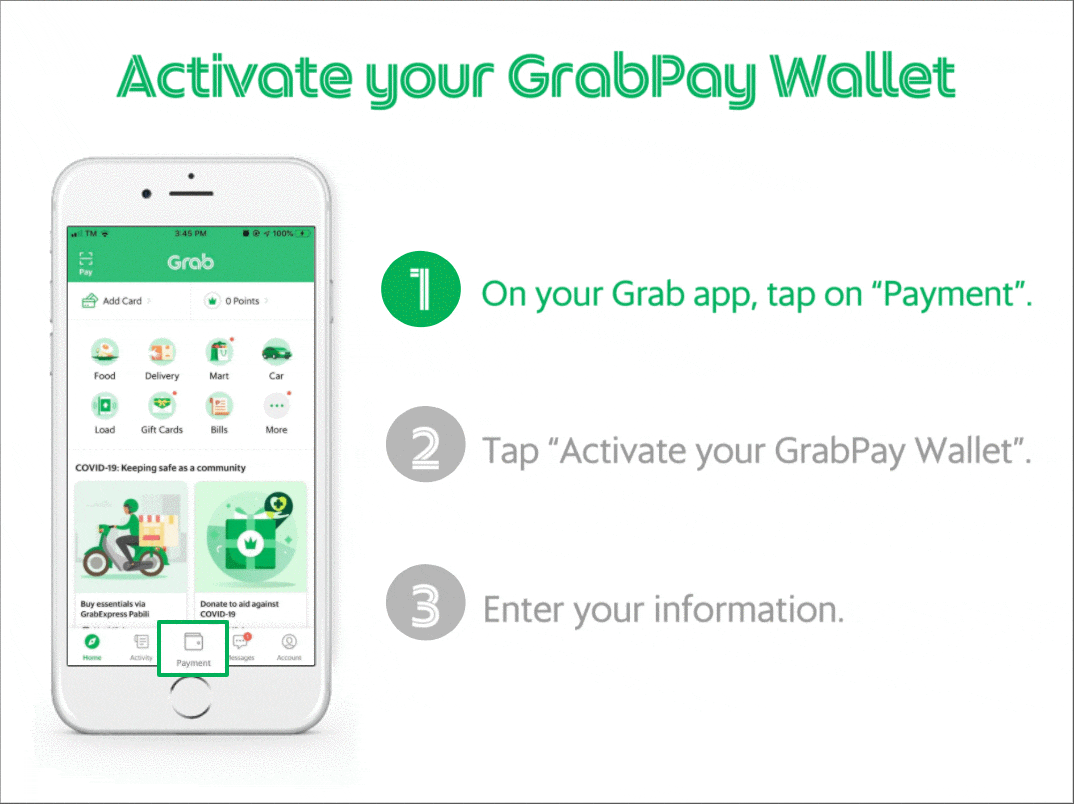 👉 To activate GrabPay: Tap 'payment' on the bottom of your Grab app > 'activate your GrabPay wallet' > key in the required information (make sure you have a valid ID on hand)
👉 To add balance to GrabPay: Tap 'payment' > 'cash-in' > select your preferred cash-in method (debit/credit card, 7-eleven CliQQ machines available!)
👉 To pay with GrabPay: tap on the bottom left icon on the GrabCar booking screen and select GrabPay as your payment method > tap on 'GrabCar (GrabPay)' > click the green button to book your ride
Frequently Asked Questions
Q: Can I use my credit card to buy the subscription?
     A: No, you may only avail of the GrabCar subscription with GrabPay Credits.
Q: What payment methods will the discounted GrabCar accept?
     A: Only GrabPay Credits.
Q: How will I know if my transaction to buy the discounted GrabCar subscription is successful?
     A: If the transaction is successful, you should receive an auto-generated message in your Grab inbox.
Q: I cannot see the discounted GrabCar in my Transport booking options
     A: Check if the person really bought the subscription on gamma. 
     A: Please check your GrabCar booking screen and tap "view all" to see all the booking options".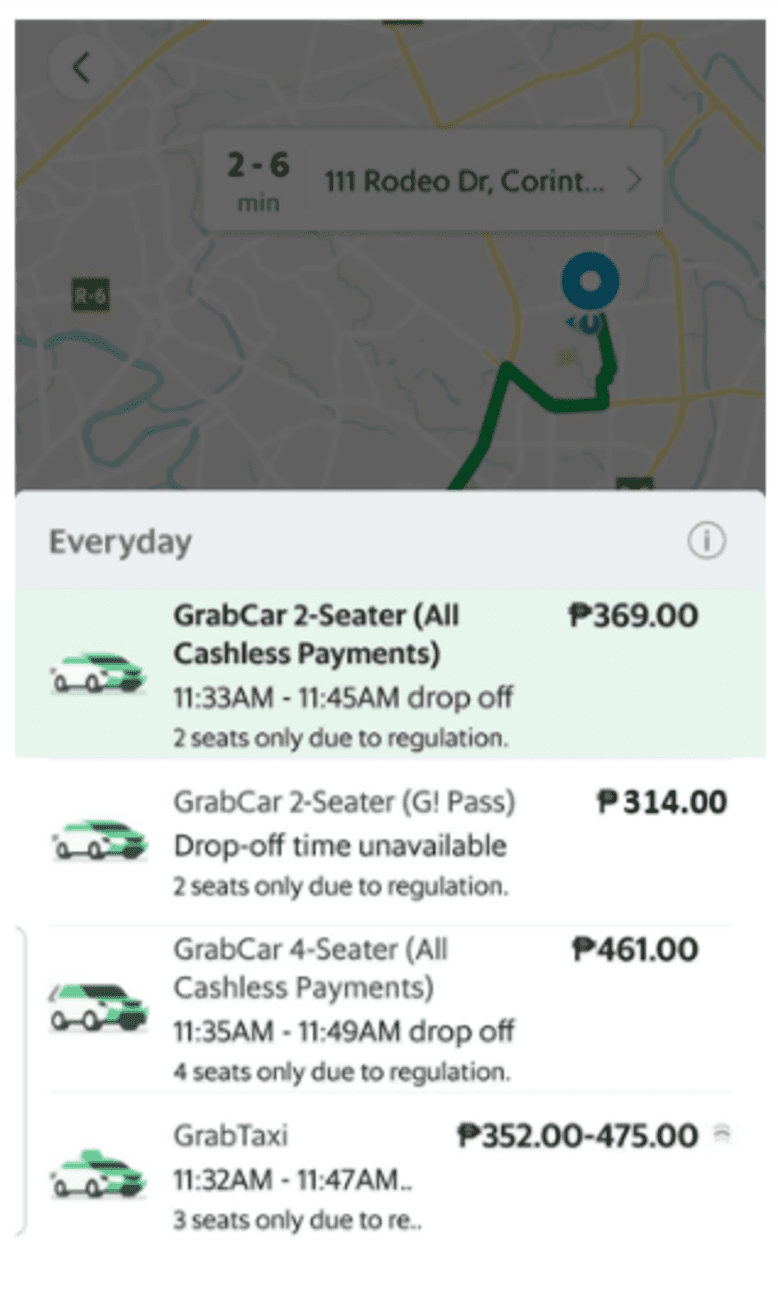 Q: What happens case of a lockdown before my subscription starts?
     A: Purchased subscriptions will be carried over to the next subscription validity period.
Q: I want to refund my subscription
     A: Subscriptions are non-refundable. Should there be any cycle-wide refunds because of situations related to COVID-19 government policies, passengers will be informed.
Q: I purchased a GrabCar G! Pass but didn't receive a voucher.
     A: The GrabCar G! Pass discount is not executed through vouchers, but via a new GrabCar option on the booking screen. To access the discount, please look for GrabCar G! Pass upon choosing your booking options.