It's time for the biggest and grandest festival in Cebu! GrabFood brings the Sinulog experience with homegrown flavors, and Grab is promoting one of the best ways to maximize your Sinulog experience through Rent by Grab!
The Sinulog season is definitely one of the busiest times in the metro. That means crowded streets and packed restaurants everywhere you go. A definite buzzkill when you've got a grumbling stomach at any time of the day but with GrabFood within your reach, you can easily have your favorites in the quickest, most convenient way possible.
More GrabFood partners are in on the fun this month, and you really shouldn't miss out. For a minimum order of P450, you get P50 off from the following restaurants with promo code NOWONGF: There's Bricklane Doughnuts, Country Basket Pastries, Ochado To Go, PicaBean Coffee House, Sophia's Bread & Pastries, Flapperz, Top 'N Dog, Senyor Silly, Wow Chicken Proven, Go With The Float, Cucina Capriccio, Rudy's Bahalina, and more.
And of course, Cebu's household favorites are in on the Sinulog GrabFood feast. First on the list are the affordable grillers from Yakski Barbecue. Get them by the piece or choose from their pre-set individual combos, and get a taste of their much-loved signature sauce.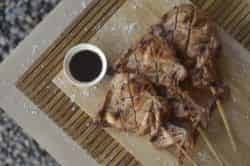 Dimsum Break outlets are ready to serve you this Sinulog season. From their signature steamed dim sums and snack bites, you can add everything to your heart's content on your basket.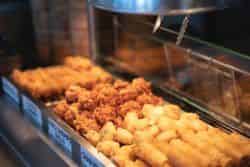 When a bit tight on the budget, a cheaper but just as delicious alternative is Braddex Batchoy & Steamrice. This is one local restaurant that Cebuanos love for their low-cost dim sum and delicious twist to Chinese food.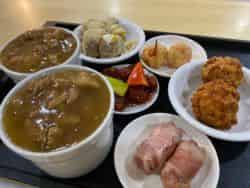 And for the ultimate comfort food that will make any party better, Handuraw Pizza has you covered. Get all your preferred pizza flavors delivered right at your doorstep without breaking a sweat, or waiting in long queues.
Celebrate in full spirit with your choices of liquor from Boozy. Have your beer, gin, whiskey, vodka, or wine delivered to your location within 30-minutes.
Without a doubt, GrabFood has got everything covered, and will surely keep your Sinulog party going. But a gentle reminder folks, no liquor within 100 meters of the procession and grand parade routes.
And when we say GrabFood's got you, that also extends to bringing you a much better way to experience Cebu. Make sure to try Grab's latest feature, Rent by Grab! Book in advance to see Cebu's prime destinations and discover more about the Philippines' oldest city. Choose between a sedan good for four people, or a van that fits a group of ten. Go with any of these tour packages:
Mountain Tour — a 4-hour visit to Temple of Leah, Sirao Flower Garden or Terrazas de Flores, Tops Lookout, and La Vie in the Sky.
City Highlight — your private 6-hour tour to Basilica del Santo Niño, Magellan's Cross, Fort San Pedro, Taoist Temple, Mactan Shrine, and 10,000 Roses. You can also opt for Heritage sites like Plaza Independencia, Cebu Archdiocesan Museum, Casa Gorordo, and more.
South Adventure — enjoy a 10-hour trip to picturesque places in the South of Cebu. Take a pick between Oslob for whale watching, Tumalog Falls, Sumilon Island, Moalboal Beach, Kawasan Falls for Canyoneering, Osmena Peak, Mantayupan Falls, and Simala Shrine.
You can even customize your itinerary and start your tour wherever you are in Cebu City, Mandaue City, and Mactan Island. See sights, shop for pasalubongs, and transfer to another destination in one go at your convenience — all for a fixed price!
Syagit ug kusug Cebuanos, because you're in for a huge treat! Keep your app updated to see the latest GrabFood deals and promotions this Sinulog season.