This year, GrabPay became a licensed and regulated e-money mobile wallet by the Bangko Sentral ng Pilipinas. Therefore, all GrabPay wallet users are required to confirm their identity to comply with regulation.
Note that you are not yet required to upgrade your GrabPay wallet at this point. You are only required to finish consumer identification for the basic wallet.
HOW TO CONFIRM YOUR IDENTITY
Confirming your identity gives you access to the GrabPay basic wallet.
Have a valid government ID ready.

We accept any of the following: Passport, Driver's License, NBI Clearance, UMID, TIN ID, SSS, Voter's ID, or  Postal ID.




Launch the Grab app.




Go into your GrabPay wallet by tapping on the

Payment

icon on your bottom navigation bar.




On your GrabPay wallet screen, tap on

"Confirm Your Identity"

. (Pictured below)

To confirm your identity, we will be asking for the following: your full legal name, birthdate, place of birth, nationality, number of a valid government ID, and your home address/es.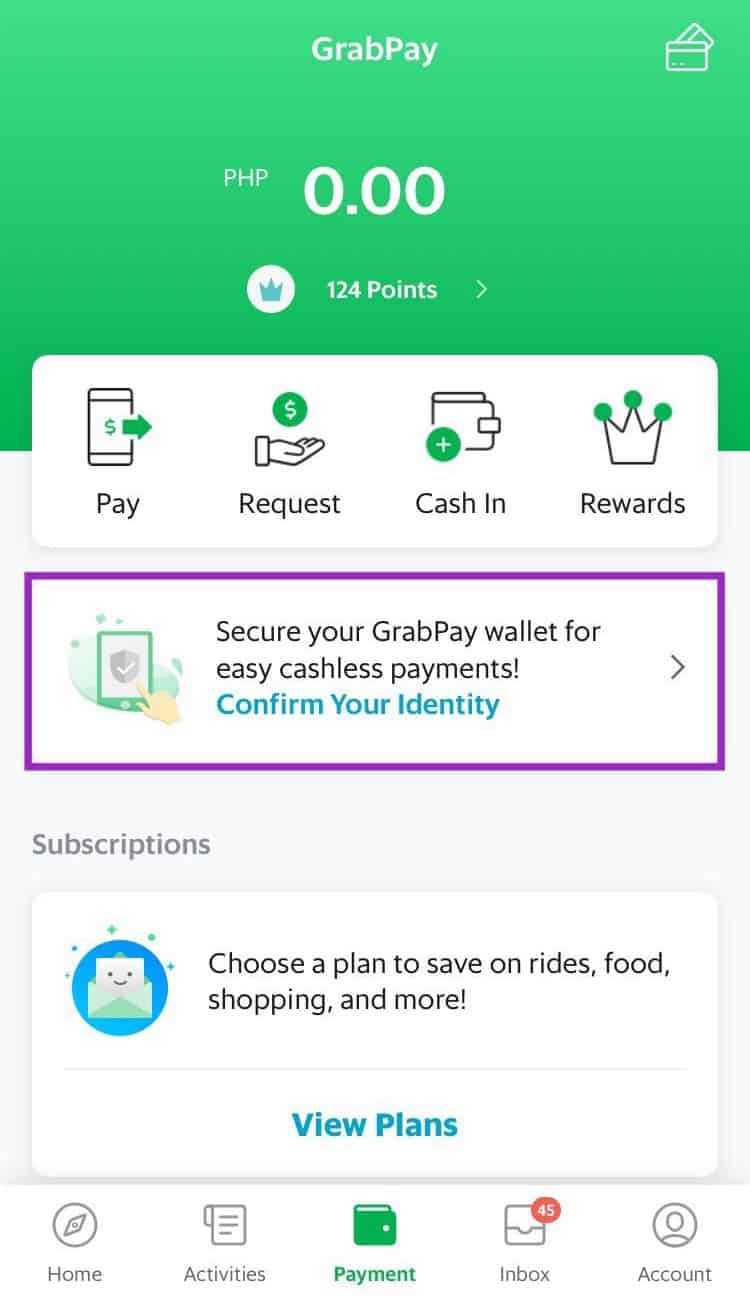 This process takes only 3 minutes! (You only need to unlock the basic wallet. You can skip the wallet upgrade for now.)
WHY CONFIRM YOUR IDENTITY?
To keep the wallet safe and compliant with BSP, we need to make sure that every user of the GrabPay wallet is a real person. Knowing our consumers helps us create a secure payments platform that can mitigate the risks of fraud, identity theft, money laundering, and other illicit activities.
"DO I NEED TO UPGRADE MY GRABPAY WALLET?"
No, you do NOT need to upgrade your wallet to continue using your GrabPay balance for now. As soon as you reach this screen, you can tap on "Later".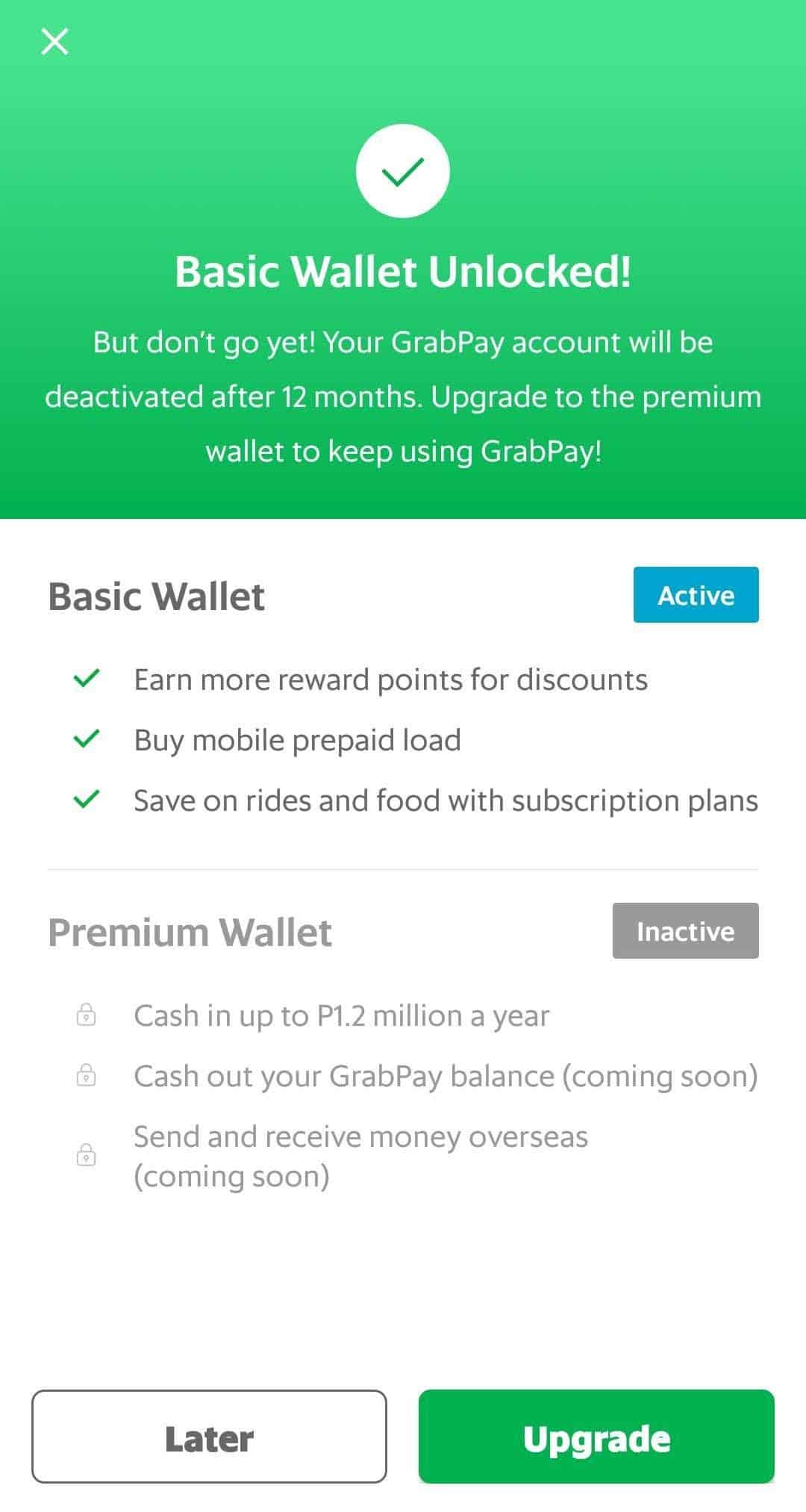 However, you are free to upgrade to a GrabPay premium wallet to get early access to new and exciting features!
WHAT WILL HAPPEN TO YOUR GRABPAY WALLET?
After July 8th, you will notice that there is no option to dismiss consumer identification. Whenever you tap on any transfer, payment, or cash-in action with your GrabPay wallet, you are always prompted to confirm your identity.
You simply need to complete the one-time process to confirm your identity, so you can resume using and loading your GrabPay wallet. As mentioned above, this takes only 3 minutes!
WHAT ARE YOUR OPTIONS AFTER JULY 8TH?
There are different ways that you can re-enable your wallet or withdraw your GrabPay balance. Here are all the options you can consider:
Option
What is it?
How long will it take?
Confirm your identity in the Grab app.

Confirm your identity on the Grab app to activate your GrabPay basic wallet. This will only take a few minutes.

Upon completing this process, it will instantly re-enable your GrabPay balance for spending.

Less than 3 minutes

All done in the Grab app!

GrabPay Wallet Account Closure

Convert your GrabPay balance to Grab ride vouchers.

(Up to a maximum of PhP 500.00)

If you have GrabPay balance of PhP 500.00 or less, you can convert your money into Grab ride vouchers.

Vouchers will be awarded in increments of PhP100.00. Your balance will be rounded up.

Use this form to submit your request.

The form will be available from July 8th onward.

7 – 10 working days

Refund to my cash-in method.

(Debit and Credit Card holders only.)

We will return your GrabPay balance to their source credit or debit card(s).

Use this form to submit your request. Only possible for users who have loaded balance using a credit or debit card that is saved in the GrabPay wallet.

We are unable to refund card-based cash-in using Dragonpay.

This form will be available from July 8th onward.

7 – 10 working days for Grab to process your refund.

(Your bank may take up to one month to reflect the refunded amount in your credit card statement.)

Transfer your GrabPay balance to a local bank account

Use this form to submit your request.

Note that we will require proof of identity for this option.

This form will be available from July 8th onward.

10 – 15 working days

REACTIVATING YOUR GRABPAY WALLET ACCOUNT
If you have any questions or require assistance with your GrabPay wallet, you may use the form in this Help Centre page to reach out.
When you close your GrabPay wallet, you will be unable to load and store GrabPay balance in your app. You will also lose access to deals, discounts, and other perks exclusive to GrabPay balance users.
If you decide in the future to use your GrabPay wallet again, you can simply reactivate it by completing the consumer identification process described on this page.
"Can I still pay with my credit or debit card after I close my GrabPay wallet?"
Yes, you can still use your saved credit or debit cards in the Grab app. Closing your GrabPay wallet will not affect your ability to use your cards to pay for rides, food, and deliveries.
YOUR PRIVACY MATTERS TO US.
The GrabPay team is committed to protecting your personal data according to Grab's data collection and privacy policy as well as the Philippines' Data Privacy Act.
You can learn more about your GrabPay wallet by checking our FAQ.