Grab Celebrates 1st Year Anniversary in Cambodia with day of discounts
Phnom Penh, Cambodia, 19 December 2018 – Grab, the leading Online-to-Offline (O2O) mobile platform in Southeast Asia, is celebrating its one-year anniversary in Cambodia today with discounts for passengers and commission-free ride for all driver-partners for the day. For the […]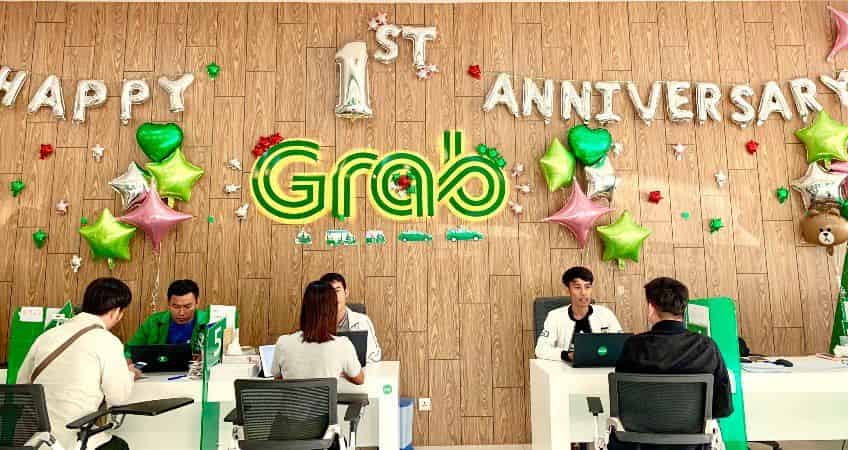 Phnom Penh, Cambodia, 19 December 2018 – Grab, the leading Online-to-Offline (O2O) mobile platform in Southeast Asia, is celebrating its one-year anniversary in Cambodia today with discounts for passengers and commission-free ride for all driver-partners for the day.
For the 19 December anniversary date, Grab is offering one 50% discount ride, capped at KHR 10,000, and is rewarding all of our driver-partners with 0% commission charges for the entire day.
"Thank you users and drivers for helping to make Grab's first year in Cambodia such a success. Since the start of our operations in Cambodia, we've been committed to working with the government to provide safer, more efficient and more reliable on-demand transportation services for the public, while creating better earning opportunities to driver-partners. With the support of the government, we've expanded from Phnom Penh to Siem Reap, introduced four fixed-fare services – JustGrab, GrabBike, GrabTukTuk and GrabRemorque – to remove the hassle of fare haggling, and helped drive greater digital inclusion and improve road safety in Cambodia. We look forward to another strong year ahead and deepening our commitment in these areas," explained Grab Cambodia Country Marketing Head Sotheavy Heng.
Since Grab's entry into the Kingdom of Wonder in late 2017, it has quickly gained a leading position in the ride hailing market, and has embarked on numerous projects with the Royal Government of Cambodia, development agencies and the private sector to help improve road safety and traffic management, and support sustainable urban mobility  projects.
In January, Grab signed a Memorandum of Understanding (MoU) with the government's Anti-Corruption Unit, which clearly signaled Grab's commitment to adhere to stringent business ethics, to build trust in the communities in which it operates, and to support the long term development of Cambodia
In April, Grab expanded to include ride-hailing services in Siem Reap, the gateway to the world famous Angkor Wat and one of Asia's most popular tourist attractions. In addition to making transport in and around Siem Reap safer and more convenient, Grab launched the GrabRent service to allow visitors to Angkor Wat Archaeological Park to benefit from great prices, convenience and the professionalism of Grab's specially selected driver-partners through whole-day bookings; GrabRent is also now available in Siem Reap.
In June, Grab and UNDP signed a Public-Private partnerships to enhance safe and clean transport for all. The 3-year Sustainable Urban Mobility for All Initiative (SUMAI) aims at improving availability and quality of transport data in Phnom Penh to better inform policies and investment decisions in support of sustainable and smart urban transport solutions. This partnership was the first project to come from the February MoU between Grab and UNDP.
In the same month, Grab also signed a MoU with Impact Hub to grow and foster Cambodia's startup ecosystem. Through this collaboration, Grab Cambodia has been engaged in local dialogues on building Cities of the Future and has been actively supporting businesses that address issues relating to urban mobility through the Urban Mobility Incubator.

November saw the unveiling of Grab for Business and GrabRewards in the Kingdom. Grab for Business allows companies and organisations to easily and efficiently facilitate and pay for transport options for their staff. It removes the need for time-consuming and inefficient reimbursement systems, allowing both staff and firms to better spend time and resources. Meanwhile, the arrival of GrabRewards in Cambodia brings better value to Grab's customers, rewarding them for their use of Grab services with loyalty points to be redeemed for exclusive discounts in the Grab app.  
Earlier in December, Grab announced its ongoing partnership with the Ministry of Public Works and Transport to raise transport safety standards for the industry and to assist the ministry's ongoing efforts to promote safe driving and road use across the Kingdom. Grab will also provide sponsorship of safety helmets and reflection stickers to the MPWT. The reflective stickers bearing MPWT's safety slogan will be installed on GrabTukTuk vehicles, boosting night-time visibility. In addition, Grab and MPWT will hold monthly GrabTukTuk parade to raise further public awareness of road safety. Grab has introduced specific enhancements for users and driver-partners, namely Share my Ride, personal accident insurance, and the Emergency Button, as well as telematic monitoring of drivers to ensure no one is driving when tired.
And alongside all of these partnerships and hard work, Grab also made time for activities that aim to bring benefits to a wide selection of Cambodian society. These included a donation campaign for Kantha Bopha children's hospital, supporting World Cleanup Day, and the Pink Walk to raise awareness of breast cancer.
"Our first year has clearly been busy, and we are proud of the partnerships we have forged to promote road safety and good business practices. These have all helped transport drivers in Cambodia to boost their incomes and work more safely, and for passengers in Phnom Penh and Siem Reap to conveniently, safely and affordably find the right travel solution for them," noted Ms. Sotheavy.
With the expansion of Grab services in Cambodia, the growth in GrabRewards and Grab's further rolling-out of its everyday services, the next year for Grab promises to be even busier and more productive.