Grab Launches Business Transportation Expense Management Solution in Cambodia
Grab offers new corporate solution, Grab for Business, after a successful 5-month trial in Phnom Penh

Grab for Business enables HR and finance professionals to manage business transport expenses efficiently, enjoy payment flexibility and set ride policies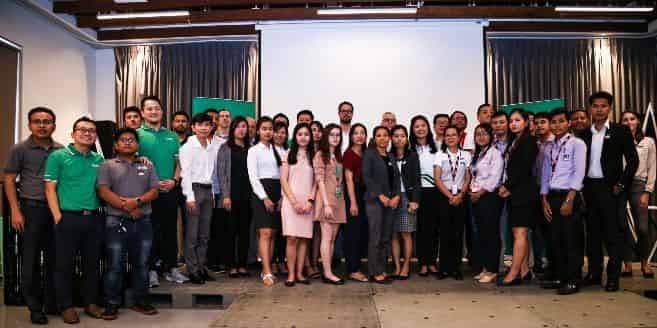 Phnom Penh, 15 November, 2018 – Grab, Southeast Asia's leading ride-hailing company, today
launched a new corporate solution in Cambodia, Grab for Business, a transport expense management solution designed for business users across the capital. The launch comes after a successful 5-month trial with 30 firms in Phnom Penh, with Grab providing safe and convenient business commute to employees, covering a total distance of more than 10,000 kilometers to over 600 unique locations within the capital.
Grab for Business offers businesses a productive way to manage their transport spending. It eliminates tedious manual claims processing and reporting for employee reimbursements, give companies better control through customized policy settings and ensure accountability through transparent data reporting to safeguard established company policies around business transport.
"Companies should focus resources on business growth and serving their customers. We see an opportunity to provide an end-to-end transport solution for companies – to help them modernise and streamline their transportation expense management through our technology platform. From rides to receipts to reimbursements, Grab for Business offers a seamless experience and help businesses save time when it comes to managing day-to-day corporate transport expenses," said Sotheavy Heng, Acting Country Head and Country Marketing Head, Grab Cambodia.
Making administration easier for companies
Rides booked with Grab can be tagged as business rides and assigned to corporate groups within the Grab app. All rides would be synced to the Grab for Business web portal, a single tool for businesses to organise and oversee employees' travel. Features include:
Track and manage travel expenses by cost-centres, departments and project teams:

Use the groups feature to sort ride statements, and enjoy the flexibility of assigning different payment modes by groups or individuals. Keep track of specific group travel by scheduling automated weekly or monthly reports to be sent to your work email.

Set preferred corporate payment options:

Provide flexible payment options to employees, including automatic charging to corporate credit cards

or allowing the use of personal credit cards or cash.

Set and easily enforce ride policies:

Company executives can manage travel expenditure by setting ride policies to regulate when and where employees are allowed to claim for business travel, based on set locations, times and days. For example, policies can be set to cater for business meetings or late-night rides.

Save time by reducing paperwork:

Rides booked through the Grab app will be automatically consolidated in the Grab for Business portal in real-time, complete with ride information including the employee name, travel date and time, pickup and drop-off location,

fleet type

and selected payment mode. This makes

approval administration a breeze and

removes the usual pain points of manual processes, such as scanning hard copy receipts and penning down trip details.
Employees can access ride history online for easy claims
The Grab for Business portal is also available  to all Grab users, enabling them to:
Separate business and personal rides effortlessly:

Tag rides as business or personal using the Grab app. All rides booked through the Grab app are automatically updated and categorised in the Grab for Business portal.

Consolidate all receipts for easy reimbursement:

Employees can download e-receipts of all completed rides using the Grab for Business portal. The search function makes it easy for business users to download a history of past business rides whenever needed.
Grab for Business is available to corporate customers in the eight countries that Grab operates in, Singapore, Indonesia, the Philippines, Malaysia, Thailand, Vietnam, Cambodia and Myanmar. Companies can get more information and sign up at www.grab.com/kh/business/