Grab Unveils 'Safer Everyday Tech Roadmap' in Cambodia, and Collaborates with Transport Ministry to Raise Transport Safety Standards
Grab partners MPWT and other government agencies and ministries across Southeast Asia to address each country's top transport safety concerns

Safer Everyday Tech Roadmap comprises product enhancements that aim to eliminate preventable incidents, encourage safer user habits and drive long-term changes in road behaviour

Will double investment in safety measures across Southeast Asia in 2019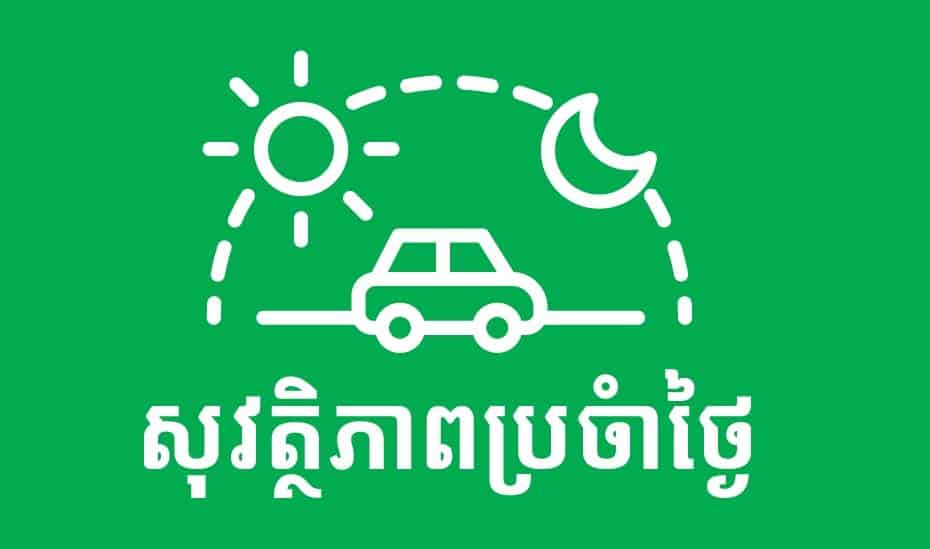 Phnom Penh, Cambodia,  14 Dec 2018 — Grab, the leading Online-to-Offline (O2O) mobile platform in Southeast Asia, today announced the signing of a Memorandum of Understanding (MoU) with the Ministry of Public Works and Transport (MPWT) to strengthen, promote and develop the existing partnership in supporting road safety in Cambodia. Grab also unveiled its 'Safer Everyday Tech Roadmap' comprising product enhancements that aim to raise transport safety standards for the industry.
Grab will utilise its regional Safer Everyday Tech Roadmap, which comprises product enhancements that aim to raise transport safety standards for the industry, to assist the ministry's ongoing efforts to promote safe driving and road use across the Kingdom. This includes measures specifically aimed at changing user safety habits – such as driver fatigue monitoring and telematics reports for drivers to encourage safer driving habit. The goal is to drive long-term road behaviour change and reduce the chance of incidents.
Heng Sotheavy, Acting Grab Cambodia Country Head said: "Both Grab and MPWT share the common mission of ensuring the safety of all road users in Cambodia and are committed  to working together more closely to promote transport safety. This is why we've always seen it as our responsibility to invest in new safety features and initiatives. Today, we are going a step further by strengthening our support of the MPWT's Road Safety Campaign, which will encourage stronger awareness of road safety and traffic regulations across Cambodia, as well as promote better driving behaviours to ensure the personal safety for drivers and passengers. We thank the MPWT for their support and the opportunity to collaborate with them."
In Cambodia, Grab is collaborating with the MPWT to host a series of road safety training workshops for GrabTukTuk driver-partners at the General Department of Public Work and Transport. These workshops will cover the fundamentals of road safety and highlight best practices aimed at preventing and reducing road accident. All training sessions are sponsored by Grab and provided free of charge to select Grab driver-partners.
Grab will also provide sponsorship of safety helmets and reflection stickers to the MPWT.  The reflective stickers bearing MPWT's safety slogan will be installed on GrabTukTuk vehicles, boosting night-time visibility. In addition, Grab and MPWT will hold monthly GrabTukTuk parade to raise further public awareness of road safety.
Partnering with governments to support local safety priorities
Outside of Cambodia, Grab has also partnered with government agencies across Southeast Asia to develop tailored, localised initiatives that address their top safety concerns. Southeast Asia contributes a disproportionately high 25% of worldwide road traffic fatalities, and the public and private sector can drive more impact and engage more people by working together.
Tan Hooi Ling, Co-founder, Grab said, "We're committed to working with governments in every country that we're in to support them in their safety priorities. I am glad to say we've raised the bar for safety standards of the overall transport industry in the region. Our goal is to bring to zero the number of incidents that are completely preventable, and as far as possible, reduce the number of road accidents."
Safer Everyday Tech Roadmap
The product enhancements in the Roadmap are guided by four safety principles:
Know who you ride with

:  More transparency and peace of mind for passengers through driver selfie authentication, in addition to Grab's stringent background checks to ensure quality assurance of drivers.

Get help when you need it:

The Share My Ride and Emergency SOS features currently available on the passenger app will be extended to drivers where they can share their live location with loved ones.

Build new and safer habits

: Grab's analytical tools allow the app to help drivers understand how they drive and where they can improve. The driver fatigue monitoring system will send reminders based on how long a driver has been active without rest in between trips. Grab has also started rolling out telematics in Cambodia. Drivers will  regularly receive telematics reports on their driving patterns like speeding, acceleration and braking, with more parameters to be added over time. Since the rollout of telematics regionally, there has been a 50% reduction in speeding incidents and 20% reduction in hard braking and sudden acceleration, which are potential causes of road accidents.

Protected at every touchpoint: Safety on the Grab platform is comprehensive, with robust app fraud detection, secure transaction mechanism, and data protection.
Grab's Safer Everyday is a regional campaign which aims to drive local safety initiatives across the eight countries where Grab operates.