Grab unveils priority pick-up points at both Aeon Malls to boost convenience during Chinese New Year celebrations
Phnom Penh, 1 February 2019 — Hailing a Grab ride home after a rewarding shopping, eating and entertainment-filled visit to Aeon Mall 1 and Aeon Mall Sen Sok will be much easier during the Chinese New Year festival, thanks to […]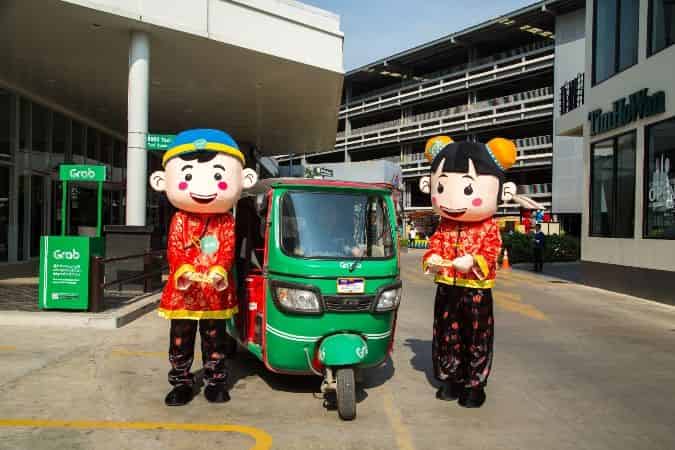 Phnom Penh, 1 February 2019 — Hailing a Grab ride home after a rewarding shopping, eating and entertainment-filled visit to Aeon Mall 1 and Aeon Mall Sen Sok will be much easier during the Chinese New Year festival, thanks to new priority pick-up points at both malls in Phnom Penh.
With two dedicated Grab areas at Aeon Mall 1, and another at Aeon Mall Sen Sok, it doesn't matter how many shopping bags you have, quickly grabbing a GrabTukTuk, GrabRemorque, JustGrab car or GrabSUV to your next destination is more convenient than ever, explained new Grab Cambodia Marketing Head, Sotheavy Heng.
"A good ride-hailing experience is one that is quick, secure and as convenient as possible, and the priority pick-up at Phnom Penh's most popular venues is just another example of how Grab Cambodia is driving the Kingdom's ride-hailing landscape."
In addition to the pick-up points which will be available throughout the week of the Chinese New Year festival, Grab is bringing traditional New Year games and activities to both malls. Lion dances, traditional Chinese clothes to try on, and a Nin Fa tree covered in Ang Pao or "Red Packets" offer chances to win great prizes between February 1 and February 7.
"Grab is Asia's leading ride-hailing app, and recently celebrated its 3 billionth ride journey since launching in 2012, and these Chinese New Year activities are our way of sharing the festive joy during one of the world's largest festivals," Ms. Sotheavy added.  
Visit the Grab booths at both Aeon Malls and show proof on your Grab app that you have taken a ride in 2019 to qualify for a red packet. Don't worry if you don't already have Grab downloaded, as the staff will help you on the spot, meaning that everyone has a chance to win prizes including TVs, JBL speakers, tshirts, and discounted Grab rides.
Chinese New Year, also known as Spring Festival, celebrates the start of the new year according to the Chinese calendar, and is a time each year when families get together to have fun, and wish for wealth and good luck in the coming year. It is a popular time for shopping for gifts, and finding parking spots at major attractions can be a challenge, making Grab the perfect transport solution for a quick and stress-free festive period.