Sovico Group and Grab to sign a comprehensive strategic partnership
Digital integration in the field of mobility and logistics services.
Improve service offerings to our consumer base.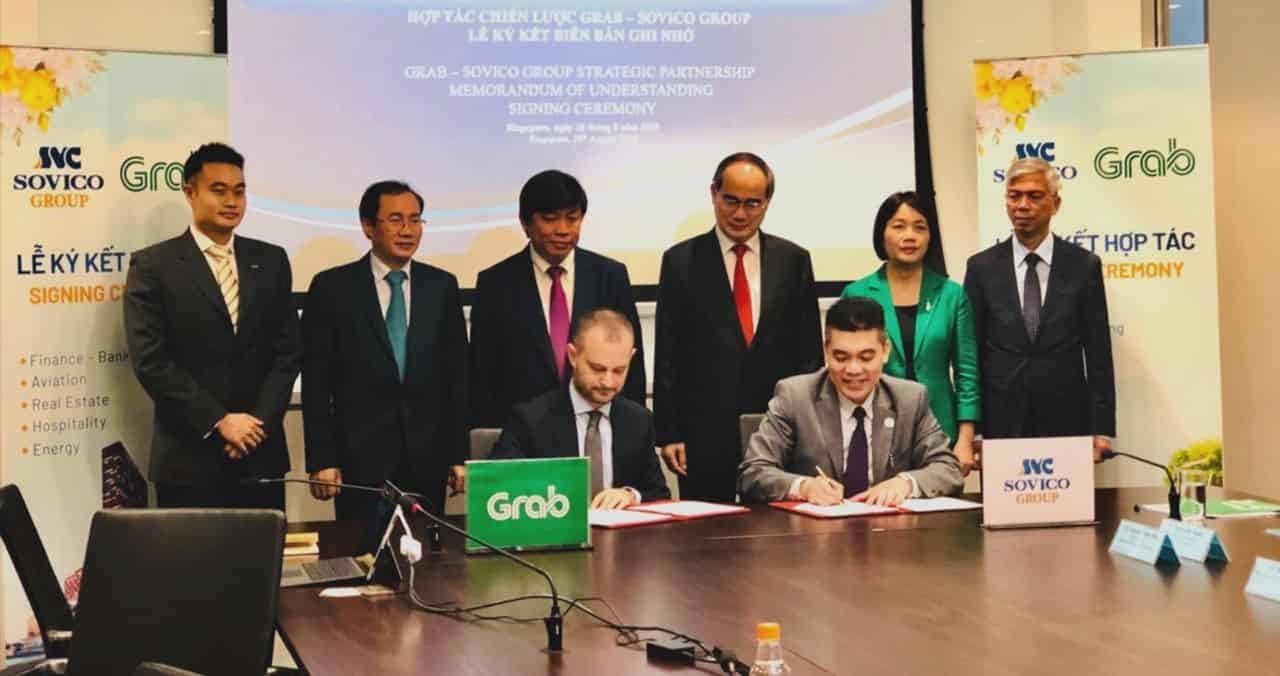 Singapore, August 28, 2019 – Grab Holdings Inc. ("Grab") and Sovico Group today announced a comprehensive strategic partnership to collaborate on mobility and logistics solutions to solve bottlenecks and improve the first and last-mile delivery networks of Vietnam and Southeast Asia. 
Witnessed by H.E Nguyễn Thiện Nhân, member of the Vietnam Politburo, Secretary of Ho Chi Minh City's Party Committee, the MoU signing marks a great partnership milestone in region between the leading superapp of Southeast Asia and one of the biggest multi-industry conglomerates of Vietnam. To digitize the mobility infrastructure of Vietnam in the long term, the two parties will explore collaboration opportunities in electric vehicle infrastructure; and explore and develop integrated digital solutions.
As part of the strategic partnership, Grab and Sovico Group will also jointly share, explore and participate in Corporate Social Responsibility and Public Private Partnership projects. The shared vision reflects Sovico Group's deep commitment to developing and deploying digital solutions and Grab's #TechforGood vision to use technology as a good force in improving Vietnamese people's lives. 
The partnership consolidates the leading positions of both Sovico Group and Grab in respective professionalism. To execute, Sovico Group brings its expertise and capabilities in international and nationwide aviation network, finance, real estate, and hospitality. Similarly, Grab's platform and technology help significantly augment the current Sovico's digital services and to customers and to the economy of Vietnam and the whole region.
"Together, we will work closely to leverage one another's advantages, and explore collaboration opportunities in multiple fields, with a focus on digitalization, aviation and road mobility. We believe that this partnership will bring about critical improvements for both parties, as well as provide more products and services to the large customer base of the two sides", said Phạm Khắc Dũng, Deputy Managing General Director, Sovico Group.
Welcoming the partnership, Russell Cohen, Head of Regional Operations of Grab, said: "As a leading super app in the region and in Vietnam, we aim to make substantial contributions to the national digitalization of transport, delivery and payment industries. Through the partnership with Sovico, a multi-sector conglomerate of Vietnam, we will take a big step towards completing our ecosystem, providing customers with better services, and benefiting our partners with more innovative solutions."
In July 2019, Grab and Sovico Group's affiliates, including VietJet, Swift247, teamed up for a partnership that will provide better first to last mile logistics service and develop smart payment solutions. With technological solutions of Swift247, Grab and Vietjet will be able to connect air flights with road transportation, delivering the goods via GrabExpress delivery services and Vietjet aircrafts within 5 hours between Hanoi and Ho Chi Minh City.
Collaborating with Sovico Group is a further step of Grab in fulfilling its long term commitment in the country, better benefit customers with more added values, which include, but not limited to mobility, logistics and cashless payment. Grab has just announced an investment of US$500 million more into Vietnam in the next 5 years.