(Please scroll down for English)
Bạn có chuyến bay xa vào tuần sau? Hay một cuộc họp mà bạn không thể tới trễ? Đặt xe với tính năng "Chuyến xe hẹn giờ" của Grab ngay để sắp xếp lịch di chuyển thuận tiện nhất và an tâm tập trung giải quyết những công việc quan trọng khác. Với "Chuyến xe hẹn giờ", hệ thống sẽ tự động nhắc bạn về thời gian và thông tin chi tiết của tài xế, giúp bạn khỏi lo lắng theo dõi việc đặt xe. 
*Tính năng này chỉ áp dụng cho dịch vụ GrabCar 4 chỗ.
*Áp dụng tại Hà Nội & Tp. Hồ Chí Minh.
Vì sao tôi nên sử dụng tính năng "Chuyến xe hẹn giờ"?
Đặt xe trước, dễ dàng sắp xếp lịch trình


Bạn có thể đặt chuyến GrabCar trước tối đa 07 ngày

Được ưu tiên khi đặt xe


Hệ thống sẽ ưu tiên sắp xếp xe cho bạn vào đúng thời gian bạn đã đặt
Tôi có thể đặt trước chuyến xe GrabCar như thế nào?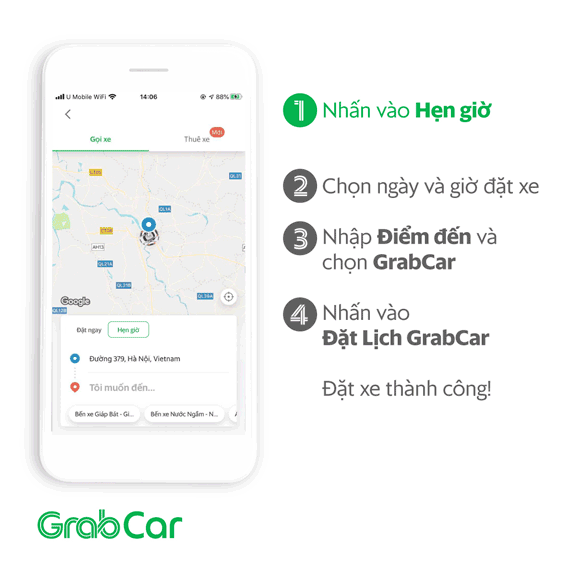 1️⃣ Nhấn vào Hẹn Giờ
2️⃣ Chọn ngày và giờ đặt xe
3️⃣ Nhập Điểm đến và chọn GrabCar
4️⃣ Nhấn vào Đặt Lịch GrabCar. Đặt xe thành công!
* Giá dịch vụ là biểu giá linh hoạt và có thể thay đổi khi nhu cầu tăng cao.
* Giá cước đã bao gồm 10.000đ phụ phí đặt trước.
* Phí "Xe chờ quá 5 phút" sẽ được áp dụng với mức phí là 10.000đ.
Phí "Xe chờ quá 5 phút" được áp dụng khi khách hàng không có mặt tại Điểm đón trong vòng 5 phút kể từ khi tài xế tới Điểm đón, khiến tài xế buộc phải huỷ chuyến. 
---
[English version]
A flight to catch next week? An important meeting you absolutely can't be late for? Plan your ride with an advance Grab booking so you can keep your mind on the things that are truly important. You don't even need to keep track of your advance booking: you'll be notified with your driver's details when it's time for your booked ride.
*This feature is currently available in Hanoi & Ho Chi Minh.
*This feature only apply for GrabCar 4 seats.
Why book your Grab in advance?
Plan ahead for assurance


Book GrabCar rides up to 7 days in advance

Prioritised booking


To ensure you get a ride
How to book your ride in advance?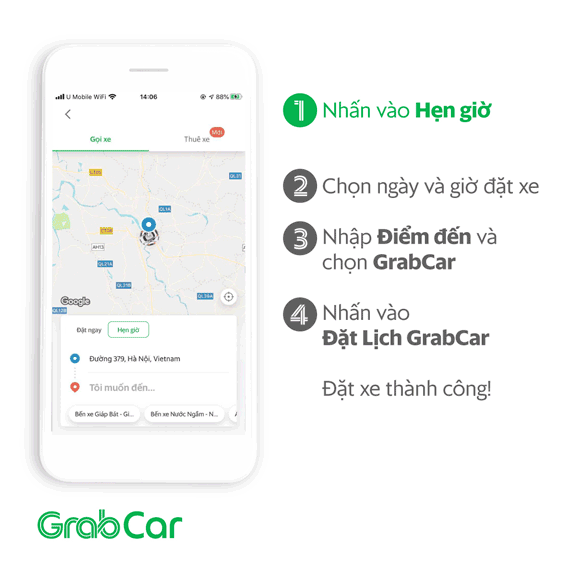 1️⃣  Enter locations and select Later
2️⃣  Enter desired date and time
3️⃣  Select GrabCar
4️⃣  Tap Schedule GrabCar to confirm your ride. Your driver's details will be sent to you when it's time for your scheduled ride.
* Service fee is the estimation cost that could be change due to the high demand.
* Quoted fare range includes a VND10.000 scheduling fee.
* No Show Fee will also be applied. A No Show Fee of VND10.000 will be applied when Passenger does not show up at Pick-up point after 5 minutes since Driver arrived at Pick-up point.