From 03/02/2020 until 02/03/2020, when using any service on Grab app, you can receive thousands of fantastic deals from partners of Grab, Moca and take a chance to get Grand Prize as a Gold Mouse statue.
*Please update the latest app version (v5.8.0) to join the challenge!*
Để xem tiếng Việt: Nhấn vào đây
1. OVERVIEW
The Grab Zodiac challenge campaign will run in Vietnam from 03rd February 2020 to 02nd March 2020.
All Grab users are eligible to participate in the campaign and gain promotion vouchers. However, with the Grand Prize (Gold Mouse), employees of Grab and Moca (including full-time and part-time employees, and consultancy) won't be eligible to win and get Grand Prize (Gold mouse).
Users will have a chance to receive one zodiac coin whenever they make any of the following transactions on Grab app using either cash or cashless payment methods:

Transport (GrabBike, GrabBike Premium, GrabCar 4 seats, GrabCar 7 seats, GrabCar Plus, JustGrab)
GrabFood 
GrabExpress
Payment at stores using Moca Wallet on Grab app
Mobile phone credit top-up (valid for all telco provider) & Data 3G/4G purchase (valid for Mobifone and Viettel only)
Purchase in-app deals (Deal Dinh dealbooks) or Grab Travel Pass card
Purchase Grab subscription plans
Peer to peer payment
Eligible rides are GrabBike/ GrabBike Premium/ GrabCar/ GrabCar 7/ GrabCar Plus/ JustGrab rides which are booked and completed on Grab app, and do not include rides cancelled by customers or drivers. Ineligible rides are fraudulent rides: rides without customers or drivers do not complete the drive as booked on Grab app.
There are a total of 12 zodiac coins that can be collected.
The campaign is only applied for users who use Grab's services in Vietnam.
The number of coins awarded may be restricted for some transactional types to prevent users from abusing existing game mechanics.
Coins will be allocated randomly to users. Participants need to use various types of services and payment methods which are available on Grab app to be able to get full 12 zodiacs.
If a user collects all 12 zodiac coins, he/she will be awarded the grand prize and be informed by inbox message via Grab app and/or Email that he/she used to register for Grab account.
Grab has the right to use the names and other non-sensitive information of winners for communication.
The challenge can be finished earlier than informed when there are 28 winners for grand prizes.
Winners have the responsibility to pay tax according to Vietnamese government's laws. These terms are governed by the laws of Vietnam and the non-exclusive jurisdiction of Vietnamese courts.
For interest in conflict resolving, any misunderstanding between EN and VN versions of this T&C, VN version will be applied.
2. TERM & CONDITION OF PRIZES
Winning announcement will be updated on  Website: http://grab.com
Grab has the right to change the term & condition of this program to avoid participant's right abuse. Changed information will be updated on Website: http://grab.com
There are 02 types of prizes: Tangible product and voucher/promotional code.
For tangible prize – product: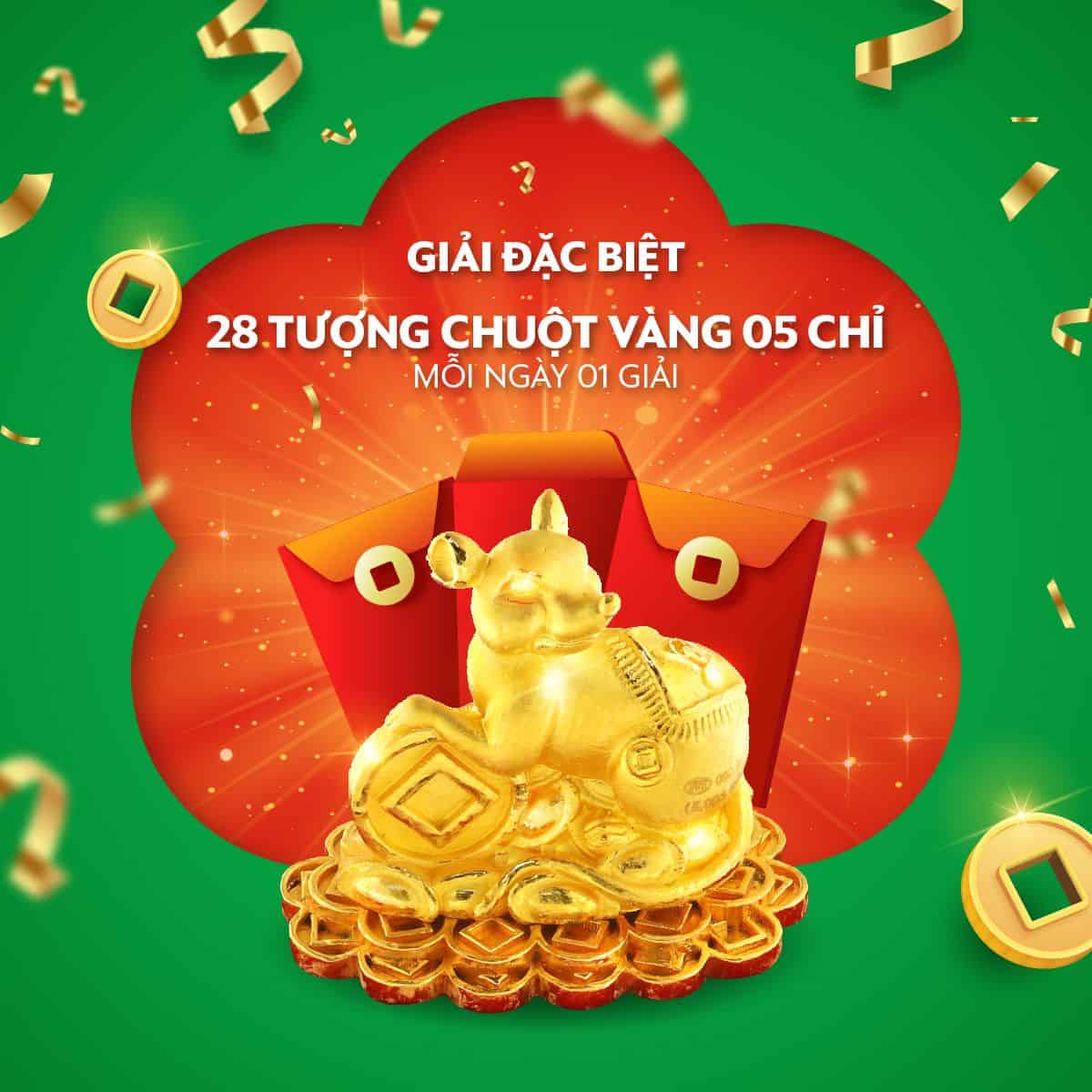 There are 28 grand prizes. Users have the chance to win one prize/day.
Grand prize of a day will be added to the next day's prize if there is no winner on that day.
One user can win grand prize only one time during this program.
If the number of customers winning the special prize is lower than the number of prizes in total, the company will submit a request to donate to the State budget. This is in accordance with the Government's regulations on trade promotion activities.
For vouchers/ promotional code: 
Besides receiving zodiac coins, users will receive randomly vouchers/ promotion codes from Grab and Moca's partners after every transaction.
These vouchers/promotion codes will be sent to "My rewards" in GrabRewards page on Grab app
Valid time for each voucher/ promotional code will depend on each partner of Grab.
Please inform the store that you want to use  the voucher before making payment. At some stores, staff has to apply 04 digit-in to activate your voucher. Please read term & conditions of each voucher carefully before usage.
After usage, voucher/ promotional code will be removed from "My rewards".
Vouchers that are rewarded from a specific country will only be applied in that country.
Voucher/ promotional code will be valid within valid time that is written on each voucher. There is no EXCEPTIONAL CASE. Users must use/redeem vouchers within a valid period written in voucher's term & conditions. Grab won't resolve any complaint regarding this issue.
3. HOW TO USE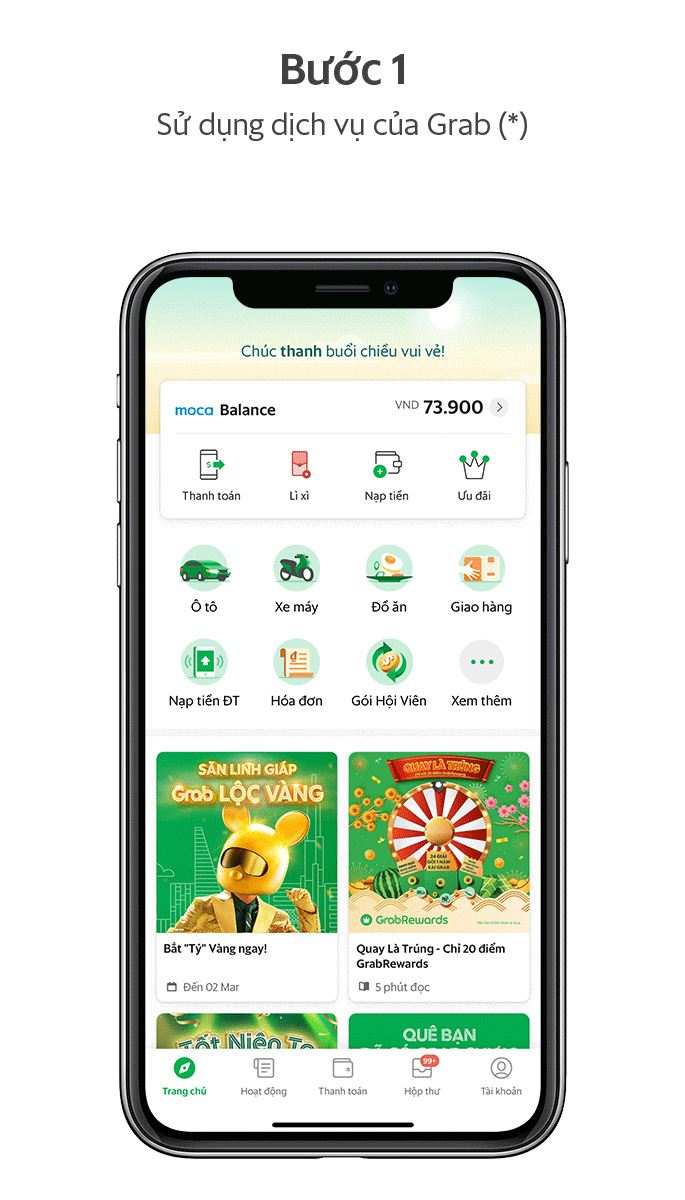 4. KEYNOTE FOR GRAND PRIZE WINNER:
Grab will contact winners directly via email and/or phone call to inform time and location to receive their prizes within 08 (eight) working days from the winning announcement date.
Location:

Grab office in Hanoi
Grab office in HCMC
Winner needs to bring along:

original ID card/ passport,
phone with phone number that is used to register for Grab passenger account when going to one of our two locations above to verify and process the prize awarding.

Grab retains the right to refuse to reward customers if there is any doubt about the truthfulness and accuracy of the personal identification documents provided; or the information on these personal identification documents does not match the information registered with Grab. Grab's owned information will always be the preferred information for authentication.
Timeline to confirm winner and reward winner will be counted from the day that Grab contact winners until 31st March 2020.
In the case that on 31st March 2020, winners do not present at Grab's office or Grab still can not contact the winner via email or phone number which winner used to register for Grab's account to use Grab App, the prize will be treated as if there is no winner. Any complaints after 31st March 2020 will not be resolved.
Grand prize will be delivered to the winners after all related information provided is verified by Grab to avoid abuse.
Grand prizes are not transferable and redeemable for cash or balance in the Moca wallet on Grab app or equivalent credit.
Other terms:
Information changes (if any), winning information will be continuously updated on Grab's website http://grab.com and Facebook of Grab https://www.facebook.com/GrabVN/.

5. 🎉WINNER LIST: 🎉 To be updated here.
| | | |
| --- | --- | --- |
| No | Name | Phone Number |
| 01 | Mr. Hùng | +84xxxxxx950 |
| 02 | Ms. Tuyết | +84xxxxxx190 |
| 03 | Ms. Hạnh | +84xxxxxx285 |
| 04 | Mr. Cường | +84xxxxxx782 |
| 05 | Ms. Thanh | +84xxxxxx698 |
| 06 | Mr. Huy | +84xxxxxx285 |
| 07 | Ms. Vi | +84xxxxxx011 |
| 08 | Ms. Huyền | +84xxxxxx982 |
| 09 | Ms. Thanh | +84xxxxxx517 |
| 10 | Ms. Linh | +84xxxxxx049 |
| 11 | Ms. Chi | +84xxxxxx075 |
| 12 | Ms. Phương | +84xxxxxx701 |
| 13 | Mr. Bình | +84xxxxxx890 |
| 14 | Ms. Hương | +84xxxxxx025 |
| 15 | Ms. Thúy | +84xxxxxx560 |
| 16 | Ms. Anh | +84xxxxxx648 |
| 17 | Mr. Dân | +84xxxxxx753 |
| 18 | Mr. Trung | +84xxxxxx883 |
| 19 | Mr. Quốc | +84xxxxxx643 |
| 20 | Mr. Hòa | +84xxxxxx840 |
| 21 | Ms. Trân | +84xxxxxx666 |
| 22 | Ms. Như | +84xxxxxx469 |
| 23 | Mr. Trung | +84xxxxxx977 |
| 24 | Ms. Oanh | +84xxxxxx001 |
| 25 | Mr. Nhựt | +84xxxxxx952 |
| 26 | Mr. Châu | +84xxxxxx161 |
| 27 | Ms. Quyên | +84xxxxxx144 |
| 28 | Ms. Quỳnh | +84xxxxxx492 |