Grab boosts Thai tourism economy through TAT's "I Love The Rain" campaign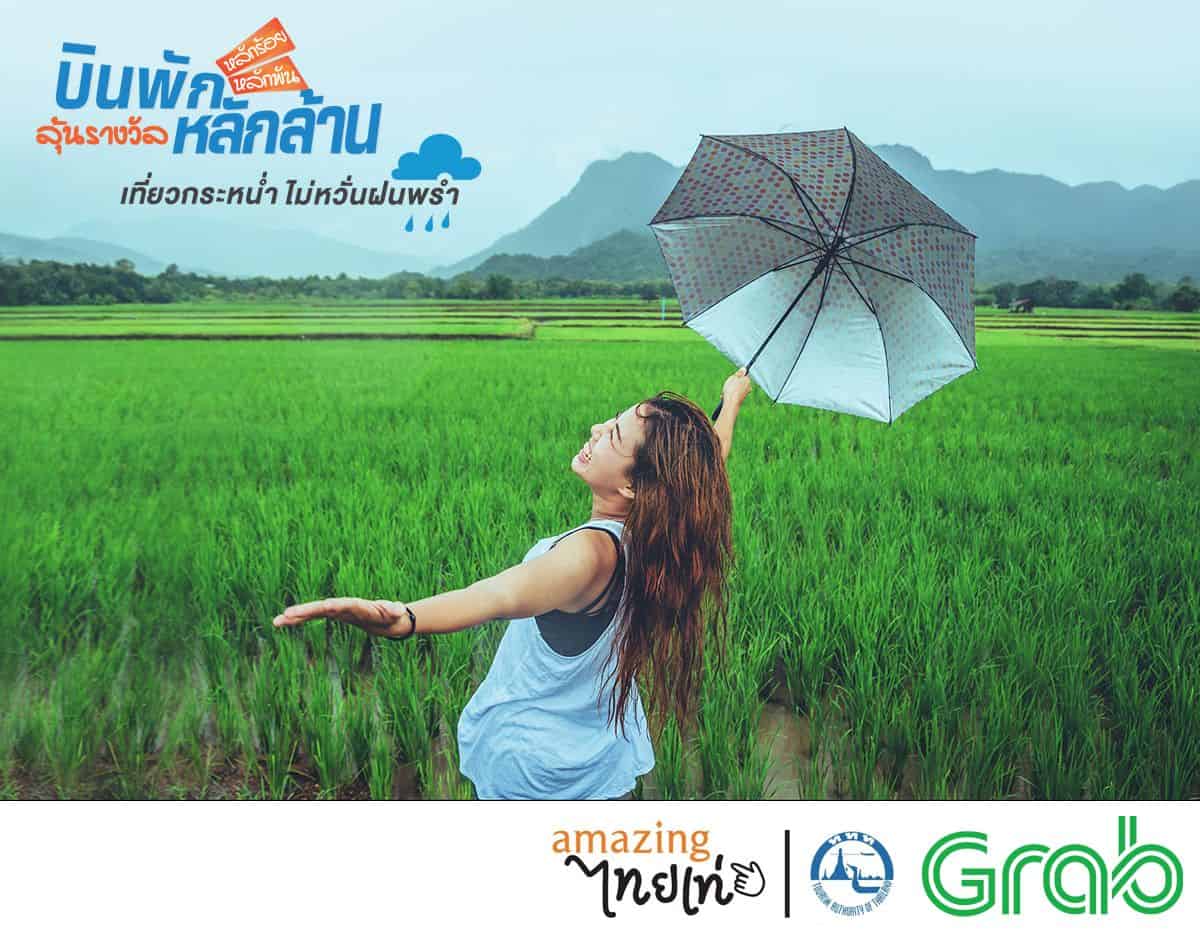 Bangkok, 1 August 2019 – Grab, the leading everyday super app in Southeast Asia, launched a rainy season special for commuters and tourists in Thailand, offering up to 40% discount off Grab's ride-hailing services to provide hassle-free and safe travel during the rainy months of August and September this year. This initiative aims to support the "I Love The Rain" campaign by the Tourism Authority of Thailand (TAT), playing a part in boosting tourism during the low peak rainy season.
Thai commuters and tourists can book JustGrab or GrabCar services by using the promo code "TATRAIN", with the discounted value not exceeding THB 40 per ride. This ride discount is applicable to new first-time users of Grab services in the province where Grab is operating*, with a maximum of 4 rides. Grab will also offer the promo code "RENTRAIN" to give a THB 200 discount per ride for "GrabRent", Grab's car rental with chauffeur service, available in Chiang Mai, Chiang Rai, Phuket, Krabi, Hat Yai and Pattaya, with a maximum of 2 rides. This rainy season special runs from 1 August to 30 September 2019.
The Tourism Authority of Thailand (TAT), along with its partners – including airlines, hotels, transportation and ride-hailing services and travel insurance companies – have joined hands to launch the "I Love The Rain" campaign to encourage Thais to travel domestically during the rainy season, especially to the rural provinces. Beyond domestic tourism, TAT also aims to attract more tourists to visit the secondary provinces outside of Bangkok, so as to boost the country's economy. Grab's participation in this campaign will help bring commuters and tourists from door-to-door in the most convenient and safest way so they need not be caught in the rain. As part of the campaign, Grab users who redeem the given promo code by 10 September 2019 will also get a chance to win special prizes from the campaign worth more than THB 1.5 million in total. Only one entry per user is allowed. Find out more details about the campaign on www.เที่ยวลุ้นล้าน.com
This campaign sees the continued close collaboration between Grab and TAT in their efforts to boost the tourism economy in major and secondary Thai cities, ultimately contributing to the GDP growth and income opportunities of local Thai communities particularly in the rural areas.
Grab has also earlier partnered with TAT on the "Tourism Smart Data, The Time Is Now" project that utilizes digital technology and big data to better understand the travel patterns and needs of tourists, and deliver meaningful tourism information. Other successful tourism joint campaigns included the "Weekday Travel Wonders", the "Thailand Tourism Festival 2019" and the "Grab Xi" which aims to bring travelers to experience 25 community attractions in 5 cities.
*Grab is currently operating in 20 cities across 18 provinces, including Bangkok, Phra Nakhon Si Ayutthaya, Pattaya, Chonburi, Chiang Mai, Chiang Rai, Udon Thani, Ubon Ratchathani, Nakhon Ratchasima, Khon Kaen, Surin, Buriram, Hua Hin, Koh Samui, Surat Thani, Nakhon Si Thammarat, Hat Yai, Krabi, Phuket, and Trang.