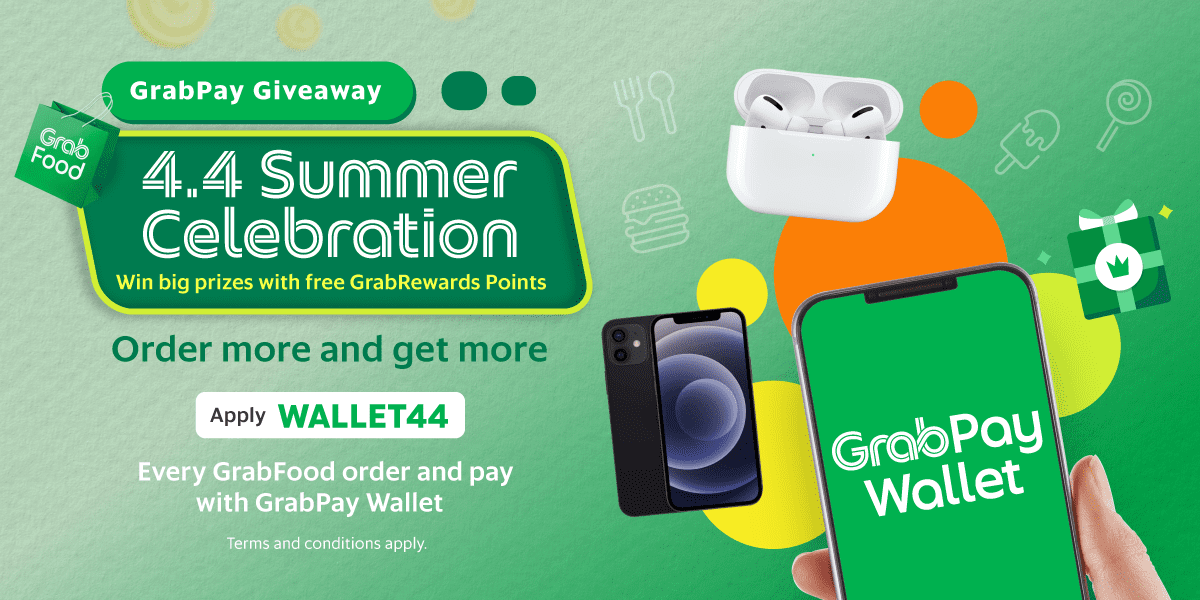 Let's start the summer with GrabPay Giveaway.
Celebrate 4.4 with big prizes including iPhone 12 and AirPods Pro for GrabFood top spenders who pay with GrabPay Wallet and apply code: WALLET44.
👑 Not only that! But you will receive GrabRewards 444  points for free with every order using mentioned promo code.
Still confused? Let us break that down for you.
🏆 Order GrabFood and use GrabPay Wallet to pay
Apply code: WALLET44
Limited 4 redemptions / user / day
🗓️ During 2-8 April 2021 only
Prizes include:
💚 iPhone 12* (64 GB, Black, valued THB29,900) for Top 3 spenders (With minimum spend of 25,000 baht through out campaign)
💚 AirPods Pro* for Top 3 spenders in each day (With minimum spend of 3,000 baht per day)
*Winners will receive the cash voucher for purchasing iPhone 12 or AirPods Pro on Lazada.
Terms and conditions apply
---
Terms and conditions of GrabPay Wallet 4.4 campaign
Exclusively for Grab users who order GrabFood using promo code WALLET44 and pay with

GrabPay Wallet

within the campaign period, from

2-8 Apr 21.

The system will accumulate GrabFood spendings (total purchase value) of the order applying WALLET44 and paying via GrabPay Wallet during 2 Apr 21, 00.01 A.M., to 8 Apr 21, 11.59 P.M.

The top 3 spenders of each day will receive Airpods Pro (valued THB7,590) and the top 3 spenders of the campaign will receive iPhone12 (64 GB, Black, valued THB29,900).

The Airpods Pro (valued THB7,590) winners must have a minimum spending of THB3,000 per day from GrabFood orders that WALLET44 promo code are applied and paid via GrabPay Wallet from

2-8 Apr 21.

The iPhone12 winners must have a minimum spending of THB25,000 during campaign period from GrabFood orders that WALLET44 promo code are applied and paid via GrabPay Wallet  from

2-8 Apr 21

Users must fill WALLET44 in the promo code field and choose GrabPay Wallet as payment method before placing the food order.

The promo code WALLET44 is valid from 2 Apr 21 to 8 Apr 21 or until redemptions last.

Promo code WALLET44 Limited to 4 redemption per user per day.

Eligible for specific merchants without 'Non-Partner' tag only.

Promotion applies to GrabFood order within the service area in Thailand only.

Promotional offers cannot be combined with any other Grab promotions.

User agrees to pay the difference after deducting the discount as received and if the discount that the user receives is greater than the service fee each time, the user agrees that the difference from the said discount cannot be exchanged into cash or cannot be used as a discount for the next order.

The all winner list will be announced on Grab Facebook on 12 Apr 21.

iPhone 12 (64 GB, Black, valued THB29,900) and Airpods Pro (valued THB7,590) prizes will be given out by Grab in form of a Lazada voucher with the value equal to the prize. The voucher has to be used on Lazada applications in the specific store and with the specific product. 

The winners have to redeem the coupon on Lazada for the prize by themselves. Prize option and stock are subject to product availability in the specific store in Lazada.

The winner is responsible for paying the remaining expenses in Lazada application.

The winners must contact Grab by sending an email to

campaign.th@grabtaxi.com

with the following information: Registered name on Grab, registered telephone no. on Grab, signed national ID/passport copy and user profile page screen capture by 19 Apr 21 to claim the prize. Failing to do so will be considered waiving claim to the prize.

After receiving the email with required information, Grab will contact the winners back by 23 Apr 21 to provide further information.

The users (both THAI and FOREIGN) who win the prizes worth THB 1,000 and above must pay a 5% withholding tax. The foreigner must also provide 13-digit Tax Identification numbers issued in Thailand in order to receive documents for Tax Filing process in Thailand. If there is no 13-digit number, the company reserves the right not to issue the document for respective user.

The prizes cannot be refunded, exchanged, transferred or redeemed for cash.

If the prize is not awarded to anybody or winner doesn't claim the prize, Grab will keep it for the next campaign.

All employees (both permanent and fixed term contract) of Company, family members of the employees of Company and/or advertisement representative of the campaign are not eligible to participate in this campaign.

Images used in Grab application are for advertising purposes only.

Should there be any suspected and/or fraudulent activity, the company reserves the right to refuse and void the privilege.

Company reserves the right to change terms and conditions without prior notice.