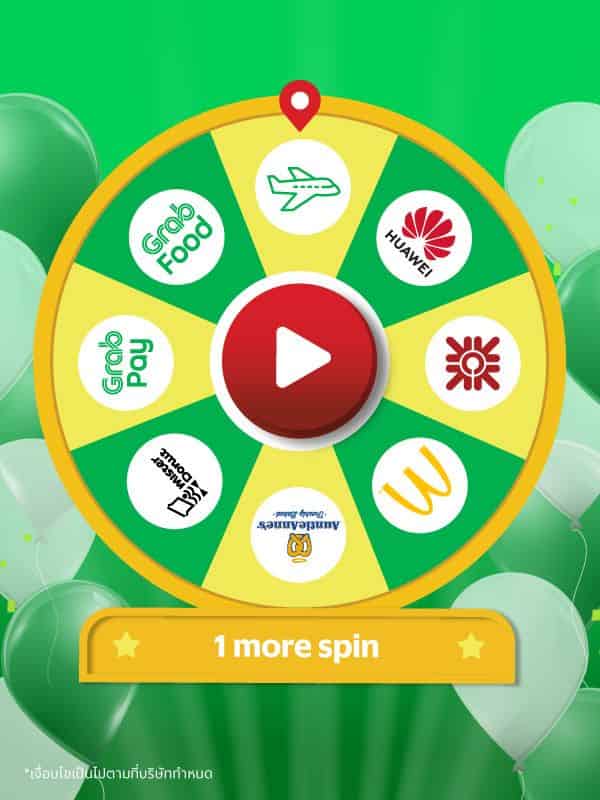 Grab More, Spin More, Win More!
Exciting prizes await including a trip to Hong Kong, Huawei P30 and special discounts more!
Simply redeem 50 GrabRewards point for a spin and win now!
Prize include…
Prize 1: 3 Days 2 Night trip for to Hong Kong – Macau – Zhuhai – Shenzhen for 2. Fly with Hong Kong Airlines (10 prizes)
Prize 2: Huawei P30 (21,990 Baht)
Prize 3: 4,000 Baht Central Voucher
Prize 4: McDonald's: Free combo set of Pepper Chicken Burger, Coke M Size and 1 One Piece collectable toy
Prize 5: Auntie Anne's: Buy 1 get 1 free Almond Stix (49 Baht)
Prize 6: Mister Donut: Buy 1 get 1 free
Prize 7: 50 Baht discount on Grab only applicable when paying with GrabPay 
Prize 8: Free! Delivery fee (Max. 10 Baht) on GrabFood order with minimum order of 150 Baht
Available from 8-24 June 2019
Please read T&Cs more at https://www.grab.com/th/blog/wof_tc/
(Please strict to T&C Thai Version)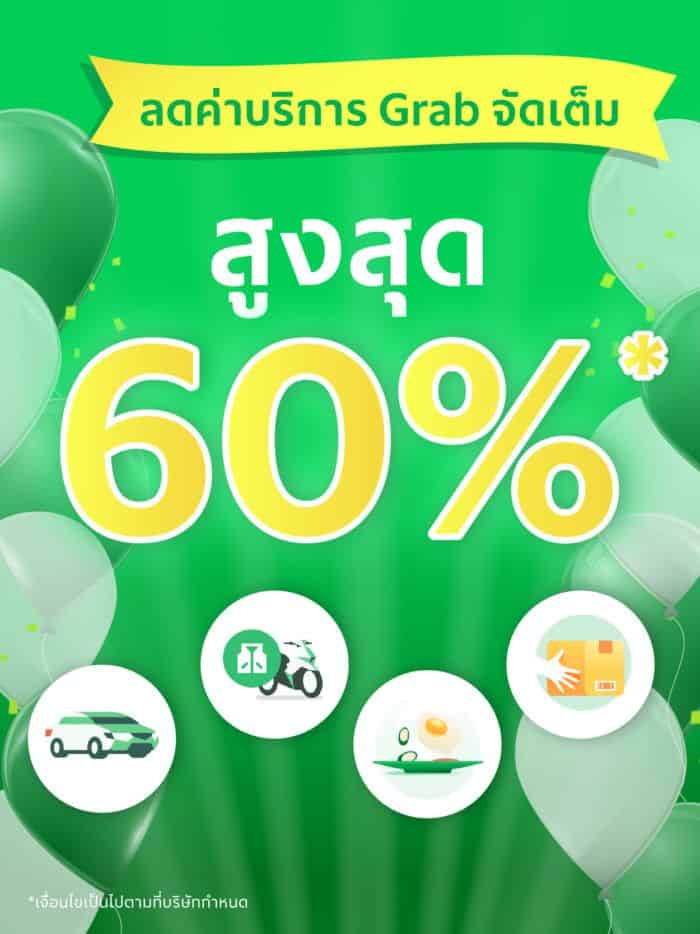 Get up to 60% off to enjoy our rides more for less! *
New users Get 60% off  Apply: NEW6BDAY
All users Get up to 60 Baht off Apply: 6BDAY
Please read T&C below and finally strict to T&C Thai Version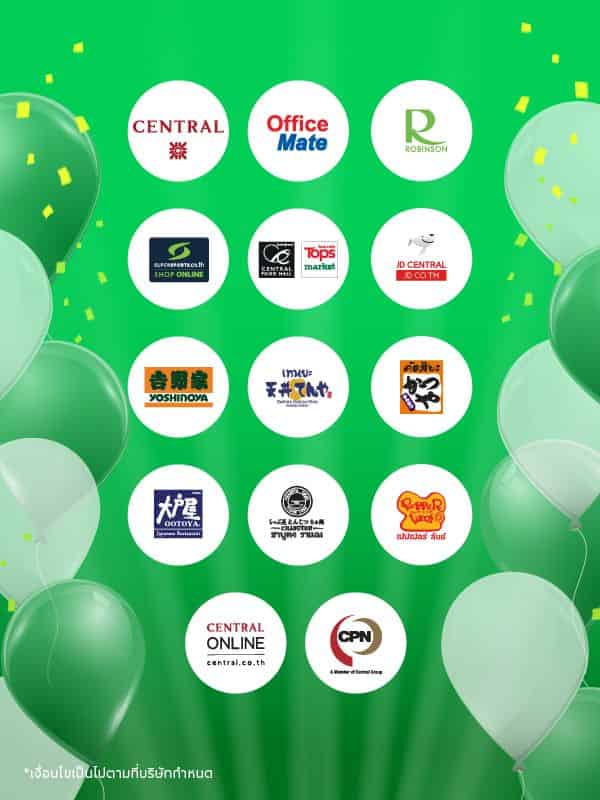 Exclusive for this period!
Redeem a discount or awesome deal from Central Group for 66 GrabRewards points only! 
Here are the deals for you to choose:
– Up to 20% Central Department Store : 8 July – 1 Aug 2019
– 50 Baht off with minimum purchase of 500 Baht from OfficeMate : 8 July – 15 Aug 2019
– Buy Haven's memory foam pillow, model: Empress, colour: white for 666 Baht (from 1,995 Baht) at Robinson : 8 July – 15 Aug 2019
– 10% off with minimum purchase of 1,000 Baht from SuperSports Online : 8 July – 15 Aug 2019
– 50 Baht off off with minimum purchase of 500 Baht from Tops Supermarket and Central Foodhall : 8 July – 15 Aug 2019
– 70 Baht off off with minimum purchase of 300 from JD Central : 8 July – 15 Aug 2019
– 200 Baht off with minimum order of 500 Baht from OOTOYA : 8 July – 15 Aug 2019
– 100 Baht off with minimum order of 300 Baht from Tenya : 8 July – 15 Aug 2019
– 100 Baht off with minimum order of 400 Baht from Pepper Lunch : 8 July – 15 Aug 2019
– 100 Baht off with minimum order of 500 Baht from Yoshinoya : 8 July – 15 Aug 2019
– 100 Baht off with minimum order of 400 Baht from Katsuya : 8 July – 15 Aug 2019
– 100 Baht off with minimum order of 400 Baht from Chabuton : 8 July – 15 Aug 2019
– Up to 20% off (Maximum discount at 500 Baht) with minimum order of 2,500 Baht from Central Online : 8 July – 15 Aug 2019
---
Terms & Condition
Promo code details:
NEW6BDAY – Only for new users
– Can be used as 60% discount for these following services:
* JustGrab / GrabCar : Get 60% off, maximum discount at 40 Baht
* GrabVan / GrabSUV / GrabCar Premium / GrabCar Plus : Get 60% off, maximum discount at 70 Baht
* GrabBike (Win) : Get 60% off, maximum discount at 40 Baht
* GrabMart : Get 60% off, maximum discount at 50 Baht
* GrabExpress : Get 60% off, maximum discount at 50 Baht
* GrabFood : Get 60% off, maximum discount at 120 Baht
– Not applicable with GrabTaxi and advance booking service
– New users can use this code only 6 times along the campaign except GrabFood which can be used only 1 time
6BDAY – For all users
– Can be used as discount for these following services:
* JustGrab / GrabCar : Get 10% off, maximum discount at 60 Baht
* GrabVan / GrabSUV / GrabCar Premium / GrabCar Plus : Get 60 Baht off
* GrabBike (Win) : Get 20 Baht off
* GrabMart : Get 50 Baht off
* GrabExpress : Get 40 Baht off
* GrabFood : Get 50 Baht off with minimum order of 300 Baht
– Not applicanble with GrabTaxi and advance booking service