Take home a UL2272 certified scooter for free with zero upfront cost!
Our eScooter rental plan allows you to take home one of our UL2272 certified eScooters to ride anytime, anywhere. If you're a GrabFood delivery rider, you can now take home the standing eScooters for free if you complete 100 deliveries a month. 
Go the distance with GrabWheels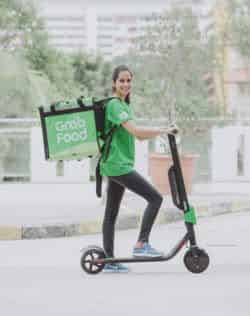 Ninebot Segway ES4 Kickscooter
Mileage:                     45 km
Max Speed:               20 km/h
Net Weight:              14 kg
Charging Time:       7 hrs
With an external battery offering more power and extended range, the Ninebot KickScooter by Segway is a premium e-scooter perfect for delivery riders. Our scooters are also UL2272 certified, which means it meets the necessary fire safety requirements. Furthermore, with an anti-lock electric brake system and an ergonomically designed mechanical brake to improve rider safety, you're sure to go the distance as you perform your deliveries on these scooters!
Promotional monthly plans to suit your different needs.
Enjoy promotional rates as you deliver with GrabFood. Our promo pricing plan for Ninebot Segway ES4 Scooters allows you to be rewarded according to the number of deliveries you complete. 
Promo Price plan for Ninebot Segway ES4 Kickscooters:
Deliveries/month

Promo Price

(Valid until Sept 2019)

100

$0

60

$32

20

$64

Less than 20

$80
* Promotion applies to Ninebot Segway ES4 only. Limited to one standing scooter per rider, subject to availability. Promotional rates apply only for August and September. Rental will resume at $80 per month from October 2019 onwards.
As a GrabFood delivery rider, you pay nothing upfront. The monthly fee will simply be deducted from your GrabFood Wallet.
Not registered under GrabFood? We got you!
As long as you are a delivery personnel or one of our corporate affiliates, you may still rent our Ninebot Segway ES4 Scooters for a promotional price of only $80 per month, with zero upfront costs. Simply indicate your interest in this link.
Enjoy FREE monthly maintenance checks, on us.
Once a month, you can take your scooter down to our warehouse and we'll conduct a FREE basic service check.
Faulty Scooter? Inform us and we can do a 1-for-1 PMD SWAP*.
*As long as the fault is due to the malfunction of the PMD itself, and not by the user. Additionally, we only provide swaps for faults with the motor, brakes and battery. Other damages are subject to assessment and you will be charged a fee accordingly.
—————————————————————————————————————————————————————-
What you should take note of:
a. eScooters to be physically locked at the wheels when away from the eScooter.
b. Road rules and the relevant applicable laws to be abided while riding. Click here to read more on safety
c. No eScooter sharing allowed.
How to get started:
1. Express interest on the interest form: bit.ly/GW_Rental
2. Indicate your preferred time for scooter collection 
3. Prepare the 3 documents required beforehand: 
-NRIC
-Proof of address (Utility bill/ Bank statement) 
-Ensure that your delivery account is active
4. After receiving a confirmation email, head down to our collection point
5. Read through the documents and contract
6. Check through the checklist
7. Sign the contract
8. Make the payment (for non-GrabFood riders)
9. Take the eScooter home
10. A confirmation email will be sent to you to verify your rental. You are required to reply to the email to acknowledge the following: 
For GrabFood Riders: 
The outstanding amount will be deducted via GrabFood Wallet at the end of the month
For other Delivery Partners: 
The monthly fee will continue to be charged using GrabPay for subsequent months unless subscription is terminated by the user. 
What to bring along for scooter collection:
1) Photo ID (Please show us your IC)
2) Address proof (Hard copy/soft copy)
—————————————————————————————————————————————————————-
FAQs
Q: Where do I collect/swap eScooters?
A: eScooters can be collected/swapped at our warehouse (Grab Driver Centre, Sin Ming Lane)
Q: Can I make any modifications to the eScooter?
A: You cannot make any modifications to the eScooter but some basic accessories are allowed (e.g. phone holder) as long as they do not damage the eScooter.
Q: Do you have a purchase plan? 
A: We do not have any purchase plans currently. 
Q: How can I get support if I have questions?
A: You will be added into our telegram group, where you can message one of the administrators for assistance. Alternatively, do reach out to us at grabwheels.sg.biz@grabtaxi.com.
Q: What happens if I damage the eScooter?
A: The rented PMD is your own responsibility. However, if the fault is beyond your control (e.g. wiring inside is damaged), we will do a swapping at our warehouses and you need not pay a penalty.
Q: What if there are charging issues?
A: If the issue is not due to a fault of your own, we will do a replacement of eScooter or charger for you.