GrabShuttle Plus
A new on-demand shuttle service booking app.
Where's GrabShuttle Plus Serving?
Introducing the all-new GrabShuttle Plus app, an on-demand shuttle service in Punggol, Sengkang, Bedok, Tampines, Pasir Ris and Changi.
We've combined the best of taxi, car and bus services to offer you convenience and flexibility at a very affordable price.
You no longer need to follow a scheduled bus route, simply book your personalized shuttle service directly from your phone immediately or up to 3 days in advance.
Just key in where you want to go and your preferred pick-up time, and GrabShuttle Plus will help find a list of shuttles headed to your destination.
*Special launch offer
Everyone gets 4 GrabShuttle Plus rides FREE. Just apply the promo code SHUTTLEPLUS at the payment screen.
Download the GrabShuttle Plus app from the App Store or Google Play and try it for yourself today!
Key in your pick-up and drop-off locations.

Input the time and date of your trip. You can ride instantly or make a booking up to 3 days in advance.

Select the number of seats you'll need.

We'll show you the best available routes. Make your selection.

Pay for your ride via credit/debit card to confirm your booking. This guarantees you a seat onboard.

Make your way to the pick-up point before the pick-up timeframe. Hop on and enjoy the ride!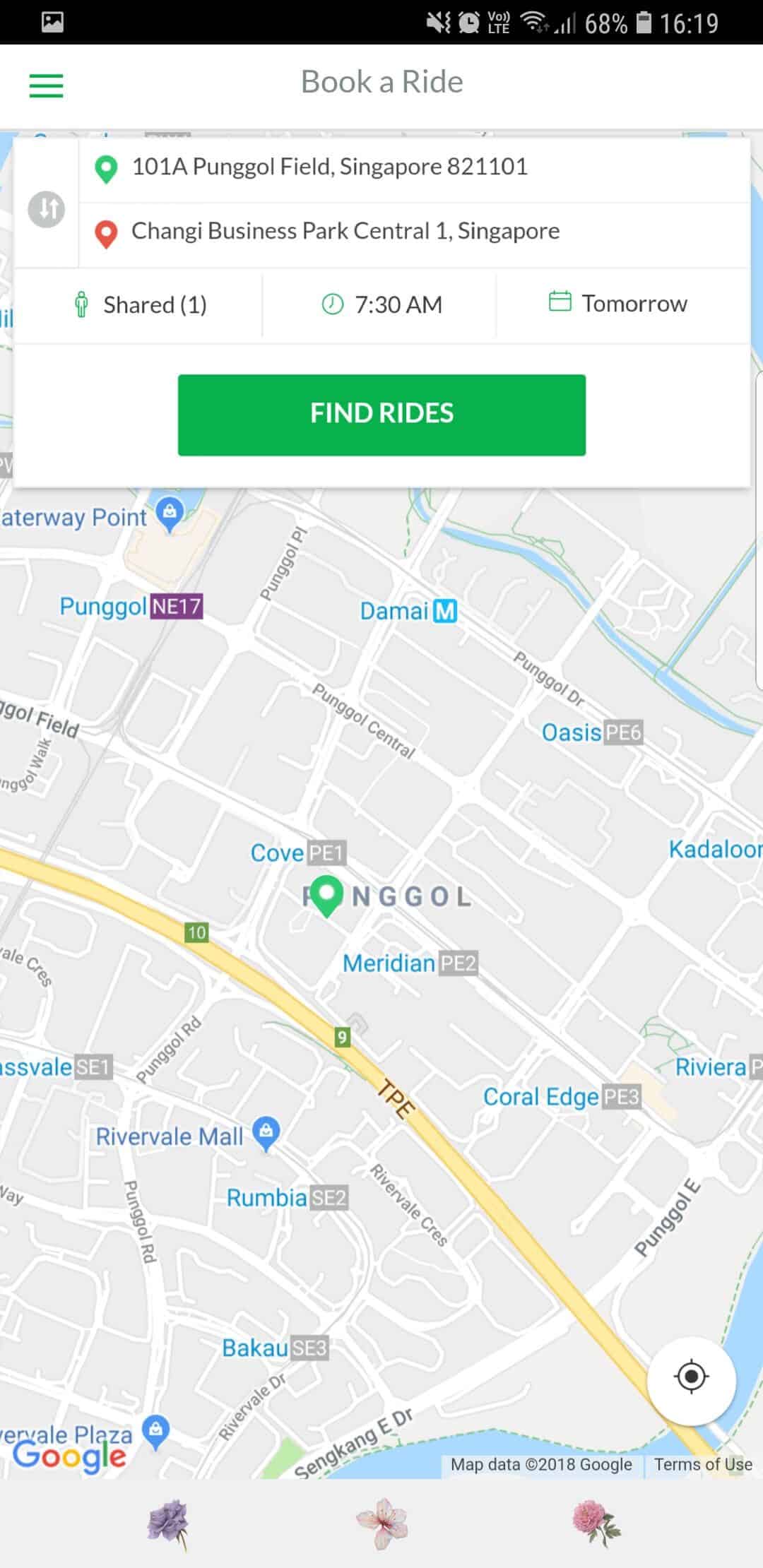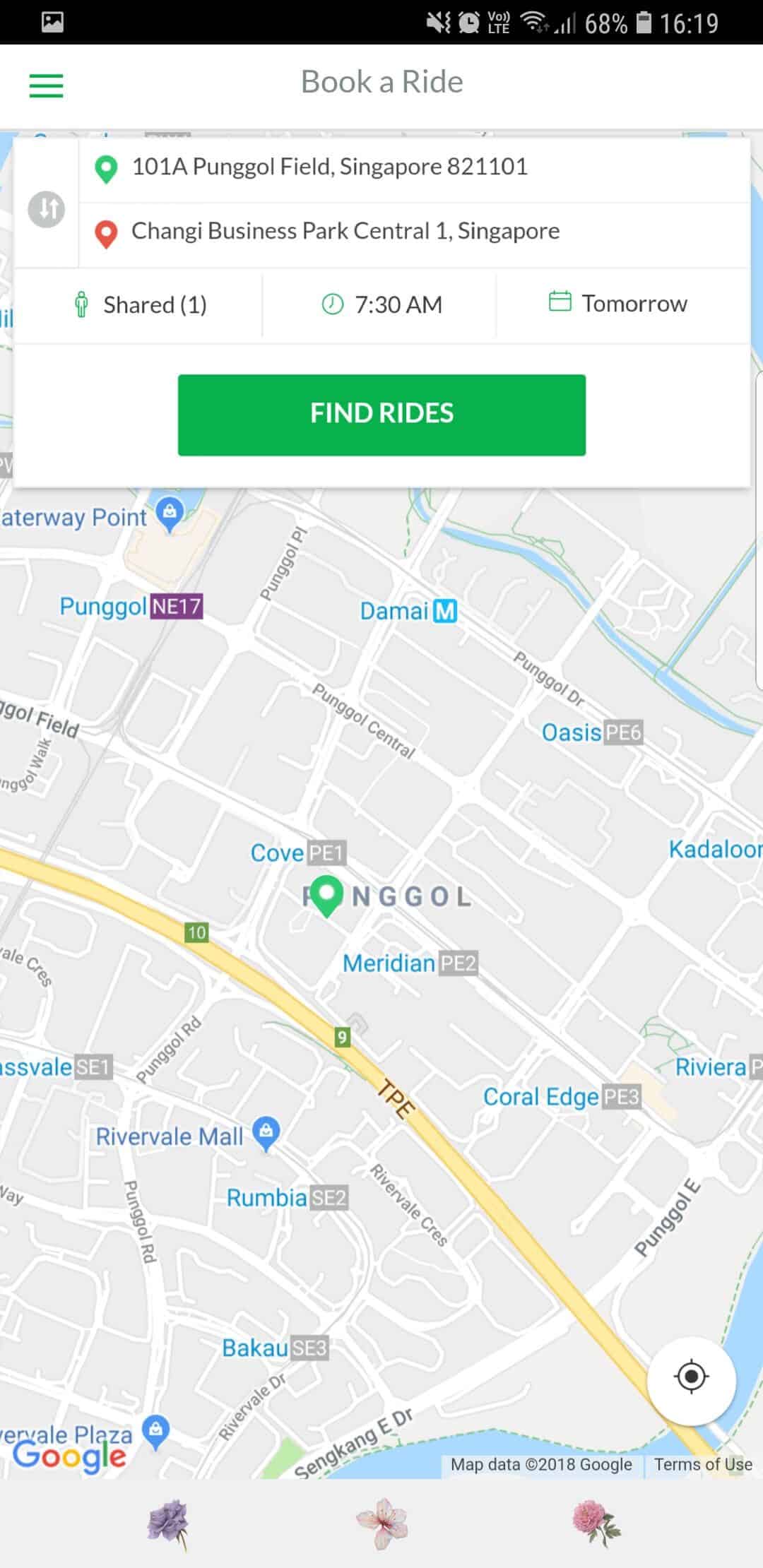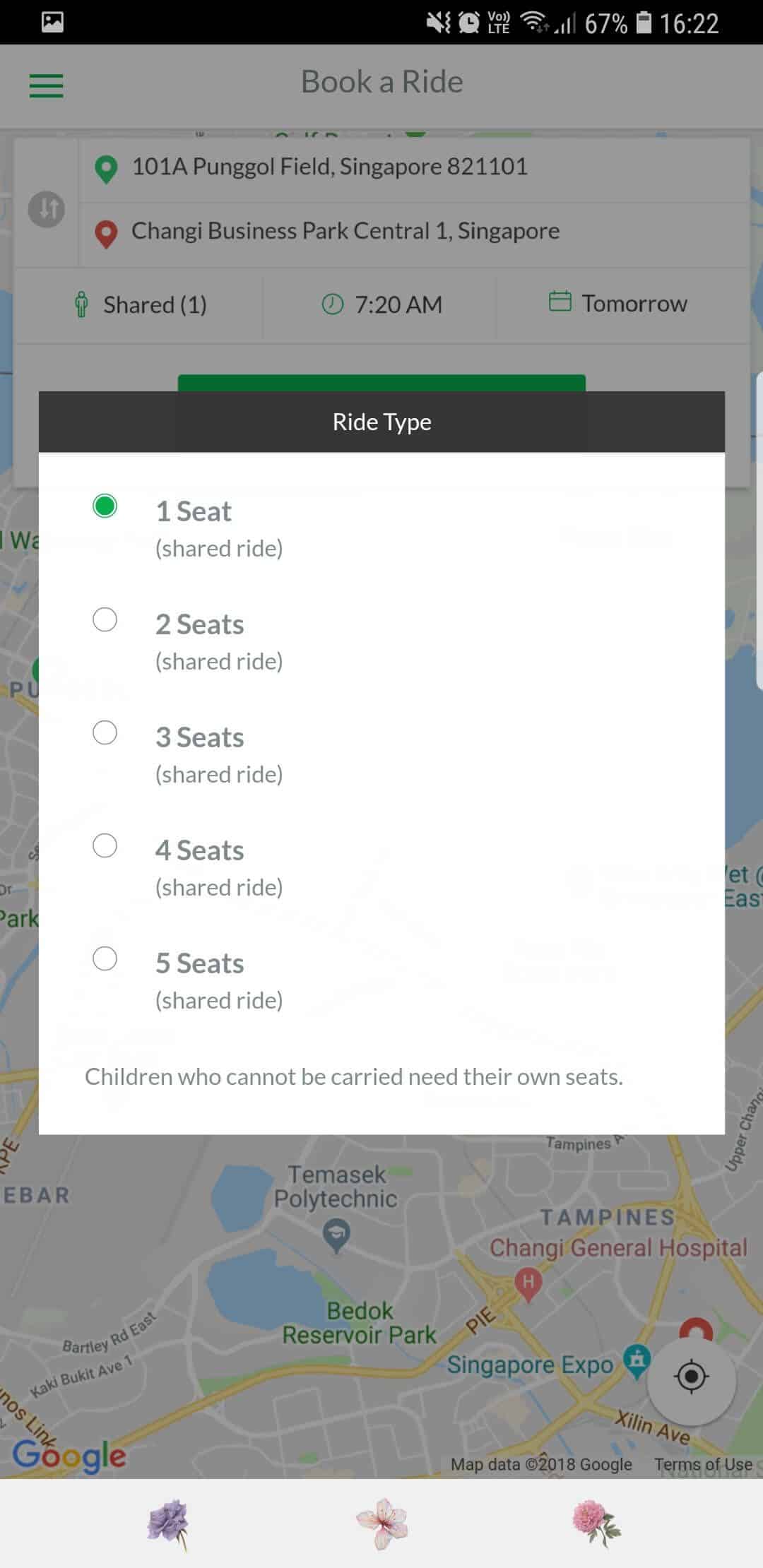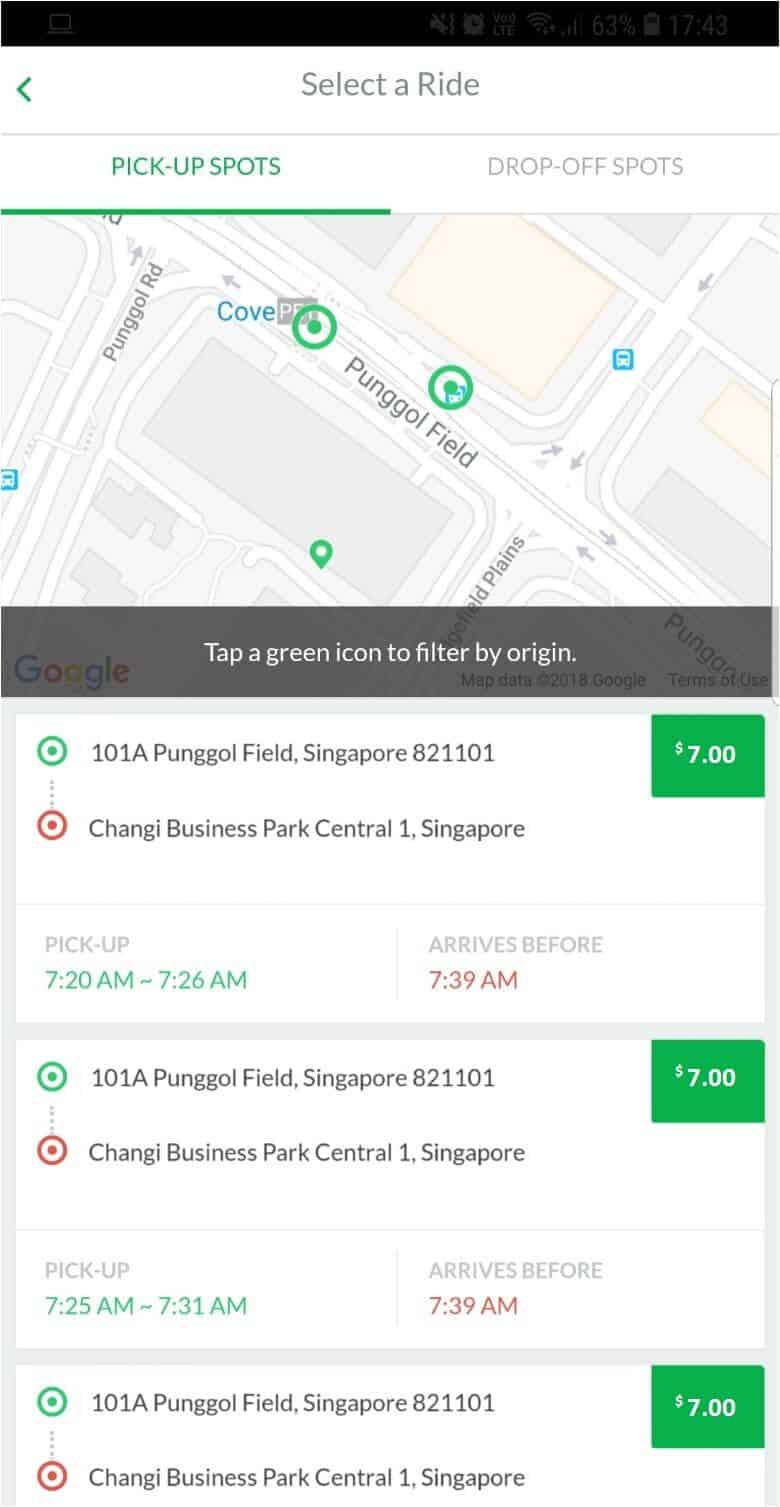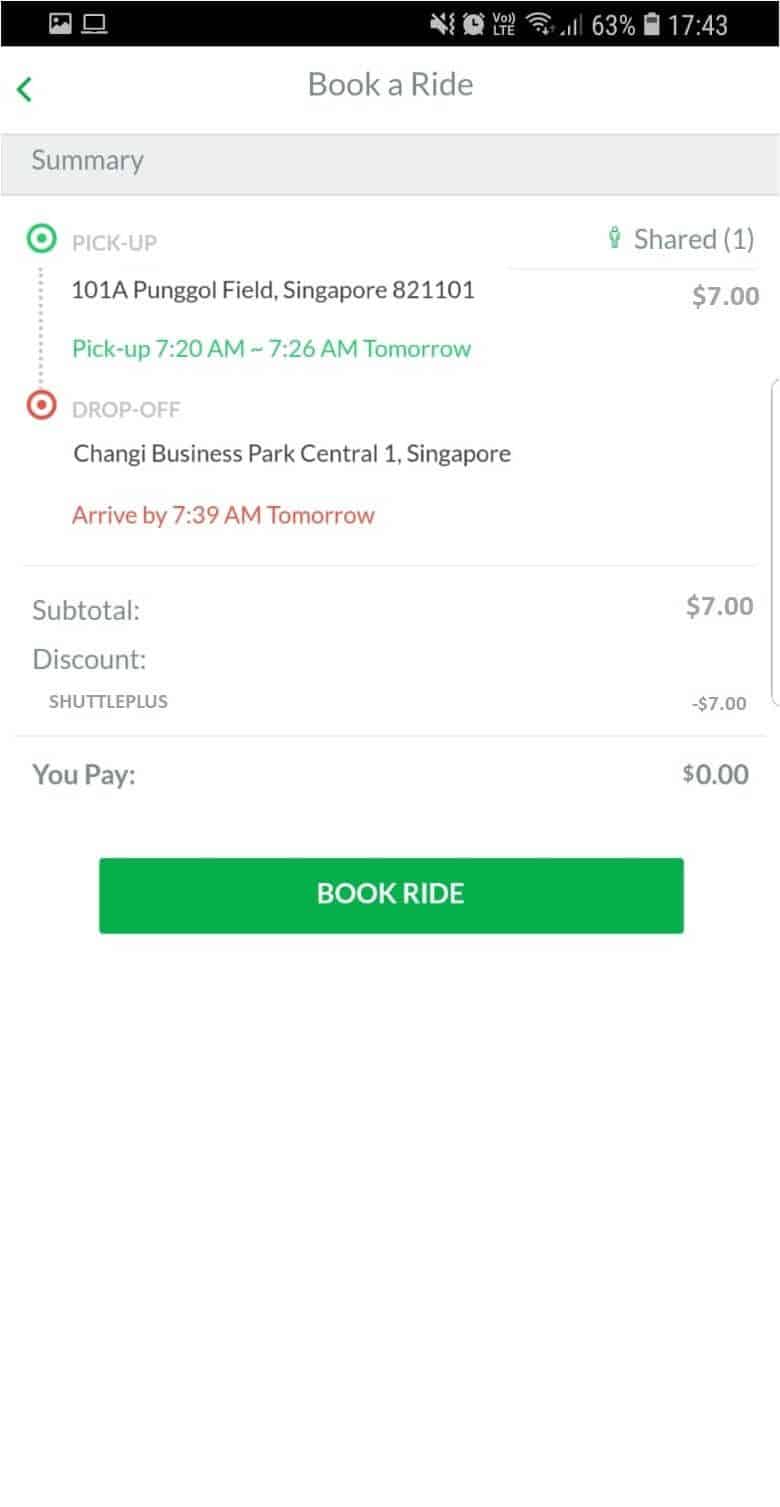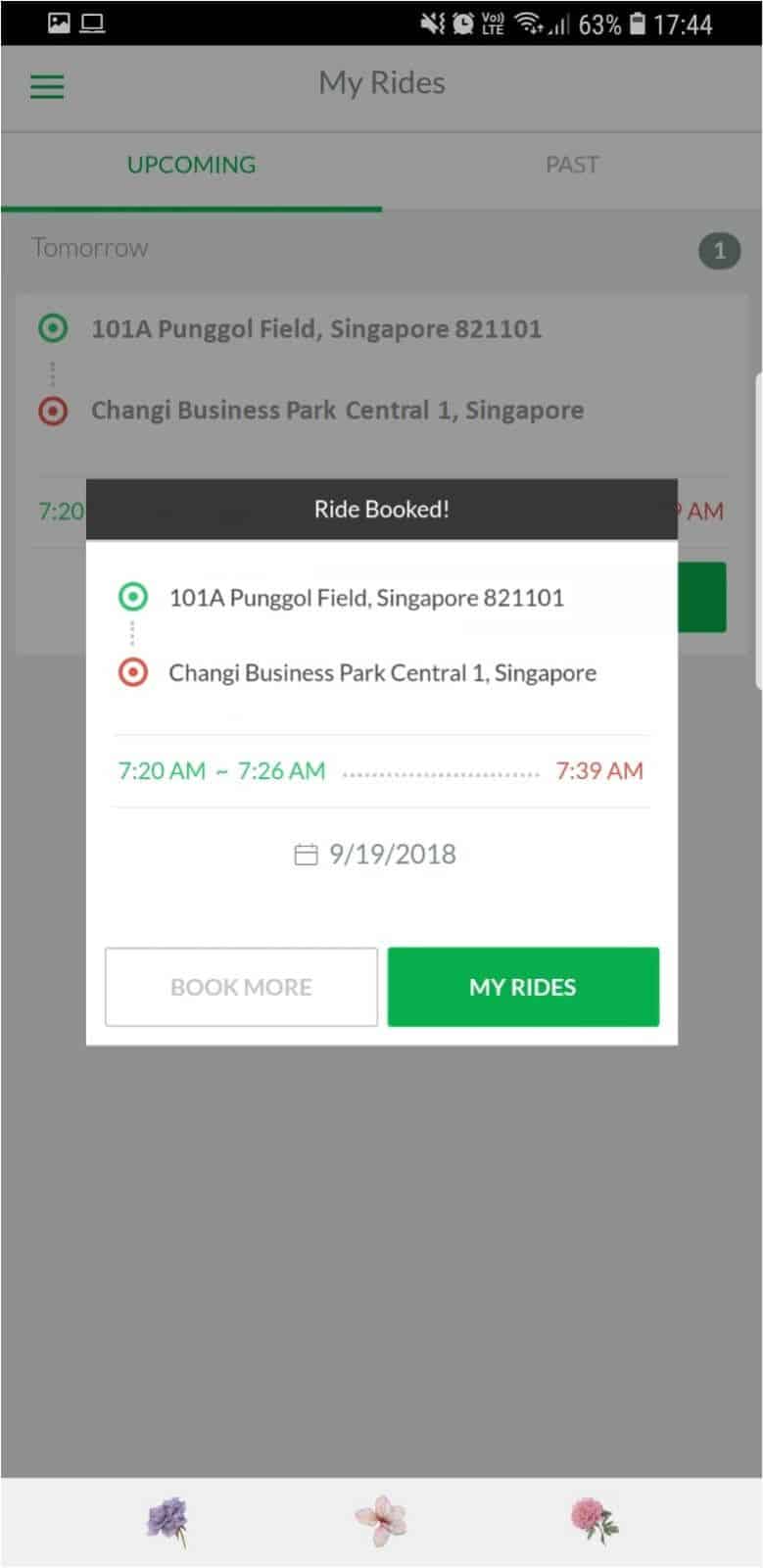 Commutes are better made together. Refer a friend to GrabShuttle Plus and receive SGD6 worth of rides, each. Click on the link below to see how it works.
Learn More
Interested in partnering with Grab?
What is GrabShuttle Plus?
GrabShuttle Plus is a new service that allows passengers to pre-book a seat on a shared vehicle. It is available via a separate GrabShuttle Plus application.
What is the difference between GrabShuttle Plus, GrabShuttle and GrabShare?
GrabShuttle Plus is a stop-to-stop (pasengers walk to nearby stops) service with non-fixed routes using shuttles. GrabShuttle is a fixed route service. GrabShare is a door-to-door service using cars.
Do I have to download another app for GrabShuttle Plus?
Yes, simply download the GrabShuttle Plus app via the Apple and Google Play stores.
Where is GrabShuttle Plus operating?
GrabShuttle Plus is available to residents in these regions:
Bedok
Pasir Ris
Punggol
Seletar
Sengkang
Tampines
What days does GrabShuttle Plus operate on?
Service hours are from 0600 to 2200hrs, every day including public holidays.
What are the vehicle models used?
A range of different sized vehicles (4, 6 and 13 seater) are used. All vehicles are air-conditioned.
What are the pick-up and drop-off points?
Generally, these are points in high-demand locations such as commercial building driveways and residential areas.
Why should I use GrabShuttle Plus?
GrabShuttle Plus allows you to quickly make a booking and get an immediate confirmation, with a transparent fare structure and guaranteed seat.
Trips are faster and more direct, and locations are tracked in the app.
Are the vehicles used licensed and insured?
Absolutely. All vehicles and drivers are appropriately licensed and are covered under commercial insurance.
How do I create a booking?
You can create bookings through the GrabShuttle Plus app.
Simply enter your desired origin and destination, number of passengers and booking date/time.
Choose from the options that are listed (different timings and pick-up points near you).
Book a guaranteed seat to a drop-off point near your destination.
Please arrive at the pick-up point 5 minutes in advance.
How do I book in advance?
How much does each ride cost?
All rides are determined by the distance traveled starting from $4.
Each additional passenger on the shared ride is charge $1.
How do I pay?
Payment is easy! You can pay via Singapore issued debit/credit cards when you make the booking. Bus drivers will not be able to accept cash nor EZ-Link payments on board.
How do I get free rides?
Refer your friends to register using your unique referral key (Find this in 'Get Free Rides' in the app menu. When they use the service, you get free rides!
When will I get confirmation that my booking is successful?
Once your payment is made, you will receive details on the confirmed booking in the section 'My Rides' the app.
Can I book multiple seats or for other people?
Yes, simply choose up to 5 seats. Do note that all passengers in 1 booking need to travel at the same time and get picked up and dropped off at the same stops.
Can I cancel or modify my bookings?
Cancellations are allowed but cancellation fees may apply.
How do I know the bus is coming?
You will be notified when you're next to be picked up, and you can track your bus in real time in the section "My Rides" in the GrabShuttle Plus app.
What do the circled numbers on the tracking screen represent?
They represent the sequence of stops the driver will make before reaching your stop.
What if I would like to change my destination before boarding?
Please cancel the active booking and book another ride with the new destination.
Can I call the driver?
Yes, communication between passenger and driver is supported.
Why am I not able to see the driver details?
Drivers details are visible only when the driver is enroute to your location.
How can I identify the bus I'm supposed to board?
Each bus will have a Grab decal on the bus. The vehicle number will also be reflected in the trip details when you are the next passenger to be picked up.
What should I do when I board the bus?
Simply tell the driver your name (as used in the app), get a seat and enjoy the ride.
Are children allowed on board the bus?
Yes, we welcome children on board. Please indicate the number of passengers (including toddler and infant) correctly when making a booking.
For example – if your group consists of 2 adults, 1 toddler and 1 infant, please indicate as 4 passengers.
Will the bus wait for me if I am late?
No. To ensure that all users get to their destinations on time, all buses will strictly follow their schedules. Please be punctual.
Can I board the GrabShuttle Plus bus if I did not make a booking?
No. All seats are by reservation only to ensure that everyone who has bought a ticket gets a seat.
Will there be refunds if I miss my bus?
No refunds will be provided due to a missed bus or no-show.
What happpens when the bus does not turn up?
If the bus does not turn up, we will make a full refund for the trip. Please allow up to 1 month for the refund to be processed.
How will I know if the bus did not turn up due to a breakdown?
If there is a bus breakdown, we will try and reroute you to another bus. If your trip is cancelled, you will be notified on the app and automatically refunded.
Can I get GrabRewards and use my GrabCredits for GrabShuttle Plus?
No, these are not supported at this point in time.
What if I would like to change my destination before boarding?
Please cancel the active booking and book another ride with the new destination.
Will bulky items be charged?
Yes, all bulky items that require additional space will require a separate seat booked.