With school, tuition and enrichment classes like sports and music lessons to attend, it's a wonder how they'll find time to just be kids.
So here's something you can cut down to free up some precious time—their daily commute.
Most traditional school bus routes are fixed to ferry students to and from home and school. Parents usually have to pay extra for secondary drop-off points or make separate travel arrangements to get their child to tuition, daycare or granny's house after school.
Some parents and guardians are also required to pay for bus services during school holidays (up to 90 days a year), even when junior doesn't need to be at school. What's more, pick-ups often begin as early as 5:30 AM, and trips can take up to 1 hour or more.
What's GrabShuttle for Schools?
GrabShuttle for Schools is a private, customized shuttle service that operates on the GrabShuttle app, that meant to serve school-aged children and even for school staff!
We crowdsource similar pick-up and drop-off points and start a route once there are enough students or staff. You can suggest a route by filling up this form -> https://grb.to/shschool
To reduce travel time and increase comfort, we've included smaller shuttles and even cars to our fleet. This also means fewer passengers are required to start a route.
Once the requested route has started, you can make a monthly ride subscription for your child or yourself aboard a shuttle bound to and fro your selected pick-up and drop-off points.
The minimum duration you are required to commit to is just 2 months of rides.
Why GrabShuttle for Schools?
What packages are available?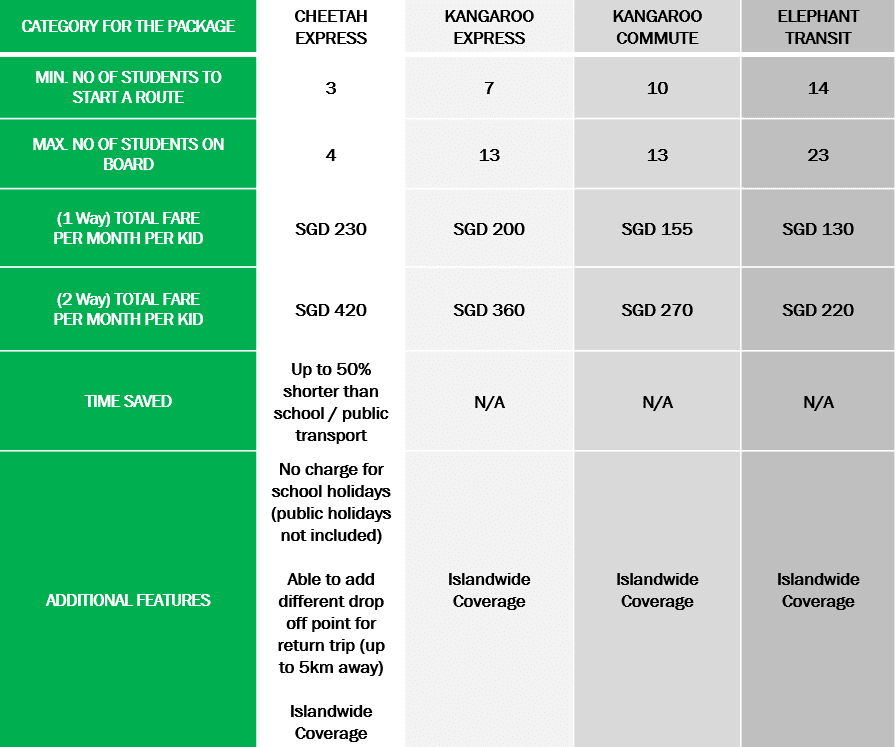 I want to sign up for GrabShuttle for Schools!
Great! Just request a route by filling up this form -> https://grb.to/shschool 
Once we've received enough similar requests, we'll get in touch with you with further instructions on how to commit to the new route and give your child a more efficient commute!
But that's not all…
You will be able to track your child daily ride on his/her way to school!
So what are you waiting for? Give your kids a more efficient commute, and the childhood they deserve.
Terms & Conditions:
General
Strictly no trip cancellations and refunds.

Route revision requests will be assessed on a case-by-case basis, and we reserve the right to exercise discretion in permitting or rejecting these requests.

Payment can only be performed via credit or debit card via the GrabShuttle app.

Cancellations can only be made at least 1 month before your first booking.  

Discount only applicable to those passengers who successfully bring together minimum passengers to start a new route per package type (please refer to table above).