Government-funded Support
From 2 Mar – 30 May, any driver-partner who meets the eligibility criteria set by LTA will receive a payout of $10/day per vehicle.
Details will be sent to driver-partners who qualify, from all the ride-hailing platforms that they are a part of. Please select only one platform to get your government payout from to avoid delays caused by duplicated submissions to LTA.
[UPDATE AS OF 26TH MAR 2020]
Government-funded Support will be extended till end of September, 2020.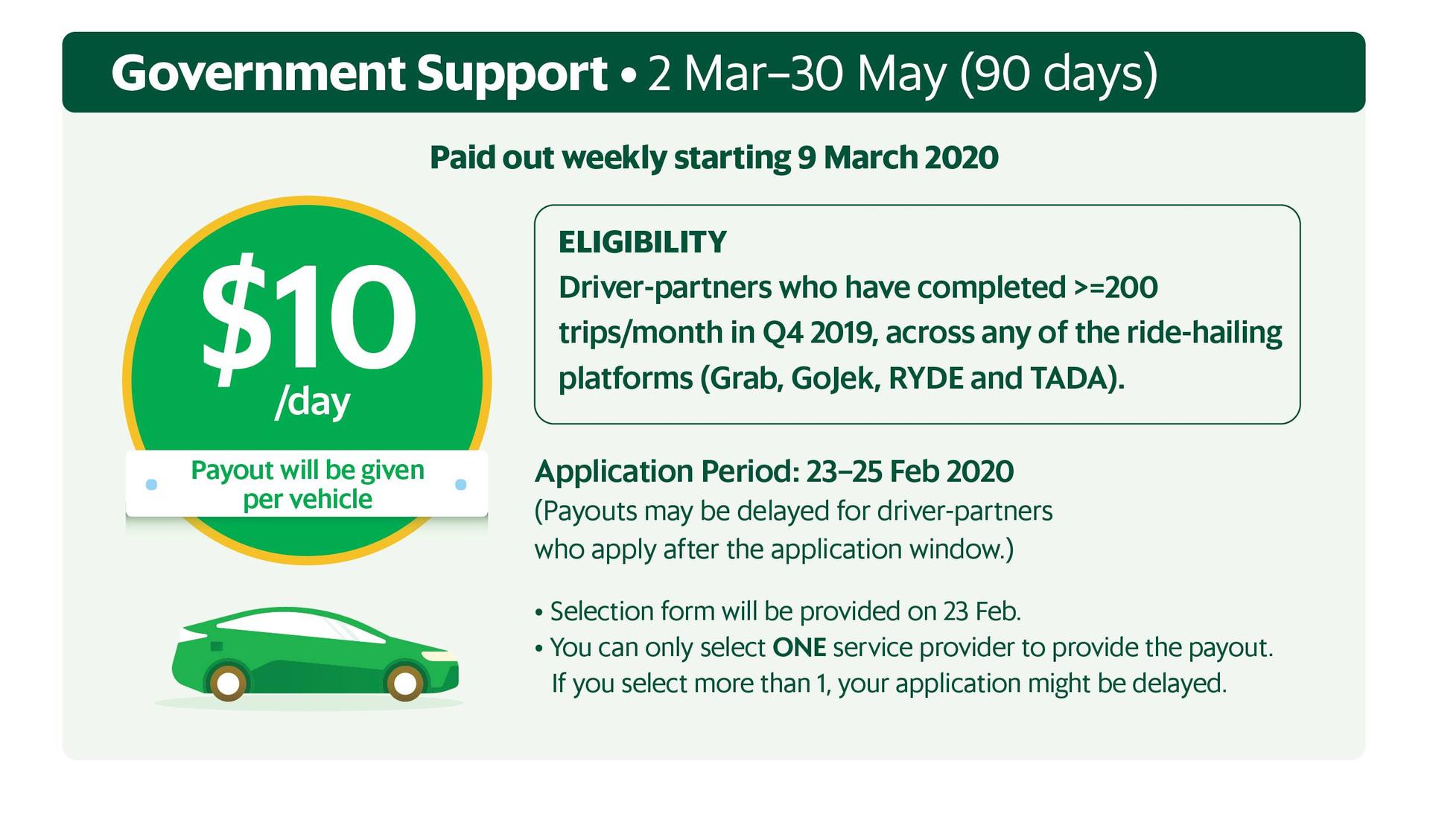 ​
Note: For driver-partners who did not meet the criteria set by LTA and are not eligible for SRF Government-funded Support, you may reach out to LTA for feedback at Feedback@lta.gov.sg. Alternatively, you may contact NTUC at drivercarefund@ntuc.org.sg to enquire about your eligibility for the Driver Care Fund (DCF).
Refer to LTA's website here on detailed Terms & Conditions for Government Support.
In addition to the government-funded portion of the Special Relief Fund, here's a list of other Government Income Support & Training Schemes that you may be eligible for.

| | |
| --- | --- |
| | |
| | |
| | |
| | Deferment of Personal Income Tax (PIT) for Self-Employed Persons (SEPs) |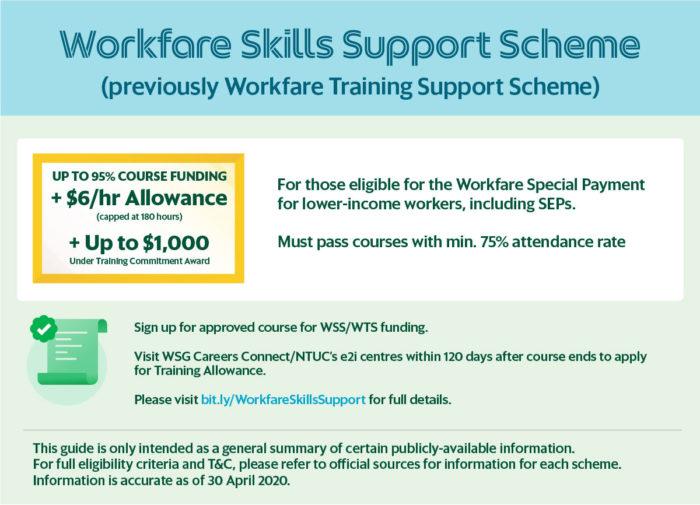 Workfare Skills Support Scheme
(previously Workfare Training Support Scheme)
Grab Weekly Cover
As Grab's contribution to the Special Relief Fund, the Weekly Cover will provide driver-partners who have completed >=200 trips/month in Q4 2019 with a fixed sum of $45 or $85/week per driver-partner; in addition to the Government-funded Support of $10/day per vehicle.
During this time, to counteract the decrease in demand for rides, the Missions scheme will be replaced with the Grab Weekly Cover. It offers a broader base of driver-partners a more attainable target to hit during this time. Allowing for more income security with a fixed weekly payout. There will also be no change to Emerald Circle tiers (no upgrade or demotion), and we will review it again as the situation stabilises.
[UPDATE AS OF 29TH APR 2020, 7.45PM]
Grab Weekly Cover will be extended by 1 day to 31st May, to cover the full week of 25th to 31st May.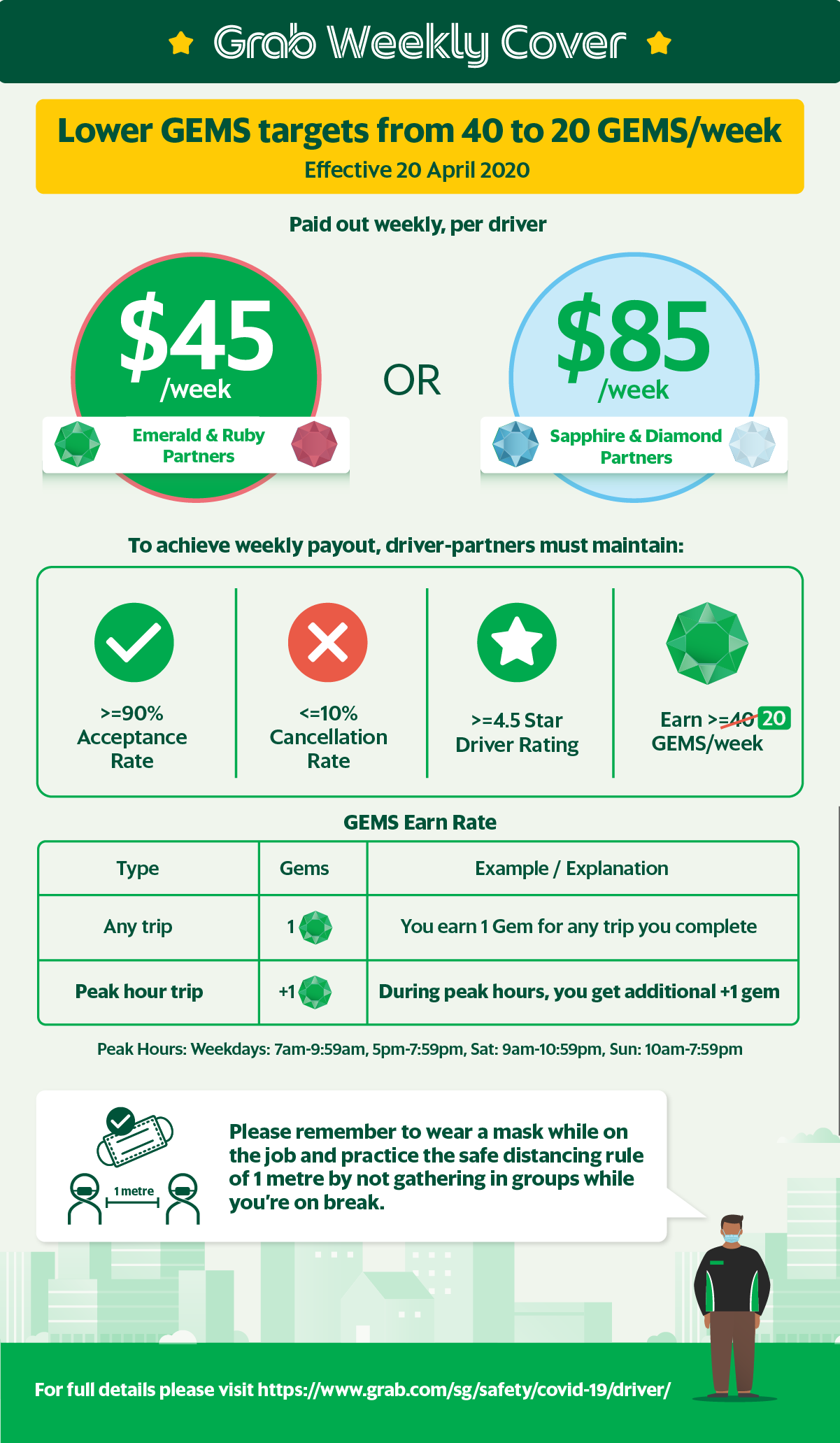 Terms & Conditions
Weekly Cover payout is NOT commissions deductible.
Payout of Weekly Cover will be on every Monday.
MyDestination trips are not included for the Weekly Cover.
During the program, Emerald Circle tiers will remain unchanged as of 2 March 2020. Hence,

No promotion / demotion of tiers between Q1 2020 and Q2 2020.
No early promotion every 2 weeks for previous Missions tiers.

Eligible driver-partners will have this program paused during their quarantine/hospitalisation/LOA period, as they will be supported by Income Loss Coverage which provides rental waiver, one-time income support payout and prolonged medical leave.
Insurance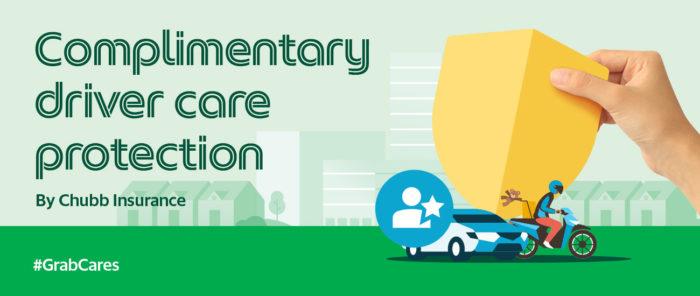 Lump sum payouts for driver-partners affected by COVID-19.
Thank you for your dedication to being on the road. Because of you, Singaporeans are able to go about their daily lives. 
Your commitment has inspired GrabInsure and our long term insurance partner, Chubb, to show their support by providing a free Driver Care benefit for you.
With this, any driver-partners diagnosed with COVID-19 will receive a lump sum payout of either $500 or $1000 (for GrabCare driver-partners) from Chubb to help with their recovery.

In addition to this, Grab will continue to provide additional income support to any driver-partner hospitalised, quarantined or on LOA. Find out more in the 'Additional Grab Support' tab.
Driver Care protection is automatically available to all Grab driver and delivery-partners from 19 February – 30 April 2020. 

Claims must be submitted within 30 days of being diagnosed with COVID-19. 

To make a claim,

driver and deliver-partners

need to complete the

claim form

and attach a medical report confirming the diagnosis of COVID-19.

Claims can be submitted to Chubb via email (a&hclaims.sg@chubb.com) or phone (+65 6299 0988).

Chubb will pay as a lump sum payout of either $1,000 or $500, subject to policy terms and conditions.
Additional Grab Support
For driver-partners who are placed under quarantine* by the authorities or on SHN in relation to COVID-19, we will provide the below assistance:
Vehicle Rental Waiver:
Driver-partners who are renting their vehicles from GrabRentals and GrabRentals' affiliated partners will be reimbursed their rental fee during the quarantine period.
Loss of Income Support:


Driver-partners will get a one-time support of up to S$500 for loss of income during the quarantine period.


Income Support for driver-partners on SHN will only be provided to those returning from China, Korea, Italy, Iran, Spain, France & Germany during certain periods. Scroll down to find out more. 

Income Support for Stay Home Notices (SHN):
Starting 18 March, all driver-partners are also advised by the authorities to defer all travel abroad.



Income Support for driver-partners on SHN will only be provided to those returning from the following countries, during these periods:



Please note that proof of travel* will be needed. Driver-partners should try to submit the following documents as soon as possible to facilitate claim processing:

1) A digital copy of your passport with immigration stamps from above mentioned countries and

2) Air ticket/travel itinerary/boarding pass showing your departure date from Singapore and arrival date back in Singapore.  

Prolonged Medical Leave:
Driver-partners can claim up to 85% of your average earnings under the PML scheme. (Applicable for Diamond, Sapphire and Ruby driver-partners, with medical or hospital certs)

*Commission rebate will not be paid out for the affected month.

 *Contact our Customer Support via the Help Centre to inform you are under quarantine and submit your MOH quarantine order within 60 days from date of receipt of the order. Please note that digital copies of your Quarantine Order will need to be submitted via email. Claims submission will be processed within 60 days of receipt of a Quarantine Order.

We will continue to monitor the situation and will provide more assistance if required.
GrabRentals
1. Vehicle Rental Waiver:
Driver-partners who are renting their vehicles from GrabRentals and GrabRentals' affiliated partners will be reimbursed their rental fee during the quarantine period.
2. GRBeyond Enablement Package:
From 2 to 23 March 2020, all GrabRentals Hirer-Partners on the GrabRentals Beyond Loyalty Programme* will receive weekly credit wallet top-ups of between $15 to $22.
This amount will depend on your current contract length and how long you've been with GrabRentals.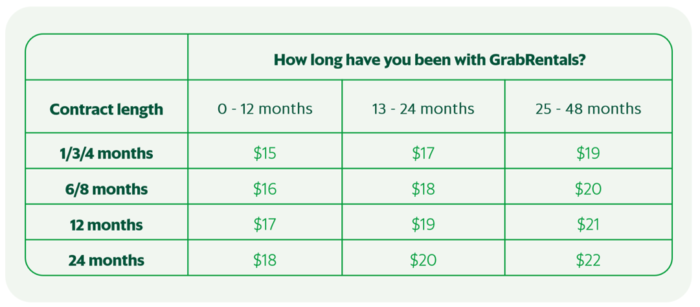 *Excludes Hirer-Partners on 'No-Frills' contracts
The GRBeyond Enablement Package is not part of the Special Relief Fund (SRF) that eligible driver-partners will also receive.
Payout will be made on these dates: 2 Mar 2020, 9 Mar 2020, 16 Mar 2020, 23 Mar 2020.
3. Keeping it EXTRA Clean!
For each servicing, we will wipe down your vehicle with disinfectants to ensure that the car is properly sterilised.
If you would like additional fumigation, our workshops also offer better-than-market rates which you can add on upon request.