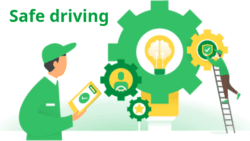 Safety is our Number 1 priority. Practise defensive driving at all times to protect your life and passengers'.
Tips for driving safely:
Be alert, look out for other vehicles who may cut into your lane suddenly
Slow down and give way when you see an aggressive driver on the road
Drive at a steady speed (passengers get anxious if they experience jerky driving and sudden change of lanes)
See more safety reminders in the video below.
(Time: 1:30 mins)