BusinessConsumers & DriversTech & Product
Grab Brings its Fastest-Growing Service, GrabFood, into its Everyday Super App
The new GrabFood experience in the Grab app will be tested first in Southeast Singapore before the islandwide beta begins in May Food and beverage (F&B) merchant-partners and riders can look forward to more daily orders This move underlines Grab's everyday super app strategy to provide the most frequently used daily services all in one app, bringing ultimate convenience to consumers

Singapore, 16 April 2019 – Grab today announced that it will bring GrabFood, the company's on-demand food delivery service, into its everyday super app. The new GrabFood experience will be beta-tested in phases, starting with the Southeast region at the end of the month. This milestone strengthens Grab's position as Southeast Asia's leading everyday super app and comes just before GrabFood's first anniversary in Singapore.
In less than a year, GrabFood has become the fastest-growing food delivery service in Singapore, and the fastest-growing business unit within Grab. From May 2018 to March 2019, GrabFood orders grew 25% month-on-month on average. As a result, GrabFood's F&B merchant-partners saw monthly revenues increase by up to 4x. GrabFood's fleet of >13,000 delivery-partners in Singapore are also completing 80% more daily jobs and earning much more income than when GrabFood first started.
"As an everyday super app, we believe that bringing our services together will unlock the most value for our consumers. Today, one in three active Grab transport users in Singapore use GrabFood and this goes to show that food delivery has truly added to consumers' everyday experiences. As we approach our first anniversary for GrabFood, it's time for us to bring our fastest-growing service into our everyday super app. This will make for a more seamless user experience and put us in a strong position to drive the multi-billion-dollar food-delivery market forward," said Mr Lim Kell Jay, Co-Chief of Staff and Head of GrabFood Singapore, Grab.
Order in or grab a ride to your favourite eatery, one app is all you need
Come May, GrabFood will be one with the everyday super app. With this move, GrabFood riders and merchant-partners will also migrate to a new app. The new GrabFood experience will be beta-tested first in Kallang, Marine Parade, Geylang and Bedok at the end of the month. Following which, the beta-test will be open to all neighbourhoods in May. Once the island-wide beta roll-out is complete, current GrabFood apps for consumers, riders and merchants will be discontinued.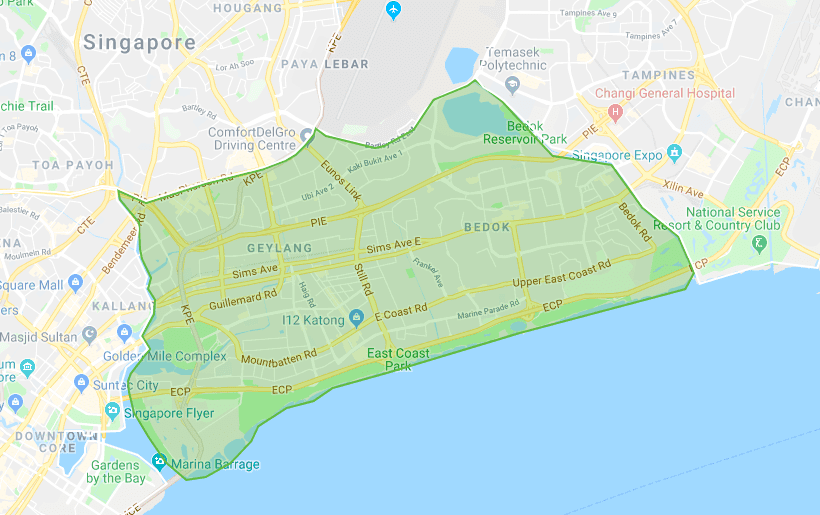 The new GrabFood experience will first be beta-tested in these areas, covering Kallang, Marine Parade, Geylang and Bedok.
Here's what Grab users can expect from the new experience:
For consumers, the new GrabFood user interface sports a cleaner look, providing the most important information upfront. Grab has also made well-loved Grab features like GrabChat available to GrabFood users.
Highlights include:
Discover restaurants and cuisines easily.

Deciding what to eat can be an everyday dilemma. With the new experience, consumers can see ongoing promotions by restaurants as well as featured restaurants on the GrabFood home screen. Providing contextual information upfront makes it easy for consumers to plan their next meal, encourages them to try new cuisines and restaurants, while ensuring they never miss out on good deals and meals.

Forget SMS! Use GrabChat for easy communications.

With Grab's in-app messaging feature, GrabChat, consumers can easily communicate with their assigned riders. This is extra handy when they forget to add special instructions like "please text me when you arrive, do not ring the doorbell" when placing their orders. Over time, GrabChat's machine learning capabilities will learn consumers' preferences and proactively pre-fill special instructions in the app before check out, adding that nice little personal touch to the customer experience.

Redeem and use GrabRewards vouchers in one click.

No more copying and pasting voucher codes from the Grab app into the GrabFood app. It only takes one click to purchase a GrabFood voucher in the GrabRewards catalogue, and another click to use it. It's that simple!
In the future, consumers can expect more personalised experiences with GrabFood. For example, Grab data reveals that more than 30% of consumers regularly order the same menu items from the same merchants. Soon, users will see a GrabFood widget on the super app home screen that lets them easily re-order the same items in fewer clicks.
A better experience for riders
GrabFood riders will share the same app as Grab's private-hire and taxi driver-partners, giving them access to popular classic features. Highlights include:
Text for free with GrabChat:

Riders can communicate with consumers via GrabChat instead of SMS. That way, no extra cost is incurred when they share thoughtful updates such as "Hi, I'm round the corner, see you in a few minutes". GrabChat also comes with a set of relevant templated messages such as "Hi, the restaurant needs more time to prepare your order – please expect a delay" and "I will be there in 5 minutes" to make communications even easier.

Access special rider benefits:

GrabFood has negotiated special discounts and deals for its hardworking partners. Some early benefits include 30% off Liqui Moly products and dental care benefits from Unity DentiCare. Grab will add more benefits over time, including new healthcare benefits in H22019.
Reach more consumers through the Grab super app
By bringing GrabFood into the everyday super app, Grab is connecting merchant-partners to its full base of users. The Grab app reaches one in five Southeast Asians today and this number is set to grow as Grab expands its super app to serve more aspects of consumers' daily lives.
To cater to more online orders, the new merchant app will have additional features to help merchant-partners better manage incoming GrabFood orders. Highlights include:
From the moment riders' are assigned, merchant-partners will have full visibility of their whereabouts in real-time

. This feature helps merchant-partners better manage kitchen operations, and ensure every order is freshly packed and ready to go just before the rider arrives.

Merchant-partners have better control of their online store

and can easily manage their operating hours and set preferences on alerts and notifications

.

A

new "temporary pause" feature

also gives them the choice to temporarily close their online store when the kitchen gets too busy and long wait time is anticipated for any new orders.  
"We are excited to deepen our relationship with our strategic partner GrabFood, while broadening connections with our customers beyond our McDelivery channel. We believe that moving GrabFood into the super app will allow us to reach even more consumers, and we look forward to all the features that the new app brings," says Mr Kenneth Chan, Managing Director of McDonald's Singapore.
Commenting on the new GrabFood apps, Lim added: "We are eager to kick off the island-wide beta and gather feedback from our customers. We believe it is important to go on ground early to test the product, iterate together with our customers and keep working hard to improve the experience. We already have an exciting pipeline of features planned for the year and we can't wait to roll them out soon."
Consumers can download the Grab everyday super app from Google Play or App Store. Grab invites consumers to participate in the island-wide beta, where all users in Singapore will enjoy free delivery for a limited time.