Grab Singapore announces transport sustainability goal as part of its GrabForGood initiative; aims for a full fleet running on cleaner energy by 2030
Grab to introduce JustGrab Green pilot and Green Programme to provide consumers with options to reduce their carbon footprint and support local sustainability projects Grab to match consumers' contribution under Green Programme for up to three million rides  SINGAPORE, 7 […]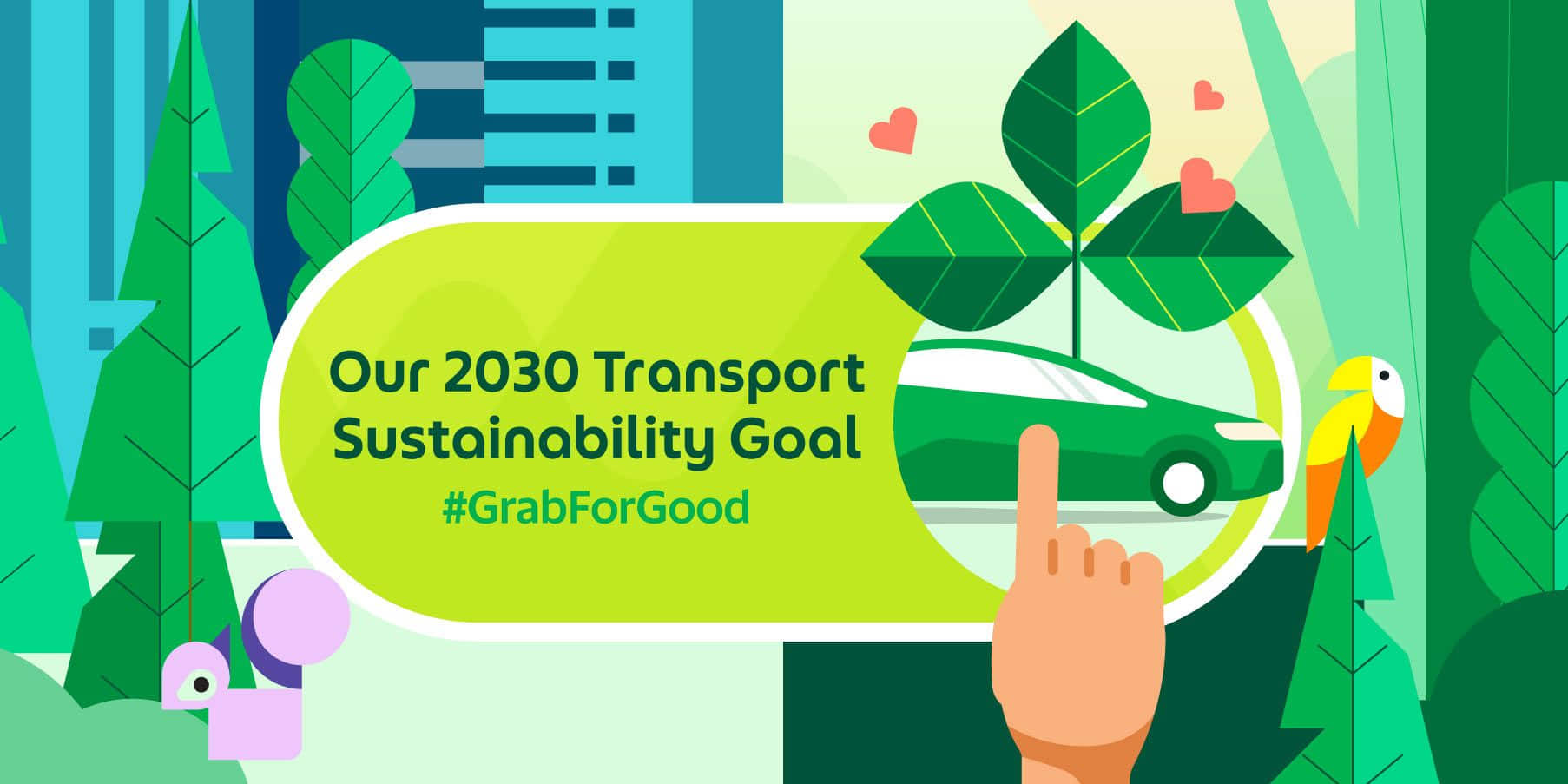 Grab to introduce JustGrab Green pilot and Green Programme to provide consumers with options to reduce their carbon footprint and support local sustainability projects

Grab to match consumers' contribution under Green Programme for up to three million rides 
SINGAPORE, 7 July 2021 – Grab Singapore today announced its 2030 Transport Sustainability Goal, where it has committed to operate via a full fleet running on cleaner energy by 2030. This goal is set as part of the broader GrabForGood initiative that seeks to positively impact three core groups – People, Partners and the Planet. 
As one of its first steps, Grab has unveiled the JustGrab Green pilot and Green Programme, which will offer consumers the convenient options and flexibility to play a part in reducing their carbon footprint. These two initiatives will go live on 14 July 2021. The company will also be expanding its electric and hybrid vehicle fleet through its rental arm, GrabRentals. 
The efforts are in line with Singapore Green Plan 2030, which includes the country's roadmap for electric vehicles, and the vision of having all vehicles operate on cleaner energy by 2040.
According to a survey[1] of 3,600 Grab users in Singapore, 71% are concerned about climate change and would like to take action to mitigate impact, such as reducing their carbon footprint. In addition, the transport sector currently accounts for nearly half of the fine particles (PM2.5) in the air.
"Our 2030 Transport Sustainability Goal is our commitment in taking a holistic approach to combat climate change. Introducing JustGrab Green and the Green Programme are the first of many steps Grab is undertaking to create solutions to environmental challenges. It is a team effort, and we will continue to examine ways where we, alongside our partners and consumers, can make a net-zero carbon future a reality for Singapore and the region," said Andrew Chan, Managing Director, Transport, Grab Singapore.
JustGrab Green – a greener ride option for consumers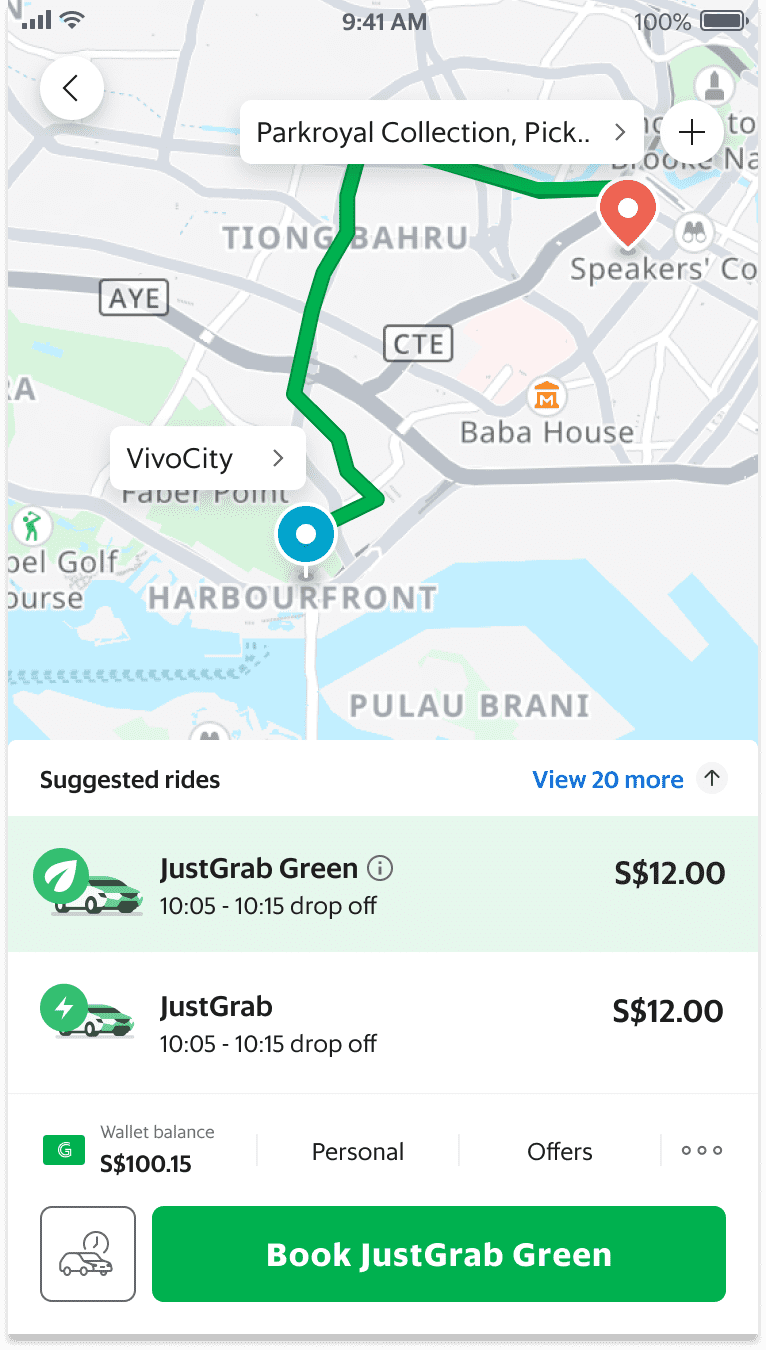 Available as a pilot from 14 July, JustGrab Green is a new transport type, which is serviced by a fleet that comprises electric or hybrid vehicles of a minimal VES A2 band[2]. Some examples of such vehicle types include Hyundai Kona Electric, Toyota Prius and Kia Niro Hybrid. As compared to a regular vehicle running on petrol, carbon emissions can be reduced by an estimated 55% with a hybrid or electric vehicle. 
JustGrab Green will first be made available to passengers who are looking to book a ride from the central region[3], and will be expanded to more locations progressively. JustGrab Green will operate under the same pricing structure as JustGrab. 
"Having driven an electric vehicle for one year, I would say that the experience has been smooth, and passengers' responses have also generally been positive. While there are some challenges that fellow drivers and I face, such as the lack of charging stations, I feel that the move towards having more electric and hybrid cars on the roads is a wise and necessary one," said Elvin Goh, Grab driver-partner.
Green Programme – Supporting solarisation and conservation efforts
Grab recently announced a region-wide initiative to provide consumers with the option to reduce their carbon footprint through a new feature integrated within the app. This will be launched as the Green Programme in Singapore, where passengers can opt in to turn on the feature, and pay a nominal S$0.10 when they book any ride. To encourage consumers to be part of this initiative, Grab will match the $0.10 contribution for up to three million rides.
The full contribution will go into carbon offset and solarisation projects in Singapore and the region. These projects will have a measurable impact on communities and the environment (details below):
1. Grab will collaborate with Sembcorp Industries, a leading energy and urban solutions provider, to support the rooftop solarisation of community institutions in Singapore. The collaboration includes identifying solarisation projects jointly between the two companies and Sembcorp will help to develop, operate and maintain the solar systems.
2. Grab is collaborating with Shell to purchase carbon credits generated from the Katingan Mentaya Project in Indonesia. The project restores natural forests and conserves peatland habitats, preventing the release of greenhouse gases equivalent to 447 million tonnes of carbon dioxide over 60 years. The project also helps local communities create jobs, improve soil quality and food production. The carbon offsets generated by the Katingan Mentaya Project are independently audited according to the Verified Carbon Standard and Climate Community and Biodiversity standards.
Valerie Lee, Head of Corporate Development (Singapore and Southeast Asia), Sembcorp Industries, said, "Building a sustainable future in Singapore requires a strong ecosystem of like-minded partners. We welcome Grab's efforts and look forward to working together with them to power local communities with green energy and sustainable solutions."  
"We are thrilled to be working with Grab to empower their passengers with the option to offset their carbon footprint. When we collaborate with like-minded companies, like Grab, on their journey to achieving net-zero emissions, our approach is to first help them avoid emissions where possible, reduce the emissions that remain, and only then offer them solutions to offset hard-to-abate emissions. The contributions to Grab's Green Programme will go into purchasing carbon credits generated from the Katingan Mentaya project, part of Shell's global portfolio of nature-based carbon credits that protect, transform or restore land, allowing nature to absorb more CO2 emissions from the atmosphere," said Doong Shiwen, National Sales Manager, Shell Fleet Solutions Singapore & Indonesia.
—
[1]Survey of 3,600 Grab users in Singapore was conducted in March 2021
[2]VES is based on a car or taxi's carbon dioxide (CO2) emissions, plus emissions of Hydrocarbons, Carbon Monoxide and Nitrogen Oxides. Vehicles in the VES A2 band emit less than 125g of CO2 per kilometer
[3]These locations will include Downtown Core, Singapore River, Museum, Straits View, Marina South, Marina East, Bukit Merah, Outram, Queenstown, Bukit Timah, River Valley, Tanglin, Orchard, Newton, Novena, Toa Payoh, Bishan, Rochor, Kallang, Marine Parade, Geylang