Because you and your pet(s) are important to us, it is our top priority to ensure your peace of mind during your rides with Grab. This includes ensuring that your pets are protected from pick-up to drop-off in the event of an accident.
We work with our insurers to innovate new solutions, and importantly, choose only the most reliable and relevant insurance products that fit your needs.
WHO IS COVERED UNDER THIS POLICY?
Insured Pet covered under this Policy are:
Service and guide dogs;

Household pets approved by the Agri-Food & Veterinary Authority of Singapore (except birds) travelling on a GrabPet ride.
WHEN AND WHERE DOES THE COVER COMMENCE?
Whenever your pet(s) are on a GrabPet booking, the Group Pet Insurance covers the trip in its entirety: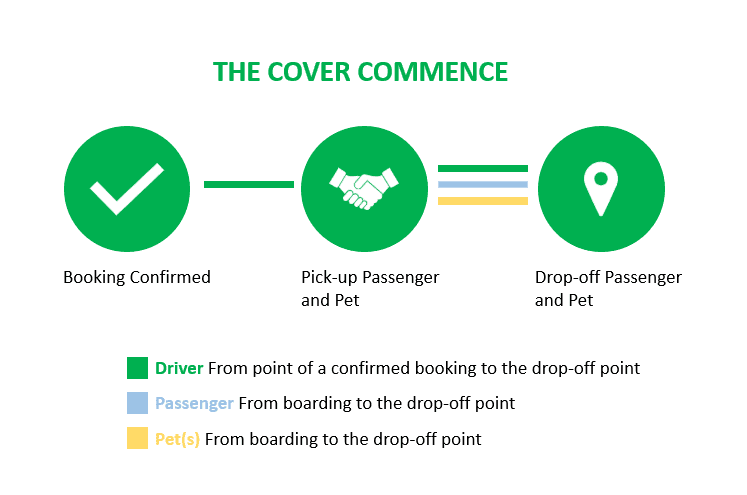 WHAT IS COVERED BY THIS POLICY?
Our Group Pet Insurance is designed to compensate the Pet Owner for their Insured Pet's bodily injuries arising from an accident during a GrabPet ride. There will be a reimbursement to the Pet Owner for the following types of claims, up to the limits as specified in the Policy:
Accidental Death
An Insured Pet sustains an injury during the covered trip that results in death.
Medical Expenses
An Insured Pet sustains an injury during the covered trip that incurs expenses for medical treatment. We will reimburse the Pet Owner for any such medical expenses for treatment within 30 days of the Accident and up to the maximum of a further 30 days (from the date of that first treatment) for follow-up treatment, up to the limit specified by the insurance policy.
Notes:
Only treatments by a veterinarian, veterinarian specialist, at an animal hospital, animal clinic, or animal surgery licensed in and currently registered in Singapore.
If the Pet Owner becomes entitled to a reimbursement of all or part of the above claims from any other source, we will only be liable for the excess of the amount recoverable from such other source.
General exclusions apply, e.g. all complications arising from pregnancy-related or pre-existing medical conditions.
CAN I MAKE A CLAIM IF MY PET IS INJURED WHILE BOARDING / ALIGHTING?
No, pet owners should be responsible for the safety of their pet while getting in and out of the vehicle.
HOW TO REPORT ACCIDENTS AND CLAIMS?
Please report any accident to our customer service immediately if your pet is injured from an accident during a GrabPet trip. Our customer service are available 24/7 to respond to any issue. You may be required to answer several questions (Who,What,When,Where,Why & How) to ascertain the accident information.
TERMS OF APPLICATION:
Our customer service will be on hand to advise you about the claim process.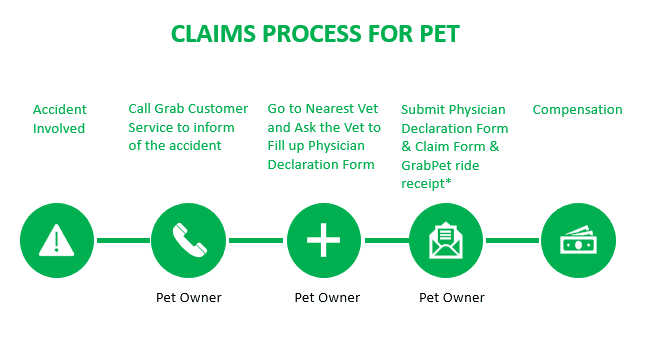 NOTICE AND PROOF OF CLAIM:
All accidents should be reported to the insurance firm by submitting the claim form within the stipulated agreement period, no later than 30 days of the accident occurring.
Documents for submission to the insurer:
Physician Declaration Form (download Physician-Declaration-Form-GrabPet)
Claim Form (download Claims-Form-GrabPet)

GrabPet ride receipt
HOW TO SUBMIT CLAIM:
Please mail the original documents (including original medical tax invoices) to us at 51 Club Street Liberty House Singapore 069428.
Liberty Insurance Customer Care Hotline: 1800-LIBERTY (5423 789)
FAQ
Q: If I bring more pets than the max number allowed on GrabPet, are my pets still covered by this insurance?
A: Yes, all your pets are covered during the ride by this insurance.
Q: If I bring pets not allowed on GrabPet, are my pets covered by this insurance?
A: No, pets not allowed on GrabPet are NOT covered by this insurance.
Q: If my pets soil the car, is it covered by this insurance?
A: No, this insurance does not cover the car damage caused by your pets.