Giving You Flexibility and Choice
Our new earnings scheme allows you to collect 'Gems' over the week by completing missions which convert into $$ rewards at the end of the week! This scheme allows you to choose your missions based on your schedule and driving patterns to collect Gems and earn.
Scroll below to find out more about this scheme and fill up the form from the link below if you wish to opt-in.
What Does This Mean For You?
Lump sum payouts on top of fares
Rewards you for driving during peak hours, using Auto Accept and many more
Flexibility based on your choices and habits
How does it work?
We know that not all trips are equal. Some trips take longer or more effort to complete, and this scheme rewards you for those trips.
Remember to check in-app for the latest targets and rewards every Sunday at 10PM.
Missions Schemes from 25 March 2019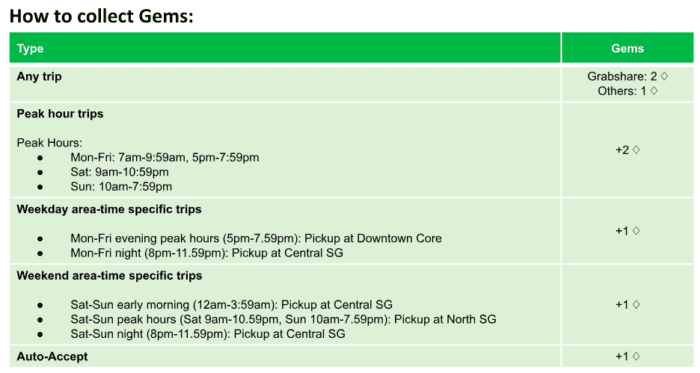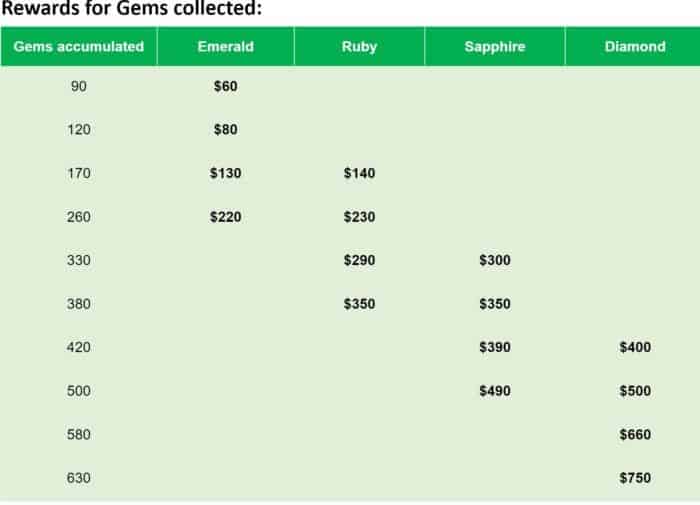 Scenario 1:
Driver-Partner auto-accepts and completes 1 JustGrab trip from River Valley to Orchard on Tue, 8:30AM. For this 1 booking, the breakdown of the Gems is:
   1 Gem for the trip
+2 Gems for Peak Hour Trip
+1 Gem for Auto-Accept
Total Gems earned: 4 Gems
Scenario 2:
Driver-Partner manually accepts 1 GrabShare trip (A) from Choa Chu Kang to Sembawang on Sat, 10AM. He then enables Auto-Accept, and gets a GrabShare trip (B) match from Kranji to Yishun. For the Matched GrabShare booking, the breakdown of the Gems are:
   2 Gem for Match A
+2 Gems for Peak Hour Trip A
   2 Gem for Match B
+2 Gems for Peak Hour Trip B
+1 Gem for North SG pick-up on Saturday
+1 Gem for Auto-Accept for Trip B
Total Gems earned: 10 Gems
Reward Scenario:
After 1 week, a Ruby Driver-Partner has managed to accumulate 300 Gems, while maintaining his AR at 90%, CR below 10%, DR at 4.3. By meeting Gems Target 2 for Ruby (260 Gems), he is eligible for a reward of $200.
Sign up here to opt in or opt out from the Mission Scheme!
The form will open on Monday and will be close on Wednesday, 12:00PM
---
Terms & Conditions
Please note that all new driver-partners will start with the Missions Scheme. You will still be eligible for Super Steady and all other bonuses. Upon opting into Earnings Guarantee scheme removes you from the Missions Scheme
The latest targets and rewards will be updated every Sunday at 10PM.
Missions Scheme is open to all GC and GT driver-partners
Reward payout is NOT commissions deductible
Payout of rewards will be the next day after the entire scheme has ended
Above 90% AR / Below 10% CR / Above 4.3 DR requirements applies for Gems
MyDestination trips are not qualified for earning Gems