For mother-daughter duo Hannah Lai (daughter) and Caroline (mother), running a startup together should come as no surprise. After all, entrepreneurial blood seems to run in the family.
Hannah's lifelong passion in entrepreneurship started at the mere age of 15. Back then, she would use her own pocket money to purchase trendy and popular accessories in malls before reselling them online. Likewise, her mother Caroline was raised with a family business background. It was thus only a matter of time and opportunity before both mother and daughter would run a business together.
This opportunity eventually presented itself in 2018, when daughter Hannah was facing extreme burn out from her corporate job and found herself lacking the time for both self-care and self-love. At that time, mother Caroline was experimenting with soap products for her son's eczema as most store-bought soaps were unsuitable for him. Hannah thus decided to leave her full-time job to co-found a soap business with her mother, and thus Bodyslick was formed.
In 2020, their business took a turn when they introduced bath bombs to their line of products as per customers' requests. The business ended up making huge profits just three months after this launch, selling over 10,000 bath bombs within the first seven months and hitting the six-figure mark in sales.
Seeing the popularity of their bath bombs line, Bodyslick decided to better cater to their online customers by partnering with Grab to provide on-demand and same-day delivery services via GrabExpress. Through Grab, Bodyslick was also able to notice that bath bombs were the most urgently ordered items via GrabExpress and were in hot demand during Mother's Day last year. Equipped with this knowledge, they are now more prepared for greater demands this Mother's Day, allowing them to prepare in advance and anticipate orders.
We spoke to Hannah to find out more about her entrepreneurship journey and what working with mum was like: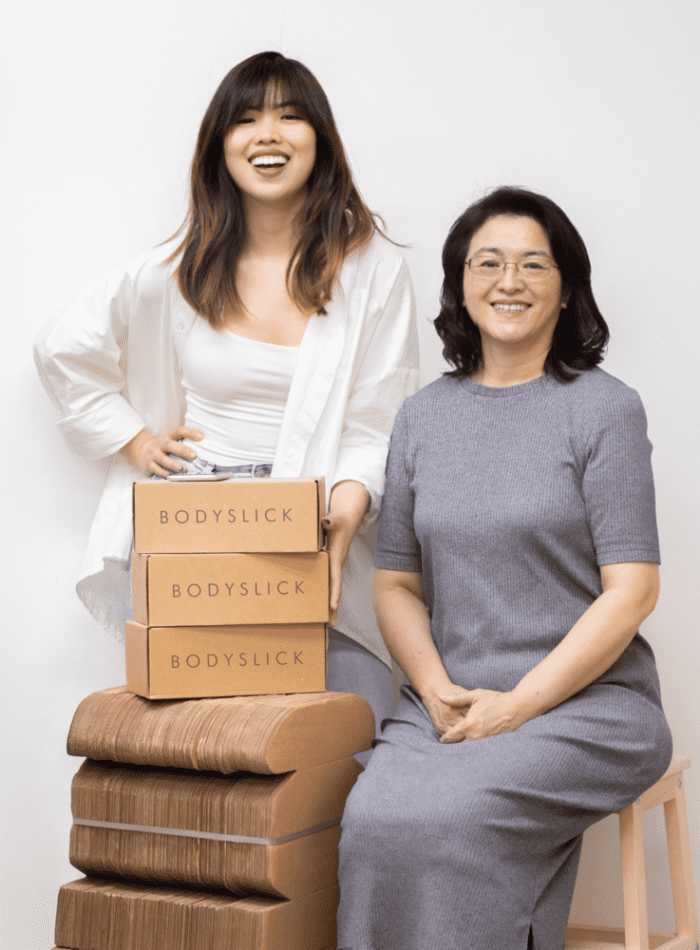 Co-founders Hannah (left) and Caroline (right), image credit: Bodyslick
What is one of the best lessons your mother taught you about running a business? 
Work from the heart, and put relationships above profits. I'm very Type A at work, so seeing how Mum effortlessly gives her personal best to our customers now or her patients back then truly inspires me to rethink and reshape that way I'm used to working. She's also incredibly driven, fuelled by the love she has for her family. Working with her made me realise just how tenacious and resilient she is, and this has inspired me to not give up whenever I face difficulties both in life and when dealing with the business. Hard work has never fazed her, even at her age. I hope to still have the same vigour at her age!
The pandemic must have been a tough period to get through, on a personal and business level. How did the both of you get through it together?
It was definitely tough – in the first place, good bath bombs are notoriously difficult to produce – especially when you set out to produce them at an excellent standard. This was made more stressful when we had to suddenly close our studio temporarily at the start of circuit-breaker. With the travel restrictions the past two years, it also meant more Singaporeans were planning staycations and wanted to order bath bombs. I'm grateful that both Mum and I have the same never-say-die mindset and we saw this as a challenge not a setback. We collaborated very, very closely and ensured we had the mindset to take disappointment in our stride. This process was truly "team bonding" on another more emotional and mental level.The rest is now history and we're extremely grateful that our business managed to thrive through the pandemic.
How has using GrabExpress helped the business?
10/10. Absolutely amazing – and I'm not just saying it. I truly love how GrabExpress enables local businesses of all sizes. For the business, GrabExpress has enabled us to deliver to our customers at almost all times of the day or night – on demand. This does not only open up practical opportunities for the business but also makes our customers extremely happy! Customers can check out directly from bodyslick.com and select "GrabExpress" at check-out for same-day and on-demand delivery options.
This article is part of a two-part Mother's Day series where we speak to Grab merchant-partners run by mom-daughter co-founders. You can view the next article in the series here.