Take the 'sting' out of investing
No big words, just big ambition
We'll keep information as simple as possible. So you can focus on growing your money.
Accessible for everyone
Whether you have millions or would like to start with $1, we'll design investment solutions that give you the most out of every cent you put in.
What you see, you'll get
No hidden fees. Nothing shady behind fine print. And you can cash out anytime you want, no strings attached.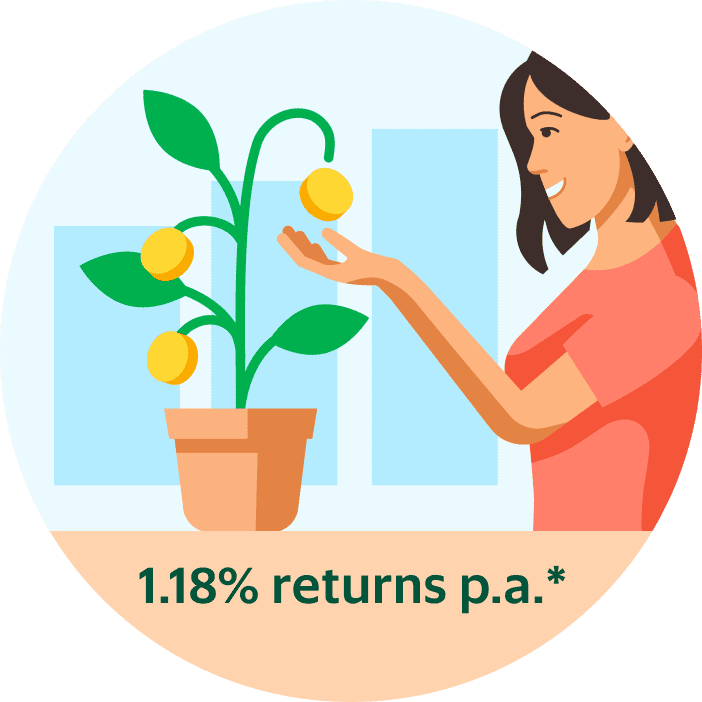 An investment solution linked to your GrabPay Wallet. Next time you make a Grab transaction, you could be investing at the same time. Starts from $1.
*Estimated returns are not guaranteed or protected.
GrabInvest (S) Pte. Ltd. is a fully owned subsidiary of Grab Financial Group. The Company holds a Capital Market Services License for conducting fund management activities from the Monetary Authority of Singapore (CMS100908).
This means that we meet the requirements from MAS to manage your money and invest on your behalf.
Your money and assets are in safe custody
We ensure your monies and investments are segregated from those of all Grab group entities and our underlying asset managers. Your monies are kept in a separate client account, and your investments are custodised, with licensed regional financial institutions.

This means that your money and assets remain safe in the unlikely event that GrabInvest stops operating.
Your account is twice as secure
Your data is encrypted. You'll set up a 2-factor authentication with a Grab PIN. This PIN is triggered every time a withdrawal is made to move your money from your GrabInvest account to your GrabPay Wallet.

That means all you need to do is keep your PIN top secret. Classified. No sharing. You get the idea.
Frequently Asked Questions
The content on this website is for information purposes only. For full GrabInvest Terms and Conditions, click here
Any advertisements on the website have not been reviewed by the Monetary Authority of Singapore.

GrabInvest (S) Pte Ltd is regulated by the Monetary Authority of Singapore and holds a Capital Markets Services licence (CMS100908)