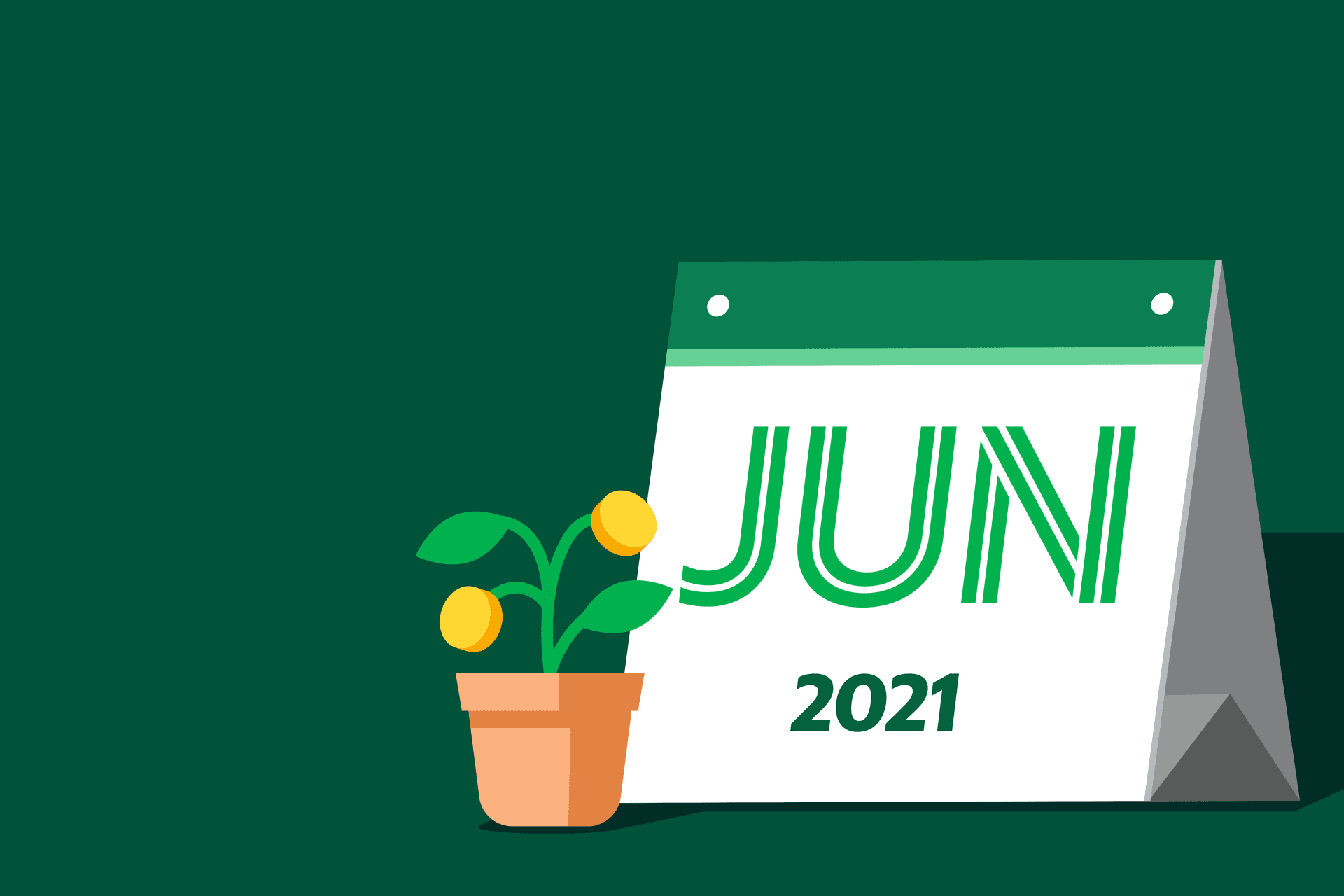 Would you believe it's the mid-year point of 2021? In this month's update we are reviewing how the year has been so far and what is in store for the second half. We take a look at MAS' annual report which frames financial markets in Singapore and gives us an idea of what items are high on the agenda for the regulator. We close the update with a performance review of AutoInvest.
What this article covers:
Singapore update

– MAS publishes annual report

Going green

– ESG and green finance making an impact in Singapore

Market review

– GDP growth, moderate inflation and unchanged interest rates

AutoInvest review

– How has it performed so far this year?
MAS publishes annual report
The MAS has released its annual report which provides a review and outlook for important topics. Notable data highlights are that FinTech investments reached SGD 1.4bn and the financial services sector grew 5.1%. The success of FinTech investments is a great sign of Singapore's ability to attract innovation. At the same time, MAS is keeping a close eye on technological changes and has released a new set of Technology Risk Management Guidelines this year. All regulated entities – including GrabInvest – need to ensure they address the technology and cyber risks according to the updated rules. It's not just innovation, it has to be in a robust and resilient manner.
ESG and green finance making an impact in Singapore
Environmental focus for the financial industry has come on the radar in recent years in line with the greater focus it has been accorded in other regions1. Singapore has among other things:
implemented Guidelines on Environmental Risk Management for banks, insurers and asset managers

launched a Centre of Excellence to drive Asia-focused green finance research and talent development

started a Green Finance Industry Taskforce (GFIT), and

launched an Environmental Risk Management (ENRM) handbook for the Singapore financial sector.
The message for making a positive impact on the environment is only increasing in the investment community. Money flows can drive decisions that make an impact.
At Grab we have released our first ESG report which includes our initiatives to reduce carbon footprint. It goes together with our stance for Grab for Good as Grab was founded on the belief that a technology company could both run profitably and create sustainable impact.
GDP growth, moderate inflation and unchanged interest rates
On the macroeconomic side, MAS has reinforced the need for a continued accommodative stance of monetary policy. While the prospects for Singapore's GDP growth have improved, the recovery is likely to be uneven given the continued travel restrictions and the risk of mutations. With this continued accommodative policy stance by MAS interest rates, especially for maturities up to 3 years which is relevant for AutoInvest, will remain low for the foreseeable future.
Inflation for the year is still expected to be subdued. MAS is expecting core inflation to average between 0% to 1% while the forecast range for headline inflation has been revised up to 1% to 2% in 2021. The difference between the two indicators is that core inflation excludes accommodation and private road transport. The latter is highly influenced by oil prices that have seen a strong rally this year. Price swings like these are the reason why both inflation measures are watched by policymakers.
We always look out for inflation since it provides an indicator if central banks are potentially hiking interest rates which would impact the return prospects of AutoInvest. With the continued mention of the accommodative stance it is highly likely that the landscape for interest rates for AutoInvest remains unchanged. Only if Inflation starts to show a significant upswing will we see the central bank take serious consideration to change the policy. If that happens, AutoInvest could see short term negative returns followed by a period of higher returns as maturing short term holdings are reinvested at higher yields.
How has AutoInvest performed so far this year?
Let's also review the performance of AutoInvest during the first half of the year. Returns since January are +0.27% absolute which is an annualized return of +0.55%. During the same period the FTSE Singapore Government Bond Index, which captures Singapore Government bonds with all maturities greater than 1 year, declined 3.90%2. While the government bond index has a very similar portfolio yield that is approximately 0.1% higher than AutoInvest, the average maturity of the bonds is much longer and closer to 8 years for the index compared to the approximately 1 year in AutoInvest. The inclusion of investment grade corporate bonds helps AutoInvest reach a similar yield to the government bond index while avoiding the price swings that longer maturity bonds can have from interest rate movements.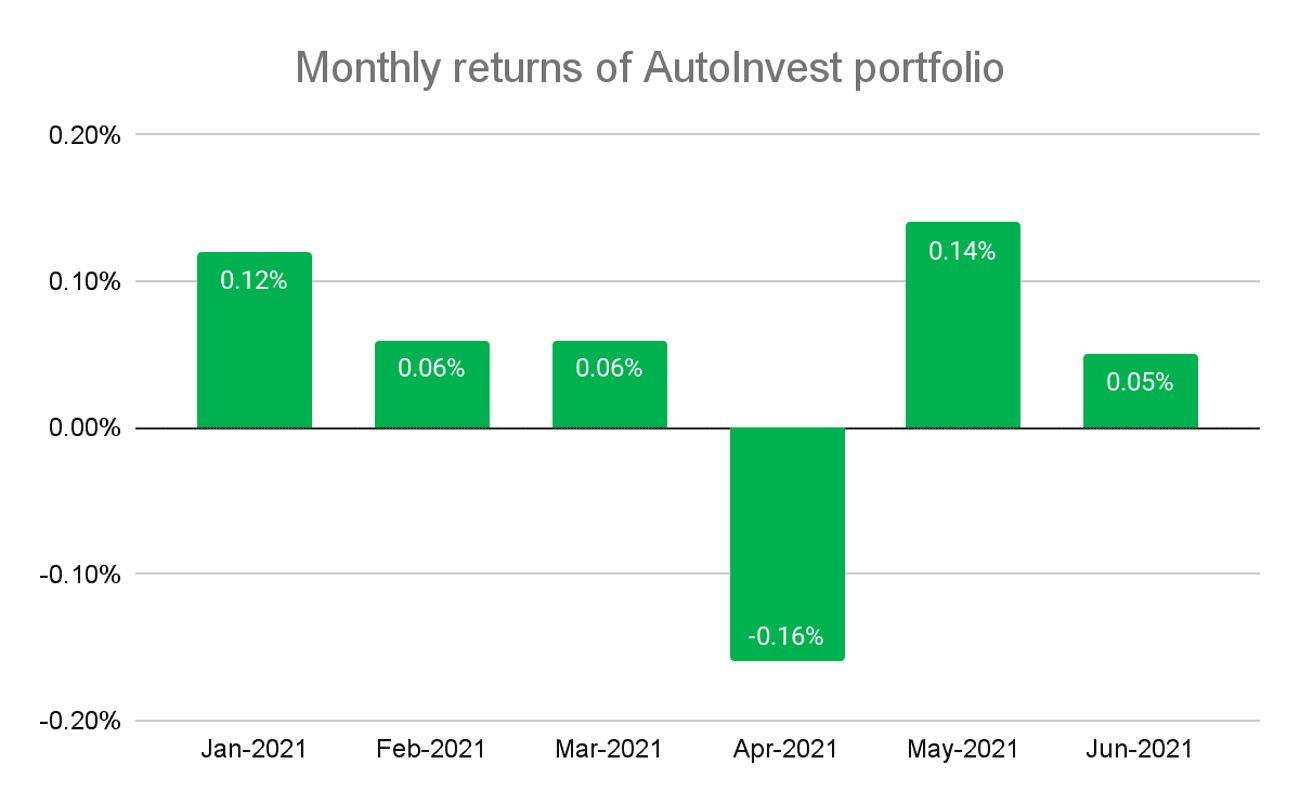 The events during the month of April are the obvious culprit why the performance of the portfolio has come in below our expectations.
China Huarong, the largest of the China state-owned asset managers and a large issuer of bonds, made headlines after missing the end-March deadline for filing it's annual financials. We have detailed the events around the company in a special article when the event occurred  and followed up at the end of the month of April. 
The situation has stabilized, the funds have exited most of their exposure to the company and we can see from the performance that we are back to normalcy.
In the second half of this year both credit spreads and interest rates will play a role in the performance of the AutoInvest portfolio. With central bankers reinforcing their stance of an accommodative policy, we expect little movement in rates, unless there is a substantial surprise in the inflation numbers. Credit spreads have stabilized at their current levels and have room to tighten from here and bring capital appreciation, but will do so cautiously depending on how China handles the developing situation in state owned enterprises.
1 EU's regulation on sustainability‐related disclosures in the financial services sector (the SFDR) was adopted in November 2019 and applied from 10 March 2021.
2 Source: Bloomberg
The content in this article is meant for informational purposes only and should not be relied upon as financial advice. Past performance is not necessarily indicative of future performance