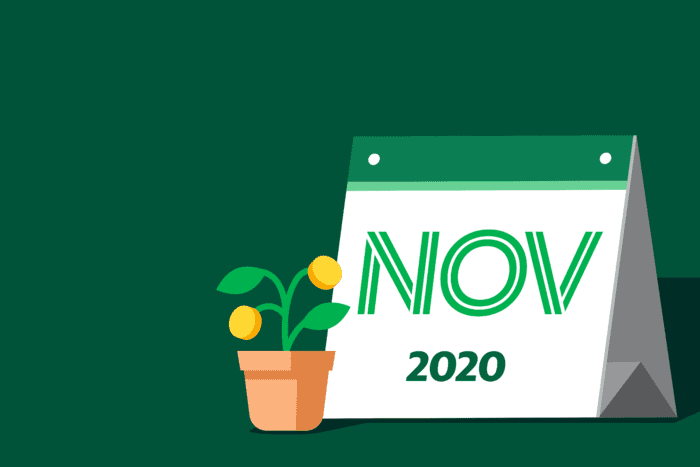 In our monthly portfolio update, we share how the AutoInvest portfolio has fared, the key drivers of performance, and our forward looking views.
There is now some level of certainty on the political front in the United States, post election outcome has been lingering on markets as a pivotal event. Now that markets have a clearer path forward we can see that a certain calmness is returning.
In addition, we now have updates on multiple successful vaccine trials that achieve better than expected protection. While it will still take months until they are widely distributed, the fact that a solution to the current pandemic is within reach and the approval processes with various countries are in progress prior to being rolled out is light at the end of this tunnel.
The most obvious beneficiaries are stock markets, with the MSCI World Index returning 12.8% during November which makes it an astounding month. This strong sentiment helps risk premia in other markets reduce as well: credit spreads for investment grade corporates in Asia1 have come down from 0.7% to now 0.6%. Interest rates remained at their subdued level, with 1 year Singapore government treasury bills yielding 0.22%.
The Autoinvest portfolio has exceeded our expectations. Since inception in July to the end of November, the portfolio has returned 1.97% p.a.. However, we can see the lower interest rate environment and lower credit risk premium reflected in the current portfolio yields which stands at a weighted average of 1.20%. Nevertheless we are confident that the portfolio will meet its projected 1.8% annualised return for 2020 and we will review the guidance in the new year.
AutoInvest Performance since July 2020
Development of SGD 100 invested into AutoInvest at the end of June 2020
In Singapore we have seen the release of Q3 GDP growth numbers. The -5.8% year-on-year growth might seem disappointing at first glance and was slightly worse than analyst expectations who had forecast -5.5%, but it points to an intact recovery given that the previous quarter year-on-year growth was -7.0%.
Consumer price inflation2 for October was published at -0.2% year-on-year against expectations of a flat release. This is one of the key reasons for Singapore's central bank to continue the loose monetary policy which keeps interest rates extremely low. While most components of the inflation release were negative, food and communication were part of the few categories that saw an increase with +1.7% and +0.8% compared to the previous year. Apart from recreation and culture (-2% compared to the previous year), it was actually clothing and footwear that was the most negative component with -4% compared to the previous year. Basically we have more people working from home, sitting in front of their computers in sweatpants, spending on food.
Interested to get started with AutoInvest? You can start investing with as little as $1. Find out more here.

1 As measured by the Markit iTraxx Asia Ex-Japan published by ICE
2 Government of Singapore, Department of Statistics. https://www.singstat.gov.sg/
The content in this article is meant for informational purposes only and should not be relied upon as financial advice. Past performance is not necessarily indicative of future performance.