As the new year starts, we'd like to share our expectations for returns for the AutoInvest portfolio in this monthly update.
We're revising our projected rate for AutoInvest
In the second half of 2020, AutoInvest delivered a 1.91% p.a. return – a fantastic result for early investors. However, with a persistently low interest rate environment which looks to continue for some time, we've revised our projected rate for AutoInvest in the first half of 2021 to 1.18% p.a.1
While the new projected rate is lower, it's still expected to deliver positive returns for investors like you. Read on to find out more.
Economic Data
Following the positive start to the year with better-than-expected fourth quarter 2020 GDP numbers, January delivered better-than-expected unemployment numbers, and we received reports of better-than-expected retail sales numbers for November. 
To no surprise to anyone working from home, the key drivers were computer and telecommunications equipment, as well as furniture and household equipment. Comparing this to pre-Covid-19 times, we're now only less than 2% shy of the prior year's level for retail sales2.
The continuing recovery is also reflected in the inflation index. The annual inflation metric was negative for most of 2020 and returned to a solid flat zero by December3. Inflation is expected to be trending into positive territory for 2021 but remain below 1%4.
Interest Rates
Interest rates have started to pick up on that inflation signal – if only very faintly. 
10-year Singapore government bonds have recently breached the 1% yield level from the less than 0.9% they were averaging during the second half of last year5. This impact is only seen at the longer end of the maturity spectrum. 
On the short end, 12-month MAS bills are still quoting slightly above 0.3% in yield, which is just slightly higher than in the second half of 2020.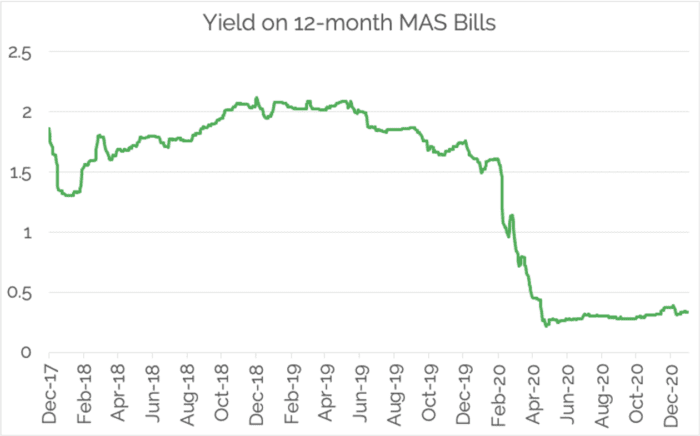 Yields on 12-month MAS bills have been ultra low for most of 2020. Source: Bloomberg
For investors, rising interest rates are a sweet and sour affair. On one hand it means that prices on existing investments are dropping (since yields and prices move in opposite directions for fixed income securities), but on the other hand any reinvestment can now be done at higher levels for better returns in the future. 
Longer maturity investments are more exposed to price swings due to the long tenure of the investments. For AutoInvest we only use a) money market funds that currently have an average maturity of their investment instruments of less than 90 days and b) short-term interest rate funds which currently have a maturity of their investment instruments of 1.5 to 2.7 years. That is short indeed and intended to protect our investors from price swings. 
Unfortunately, this stability also means that we have to be content with the current interest rate environment which continues to be ultra-low.
AutoInvest Return Expectations
MAS' most recent policy statement suggests "an accommodative policy stance will remain appropriate for some time."6 Central bankers tend to choose their words carefully and are very commitment-shy in their nature. As such, much has been made of how to interpret "for some time" since it is unusually strong in its commitment to a loose monetary policy. We'll have to wait until April for an update to the policy statement, but it is unlikely that this stance will shift very quickly.
The longer end of the interest rate curve has shown some small movements to the upside as outlined above; the short end of the interest rate curve – which is relevant for AutoInvest – has been very stable and will be tightly linked to central bank policies.
We are therefore adjusting the return expectations for AutoInvest for the first half of 2021. We expect the returns to investors to be near 1.18% per annum1. This level follows the 1.91% p.a. realised returns for investors during the second half of last year where portfolios benefited from the improvement to sentiment. 
Credit spreads for corporate bonds tightening from the wide levels of the Covid-19 pandemic has brought gains to the AutoInvest portfolios since the underlying funds have some holdings in investment-grade rated corporate bonds. However, we believe that the majority of this spread compression is now behind us and unlikely to be repeated during this year. 
With markets showing great stability it is likely that the current portfolio yields are a good indicator for the possible returns, which brings us to the 1.18% expectation1.