What is GrabHitch?
We are a social, non-commercial carpooling platform that matches everyday drivers to passengers going along the same way.
Anyone with access to a car and valid license (with min 1 year experience) can sign up. You do not require any additional provisional license* or commercial insurance.
There is no obligation to do rides on a regular basis, and you choose who to pick up, when and where to do so. 
*Do note that based on LTA regulations, you need to have a PDVL to drive Hitch ONLY IF you own a PHV-registered car. 
Why should you sign up? 
While waiting for PDVL or if you decide to switch to driving casually, you can potentially recover up to $600 a month just by tompang-ing someone along the way!
Get $30 credit in your driver wallet when you complete your first GrabHitch ride with referral code HITCHGDC by 31 October*! Your application will be approved in 1-3 business days.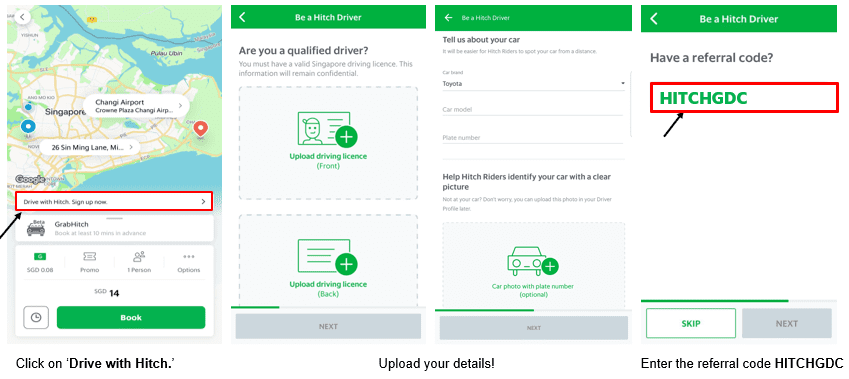 *Terms apply
---
How does GrabHitch work for drivers? 
Step 1: Once approved, open your Grab App and click on the upper left icon to view Tab. Tap the bottom banner to switch to "Hitch Driver" mode.
Step 2: Create a route based on where you are, and where you want to go at a specified time/date. Remember to indicate available seats you have, and whether you prefer a same gender rider.
The app will populate riders most suitable to your route. Alternatively, use the QuickHitch function to find nearby Hitchers without creating a route.
Step 3: Pick a suitable rider, accept the booking and remember to confirm with the rider via text!
Step 4: Accept payment once ride is over, either via cash or credit/ Grabpay.
Cashout payment will be through app to your specified account.
---
*Terms and Conditions:
This incentive is only eligible for new drivers who sign up and successfully complete 1 Hitch ride as a driver by 31 October 2019.
New drivers must sign up with the referral code HITCHGDC in order to qualify for the $30 credit.
The processing of the $30 credit will only be conducted after the incentive period has ended (i.e. post 31 October 2019)
Please allow up to 10 working days from the end of the incentive period for the disbursement of the $30 credit into your Hitch Driver wallet.
GrabHitch reserves the right to change these terms and conditions at anytime without prior notice.