Sign up as a GrabHitch driver, straight from the Grab passenger app!
Use referral code HITCHCLUB to get a $20 sign up bonus
Make sure your license details (on the photo) are clear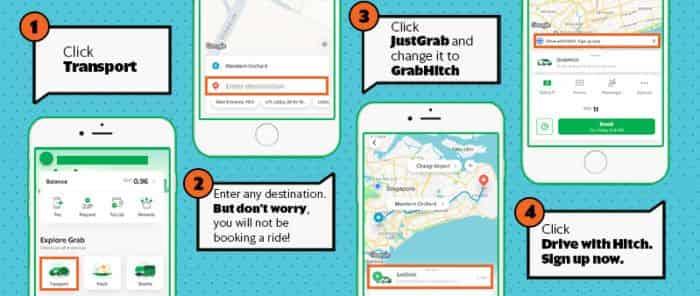 Your application will be approved in 1-2 business days!
---
Plus, get exclusive discounts from our fuel partners
And have access to more deals!
---
Did you know?
Thousands of Singaporeans who drive are saving at least $400 a month, just by hitching someone to and from work daily!
GrabHitch is a social carpooling service that matches everyday drivers to riders going along the same way. There is no obligation to do rides on a regular basis and drivers get to choose who and when to pick up.
And the best part is, anyone with a car and a valid driving license can sign up – no additional documents / licenses are needed!
---
Terms and Conditions:
This incentive is only eligible for new drivers who sign up and successfully complete 1 Hitch ride as a driver by 31 July 2019.
New drivers must sign up with the referral code HITCHCLUB in order to qualify for the $20 credit.
The processing of the $20 credit will only be conducted after the incentive period has ended.
Please allow up to 10 working days from the end of the incentive period for the disbursement of the $20 credit into your Hitch Driver wallet.
GrabHitch reserves the right to change these terms and conditions at anytime without prior notice.