Are you an existing GrabHitch Driver? 
Yes I am!

Find out here how you can get up to 11% CASH BACK on any Shell fuel, on top of prevailing station and card discounts!
No I'm not,

Read on to find out more about Hitch, and how you can sign up!
What is GrabHitch?
We are a non-commercial social carpooling service that matches everyday drivers to riders going along a similar route.
Anyone with min 1 year driving experience + access to a car can sign up!
It takes LESS than 5 minutes to sign-up right from your phone, via the Grab app. You do NOT require any additional provisional license or commercial insurance.
Why GrabHitch?
Choose WHO and WHEN to Hitch someone, it is entirely up to your own convenience. There is no obligation to do rides on a regular basis because you're NOT a taxi driver or commercial car service.
Share the cost of travelling and recover some petrol costs – Recover an average of $400 a month just by doing rides daily!
Exclusively for Shell Escape Card Members!
Get $30 when you sign up and complete your first ride as a GrabHitch driver with referral code
HCSHELL* 

by 30 April 2019!
*T&Cs apply
How do I sign up? 
All you have to do is log onto your Grab app and follow this step-by-step guide!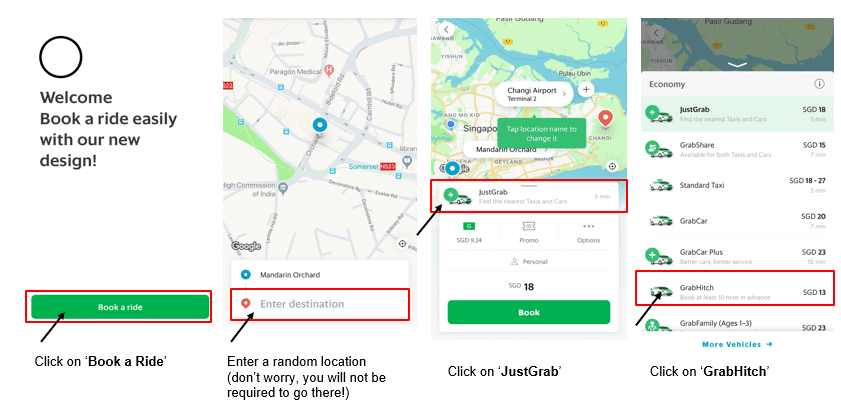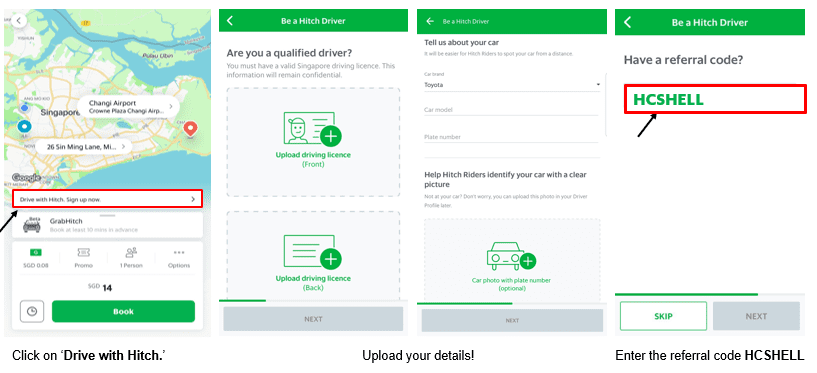 Your application will be approved in 1-2 business days!
---
 Get these exclusive car-related discounts worth up to $1,000 as a GrabHitch Driver:
and many more deals!
---
Still feeling unsure on how to sign-up directly, or have specific questions on Hitch?
Leave your particulars in the form below and we will be in contact with you in 1-2 working days to guide you on how to sign up.
---
*Terms and Conditions:
This promotion is only eligible for new GrabHitch drivers who sign up and successfully complete 1 Hitch ride as a driver between 1st September 2018 @ 00:00 hours – 31st October 2018 @ 23:59 hours, 1st December 2018 @ 00:00 hours – 31st December 2018 @ 23:59 hours, 1st January 2019 @ 00:00 hours – 31st January 2019 @ 23:59 hours, 1st February 2019 @ 00:00 hours – 28 February 2019 @ 23:59 hours, 1st March 2019 @ 00:00 hours – 31 March 2019 @ 23:59 hours, and 1st April 2019 @ 00:00 hours – 30 April 2019 @ 23:59 hours  ("Promotion Period").
New drivers must sign up with the referral code HCSHELL in order to qualify for the $30 credit.
The processing of the $30 credit will only be conducted at the end of the month, i.e. post 30 April. Thereafter, please allow up to 10 working days for the disbursement of the $30 credit into your Hitch Driver wallet.
GrabHitch reserves the right to change these terms and conditions at anytime without prior notice.