Building a better life for our driver-partners and their loved ones
What you care about, matters to us. As part of our Better Everyday initiative, GrabAcademy extends its arm out to our driver-partners' family through scholarship grants and bursary awards.
Starting 2018, 10* Grab University Scholarships for local universities (up to $10,000 each) will be awarded each year. No bonds included!
Here's all that you need to know: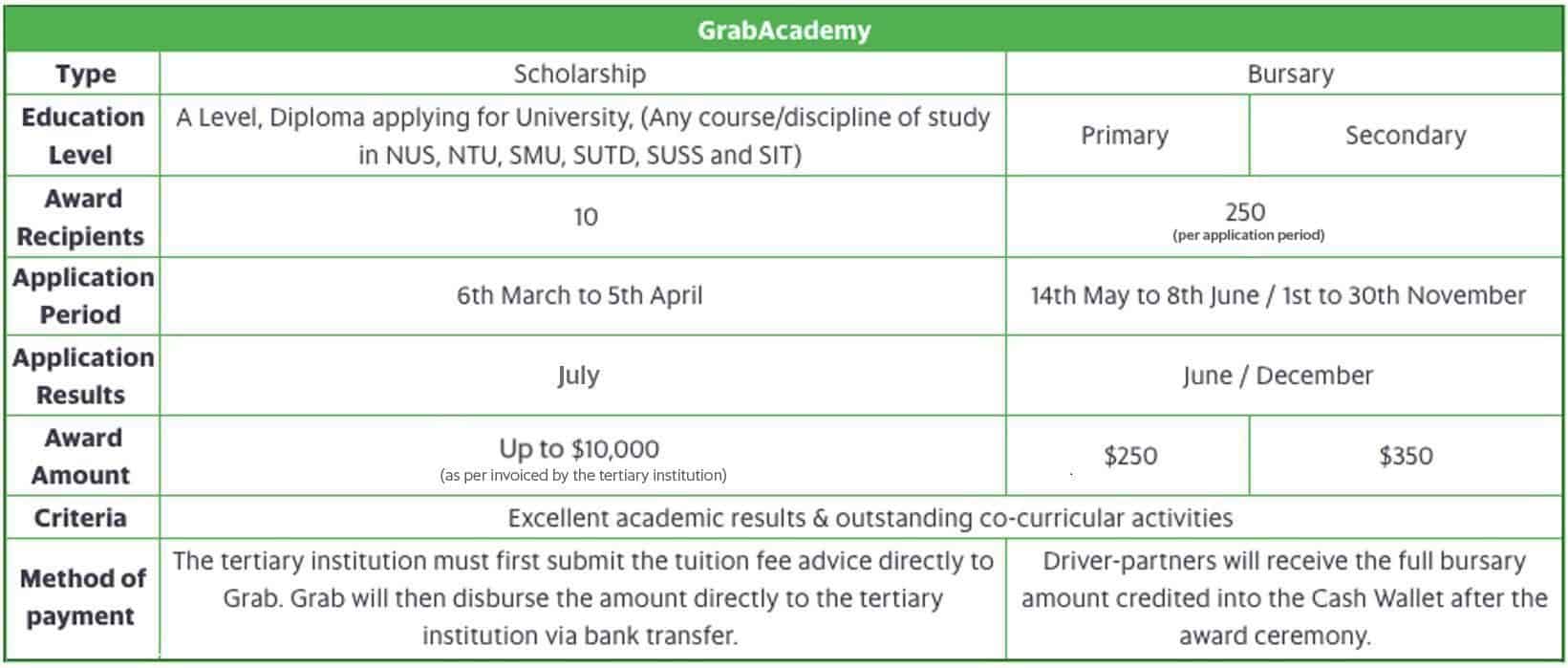 Application Process:
Scholarship
Driver-partner or student must sign up with the following documents:

Driver partner's NRIC
Student's Birth Certificate/Proof of Relationship
Student's NRIC
A level/Poly/University results
Cover letter for Scholarship Application
Supporting documents
University enrolment (if applicable)

Option for student to join Grab during internship period
Terms and Conditions
Driver-partner:
Active on Grab Platform for at least 12 months upon application.
Complete at least 60 trips/week on average
Has good service levels and behavior across the past 12 months upon grant application
All cases reviewed on a case-by-case basis
University Scholarship Grant:
Valid only for GrabCar/GrabTaxi Drivers who meet the requirement
Valid for 1 child per dax
Valid for 1 University course, not pending other scholarships
Opened to Singaporeans who possess:

Excellent academic results (Scholarship will be granted by merit of results)
Enrolled in university for academic years (at least 1 year) following the award of the scholarship
Outstanding co-curricular activities record (In event of similar performance academically, CCAs will take into account)
Immediate family member (Parents, Grandparents, Siblings) meets the Driver-partner criteria

Students are only eligible for the scholarship once, and recipients from previous years will no longer be eligible.
All of the above requested documents must be submitted (e.g. Student's NRIC, Cover letter for Scholarship Application etc)
The grant will be disbursed upon the submission of the tuition fee advice, and will be disbursed to the appropriate tertiary institution via named cheque or direct bank transfer