With effect from 22nd March 2019, we will be implementing certain equipment requirements for ALL riders partnering with us.
If you are delivering with GrabFood, you are required to use our available gear sets as recommended, including our GrabFood branded shirts, thermal halal bag, and thermal delivery sling bag or thermal delivery backpack – depending on your vehicle type.
---
Q: Why is it necessary for me to be in proper full gear?
Food Freshness & Safety:

Our GrabFood thermal delivery bags are specially designed with insulating material to ensure that all food is delivered fresh, safe, and under the most optimal temperature c

onditions.
Brand and Priority: Play a part in building up a cohesive brand identity as a community of dedicated partners delivering under GrabFood. Make it easier for restaurants to identify and prioritise your orders too – because you're a part of us!
Gear Rewarding Scheme

: Be seen in our full gear, and stand a chance to win $50 (for 20 fully geared partners spotted every week)
Q: How do I know what are the exact items I need in order to partner with GrabFood?

Depending on your vehicle type, you will require the following GrabFood branded items:

Q: What happens if I am found in violation of GrabFood's equipment standards? How does the gear compliance penalty system work?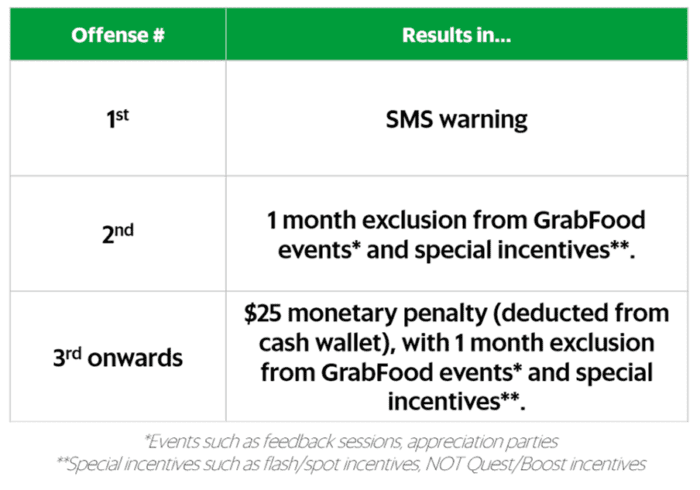 Q: What if I do not have the requisite gear? Is there any way I can collect what I need?

Fear not! We will be setting up a distribution event from 18th – 22nd March, 12PM till 6PM that will be open to all riders who do not have the necessary equipment items. You can simply pop by our office at 28 Sin Ming Lane, #01-140 to collect your gear – items including:
GrabFood branded long-sleeve dri fit shirt

Halal bag

Sling bag (for walker only)

Backpack
Do note that gear will only be given out to individuals who DO NOT have the requisite gear according to our records. Bag exchanges are allowed only if your current bag is damaged beyond utility. For lost or mishandled bags, a deposit charge of $50 for replacement applies as per usual.
Q: When will this compliance system be officially rolled out?
Starting 22nd March 2019, GrabFood's gear compliance system will be launched officially – with our Partner Aide officers out and about ensuring that we see maximum compliance.
Make sure you have your gears on, ride safe and be seen to earn yourself an EXTRA $50 for the week!
---
Terms and Conditions for Penalty System:
1st offense: Riders who are spotted on the road by our

Partner Aide team

to be in incomplete GrabFood gear will receive their first warning via SMS.

2nd offense: Riders failing to comply to gear standards for the second time will be subjected to a

1 month exclusion from GrabFood events and special incentives

, where

exclusion

refers to an official prohibition of riders from participating in activities such as:

Special campaigns

e.g. GrabDurian, GrabFood Log Cake, Grab x Irvins, Grab Abalone

Grab events

e.g. Grab-A-Drink

Special incentives

e.g. hustle hours

3rd offense onwards: Riders will face a $25 monetary penalty to be automatically deducted from the cash wallet, AND a 1 month exclusion from GrabFood events and special incentives. Riders may also be subjected to an account ban depending on severity of non-compliance behaviour.

An exclusion will only be lifted after 1 month from the date of offense.

Penalty count WILL NOT reset so long as you are delivering under GrabFood.