ALL existing delivery-partners in DTBM/SW Fleet would have 2 weeks (7 to 20 August 2019) to hit the trip targets below to continue to be in DTBM/SW fleet. 
After the 2 weeks' probation, delivery-partners would then be reviewed on a monthly basis. 
Existing fleet delivery-partners who are unable to meet the requirement during the probation would be offboarded from their respective fleet.
Here's the minimum number of trips for existing zonal fleet delivery-partners to achieve during the two-week probation to continue to be eligible in the fleet: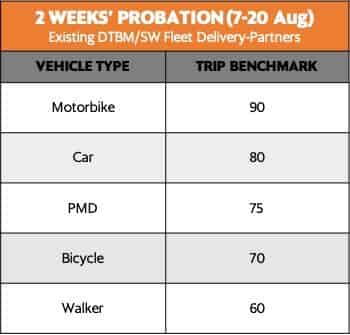 ---
Frequently Asked Questions
I am currently in one of the zonal fleets. Can I change to another fleet?
Yes you may. Please reach out to us via Telegram (@GF_DP) to make the request. However, such requests would be considered on a case-by-case basis. In particular, frequent changes would not be condoned. 
Who should I contact if I encounter any issues?
Please contact us via Telegram (@GF_DP).
I was previously disqualified from the fleet. Do I still have a chance to be opted back in?
Yes, you still have the opportunity to rejoin the zonal fleet. Previously disqualified delivery-partners will need to maintain at least 2 months of consistent performance before the opt-in request would be considered.
Special circumstances will be considered on a case-by-case basis. Please contact us via Telegram (@GF_DP).
Basic requirements for rejoining of the zonal fleet, if previously disqualified: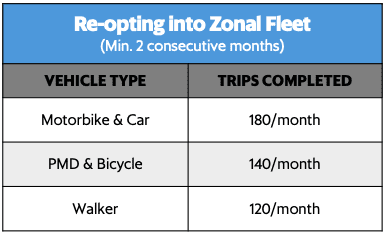 ---
Terms and Conditions
You will NOT be able to receive jobs from merchants outside your respective zone. 

If unable to meet monthly trip count when in zonal fleet, delivery-partner will be offboarded on the following month.

Selected participants have the option to opt out of the fleet. Please submit your opt-out request via Telegram (@GF_DP). 

Delivery-partners are only allowed to enlist in ONE fleet at any given time.


GrabFood reserves the rights to make any changes to this special fleet without notice. 
*Page last updated 7 August 2019.