GrabFood x NTUC: Delivery Rider Kit
we've partnered NTUC to bring you the Delivery Rider Kit. 
The Delivery Partner Kit is a 5 day programme for all GrabFood delivery-partners. The programme will aim to cover the basics of safety, service management and first aid.
The programme will cover 5 modules:
Module 1: Starting my Bicycle/Power-Assisted Bicycle (PAB) Journey
Module 2: Digital and Me
Module 3: Service from Me
Module 4: Safe Riding on Pedal and Power-Assisted Bicycle (PAB)
Module 5: Safety for All
Course Allowance will be claimable via e2i upon course completion.
[Course allowance will be only applicable  to "Self Employed Person"(SEP))
i)  For SEP (non-NTUC member): $70
ii) For SEP (NTUC member after 1 Mar): $73.50
iii) For SEP (NTUC member before/on 1 Mar): $77
For more info, please click on this link: https://e2i.com.sg/individuals/employability/ntuc-training-fund-seps/
Advise all partners to claim 1 week upon course completion: refer to above link > "Submit Your Claims"
As a bonus, Module 4 attendees will receive a Grab x Lumos Helmet worth $180 FREE*
*Each partner is only eligible for ONE Lumos Helmet in their GrabFood journey.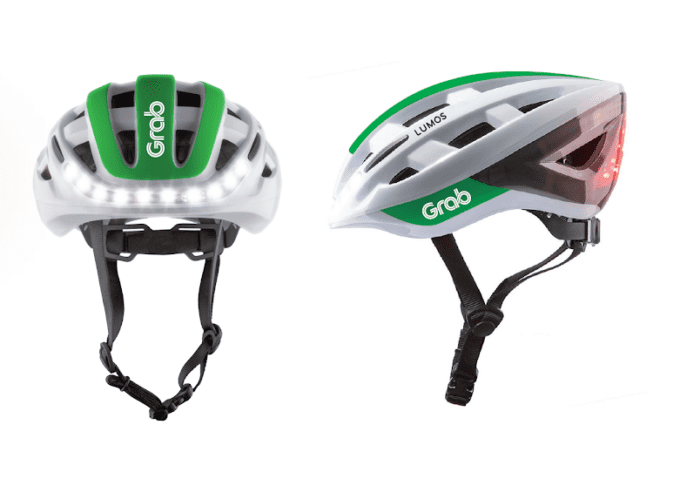 Award winning design

Extensively tested to ensure the highest standards of safety. 

Equipped with turn signals.
Frequently Asked Questions
How long will each module last?
Each module will be a full day programme, lasting 7 hours. 
Will I get an allowance for attending the programme? 
Yes, you will be eligible for training allowance claims if you are a Self Employed Person (SEP). Check eligibility via HERE
How do I know if I'm eligible for the programme?
Please check eligibility via HERE
Where do I get more details of the programme?
You can find more information HERE. Details of the programme, such as location and dates, will be confirmed at a later time.