Here are your incentives for this week!
Zone Booster (helping you earn more per trip)
Quest Incentive (all-week targets with great rewards)
What's more, there's no need to pay any commissions!
You can cash out daily, and remember to use the GrabFood Thermal Bags while delivering.
Zone Booster Incentive:
Earn more with every delivery!

Perform deliveries during these timings to earn up to $2.50 per trip* on top of drop fares.
Enjoy limited-time special extension of lunch hour incentive till 2.59pm! 
*No minimum Acceptance Rate!
Note: Time blocks marked in red count towards the next day's quest incentives (if applicable). For example, referring to Friday 12th April's table, if you complete a trip accepted at 2am within Downtown (+1, 13 April), you will receive $2.50 for zone boost incentives. The trip counts towards your weekend quest as it was accepted past 12midnight on Friday.
Refer to the table below and check out incentives based on the days of the week you're heading out.
Sign in to a zone of your choice and get paid the following bonus for that zone.
If you get a trip in one of the neighbouring zones, don't fret – you'll still be paid in the zone you signed into!
Note that incentives are based on your trip acceptance time.
The more trips you do, the better!
Notes:
How to read this table:

If you accept 2 trips on Monday between 11AM – 1.59PM at Central, you will be paid $3 ($1.50 x 2 trips)  on top of all your $5/trip base fares upon completion.
If you accept 3 trips on Saturday between 11AM – 2.59PM at Downtown, you will be paid  $9 ($3 x 3 trips) on top of all your $5/trip base fares upon completion.

Eligible trips are unique Eater trips.
Time blocks past 12 midnight are considered as trips completed for the next day. For example, if you accept a trip on Friday night past 12am (Saturday morning), it is considered towards weekend quest.
Incentive payout will be within 2 days.
---
Quest Incentive:
Earn up to $205 extra!
Hit the following all-week targets and earn up to $205 extra!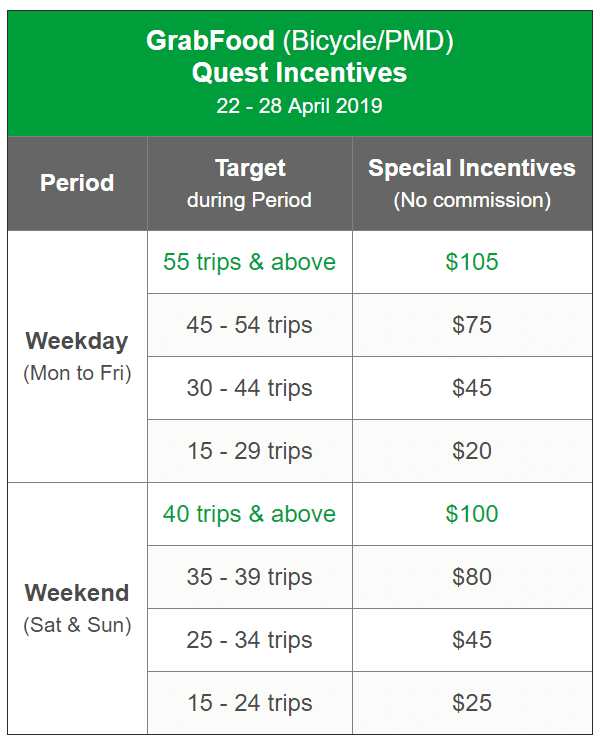 Notes:
How to read this table:

If you complete 50 trips during the weekday this week, you will be paid $105 on top of all your $5/trip base fares.
If you complete 35 trips during the weekend this week, you will be paid $80 on top of all your $5/trip base fares.

Trips counted is based on order confirmation time. As such, orders accepted past midnight are trips are considered trips for the next day.
Eligible trips are unique Eater trips.
Incentive payout will be made within 2 working days.
Make sure you satisfy the following criteria to qualify for Quest Incentives:
Acceptance rate (AR):
70% and above
Quick tips:
Change your phone settings to 'display always on' to avoid missing out orders in the event your phone goes to sleep
To do deliveries in another district (if you move between CBD/ Geylang/ East/ Novena/ North/ West), you will have to end session and then log in at the new zone you want to do deliveries in.
If you encounter a large order, call the GrabFood support hotline at 6902 1038. Another delivery-partner will be dispatched to help with the large order.
---
GrabFood Incentives Terms & Conditions
If there are repeated orders by the same eater, only the delivery that occurs first will be considered.
Jobs outside of Singapore are not allowed and do not count.
Grab reserves the sole & absolute right to forfeit incentives and suspend accounts of Delivery-Partners who do not follow GrabFood's Code of Conduct. Grab's decision is final and conclusive – requests for appeal and review will not be entertained.
Grab reserves the right to withdraw, amend and/or alter any part or the whole terms and conditions of incentives at any time without prior notice.