Sounds good? We're introducing a special incentive that will allow you to earn $1 extra for every trip you do during specified announced time periods, Plus, you get a free set of safe riding gear (worth $100.00) when you sign up successfully AND complete 20 trips during announced time periods! 
The campaign will run from 14 October to 31 December 2019. 
---
How does it work?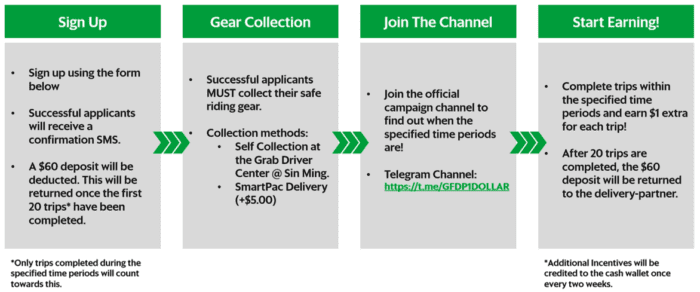 ---
When can I start signing up?
Application start date:
Monday 14 October 2019
Gear collection start date:
Monday 14 October 2019 (while stocks last)
Campaign end date:
31 December 2019
---
Join the official Campaign Channel HERE
Join the official channel to know when the specified time periods are! These time periods and their zones will be announced in real time on the channel.
Please note that these incentives are only applicable to delivery-partners who applied successfully. It is the partner's responsibility to join the channel and to be aware of the specified time periods  periods and zones that will be announced on the channel. 
---
How will the incentives be calculated?

In the event that Grab fails to announce at least 20 specified time periods (assuming 1 incentive campaign period = 1 hour) by 31 December 2019, partners will receive a full refund of the $60 deposit. 
Note: This campaign is only valid for Motorcyclist and Bicyclist
---
What is included in the safe riding gear set?

Raincoat Size Guide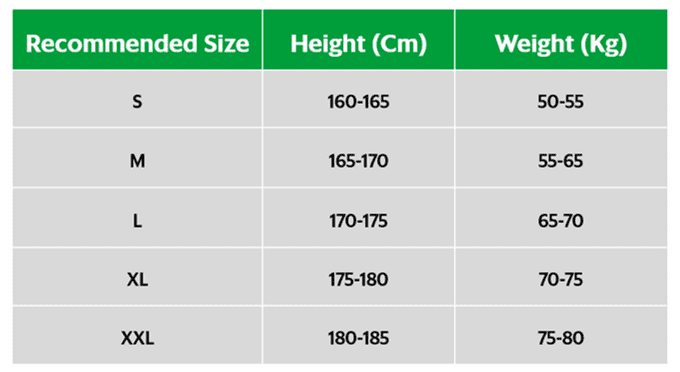 Mode of Collection
Self Collection: Block 28 Sin Ming Lane, #01-138, Singapore 573972 (10.30am to 5.30pm)
Delivery: Via Smart-pac for $5.00 (2-3 working days) –

note that delivery fee will be deducted from your cash wallet if you select this option
Returns
Delivery Partners can request for a change of sizes within 7 days of collection, but cannot return the set in order to opt out of the campaign. Click HERE to request for a change of size.
Remember to take precautions and stay safe while delivering!
---
Frequently Asked Questions
Why are PMDs/Walkers not eligible for this campaign?
This is a pilot campaign, and due to vehicle constraint, only motorcycle and bicycle delivery partners are allowed to participate in this round. 
Am I required to wear the gear during the specified time periods?
Delivery-partners are strongly advised the wear the provided gear for safety purposes, especially during these time periods!
Can I join the campaign but not collect the gear because I already have my own?
No, all delivery-partners who participate MUST collect the gear via either one of the collection methods. 
I am in the DTBM and SW Fleet, can I still join the campaign?
Yes, you can.
I have submitted my application and I have joined the official campaign channel, am I definitely in the campaign?
Successful applicants will receive a confirmation SMS within 2 working days after form submission. If no SMS is received, your application was not successful.
I have collected the gear and started delivering for 2 days and I do not like the gear. Can I get a refund?
No, delivery-partners are only able to request for a change of size. No refund or return will be allowed
What If I am unable to fit the Glove/Raincoat suit?
All participants are given 7 days upon collection to exchange sizes.

Change of size will only be done at MidView City

Any change of sizes, delivery partner is to submit the request via this

form
Can I opt-out of the campaign?
Unfortunately, no. Once your application has been approved, you cannot opt-out of the campaign until it ends. 
When will I receive my incentives?
Delivery-partners must complete 20 trips during the specified time periods. The additional $1.00 will be given from the 21st trip onwards. 
Incentives will be credited once every two weeks
Am I restricted to a particular zone?
No, delivery-partners are able to receive orders islandwide unless you are already in a dedicated fleet (e.g. Downtown, Southwest or Southeast).
I delivered while in the gear, why was the incentive not credited to me?
Only trips completed during the specified time periods and in the specified zones will qualify for the additional $1. 
Do I have to complete a minimum number of trips before i start earning the extra incentive?
Yes! You have to complete 20 trips during the specified time periods before you receive the extra incentive and your $60 deposit.