Thank you to everyone who took on the #GF7SecAd Challenge!

Because of you, 1,298 GrabFood outlets will get 800,000+ impressions worth of free ad space!
If you're looking for a way to support these restaurants, why not order in from them. And if you need some ideas on where to start, here's 3,070 seconds worth of food shots to inspire you with 😉

Watch the world's longest GrabFood ad, here.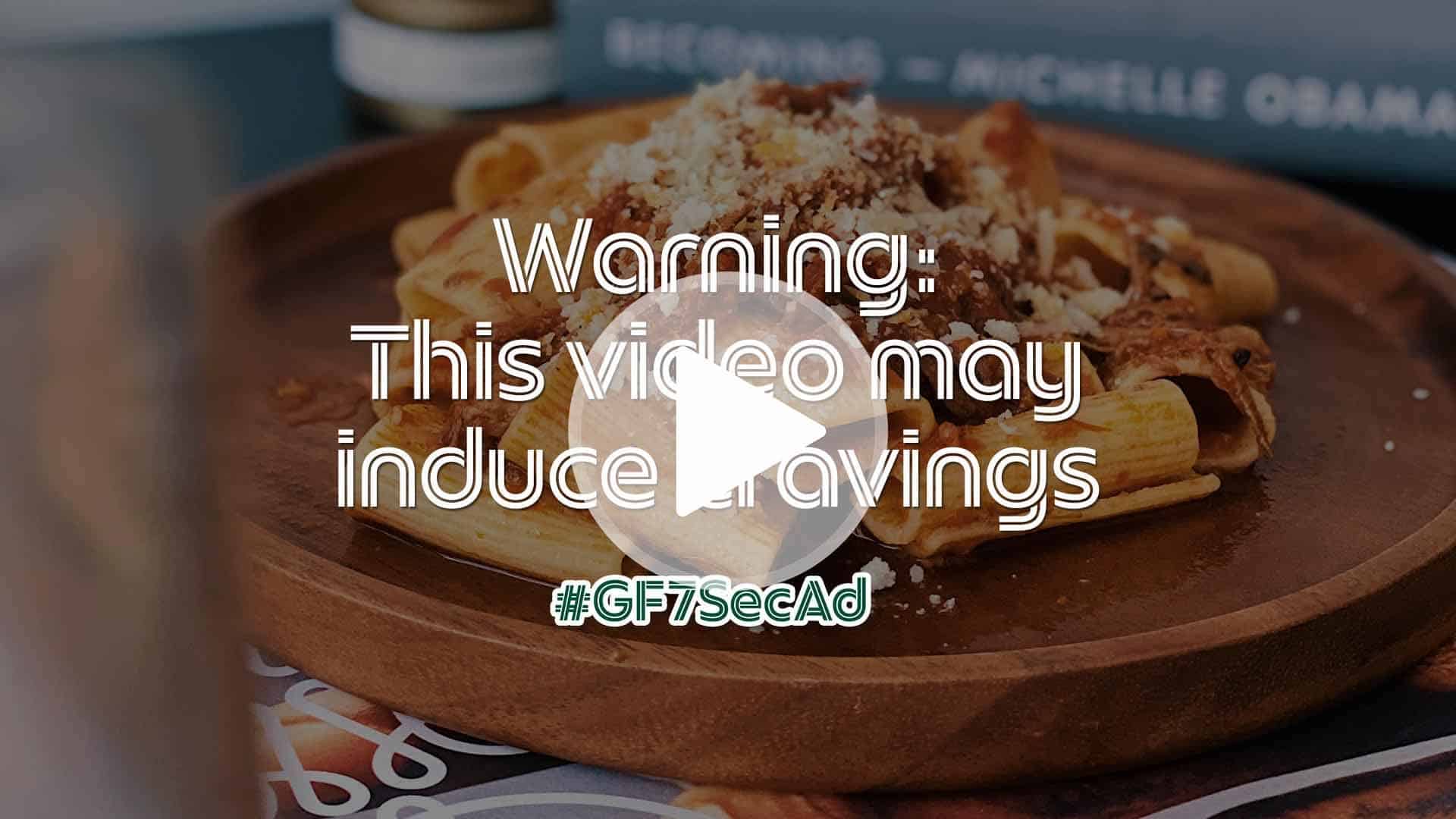 Here are some of the featured merchants in the ad. If you're looking for a way to support these restaurants, why not order in from them.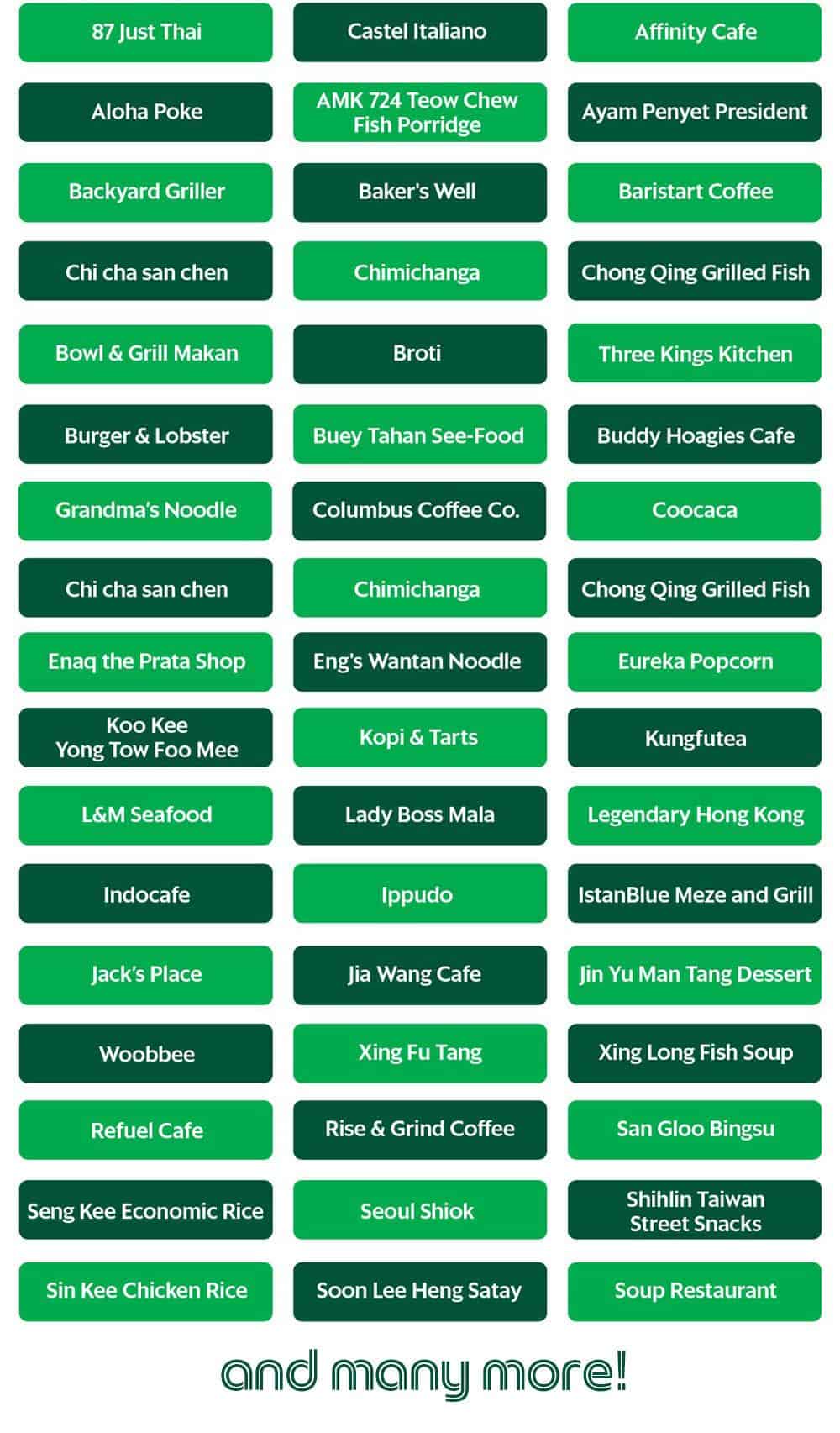 Support the restaurants you love, by doing what you love.


Thank the F&B outlets that kept you sane over Circuit Breaker by helping them to score free ad spaces from Grab!

Right now, they need as much exposure as they can get. So we're giving them our media spaces and marketing channels. But we need your help to decide which F&B outlets get featured.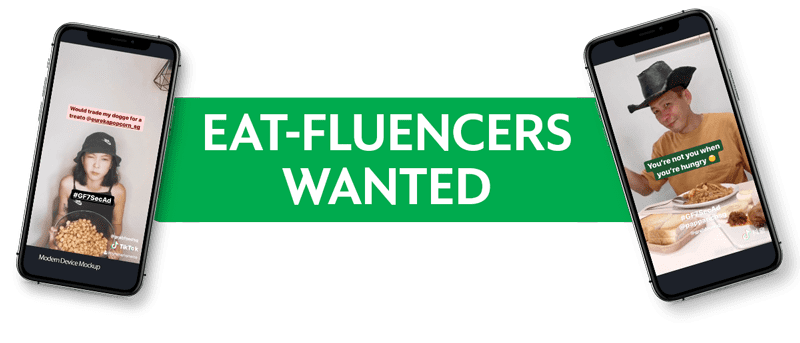 From 21 May – 8 June 2020, every time you order a GrabFood meal, just do what you normally would… Take a video of the food and post it.
Every 7 second long video will be turned into ads to promote your favourite F&B outlets so they can get more visibility and reach new customers.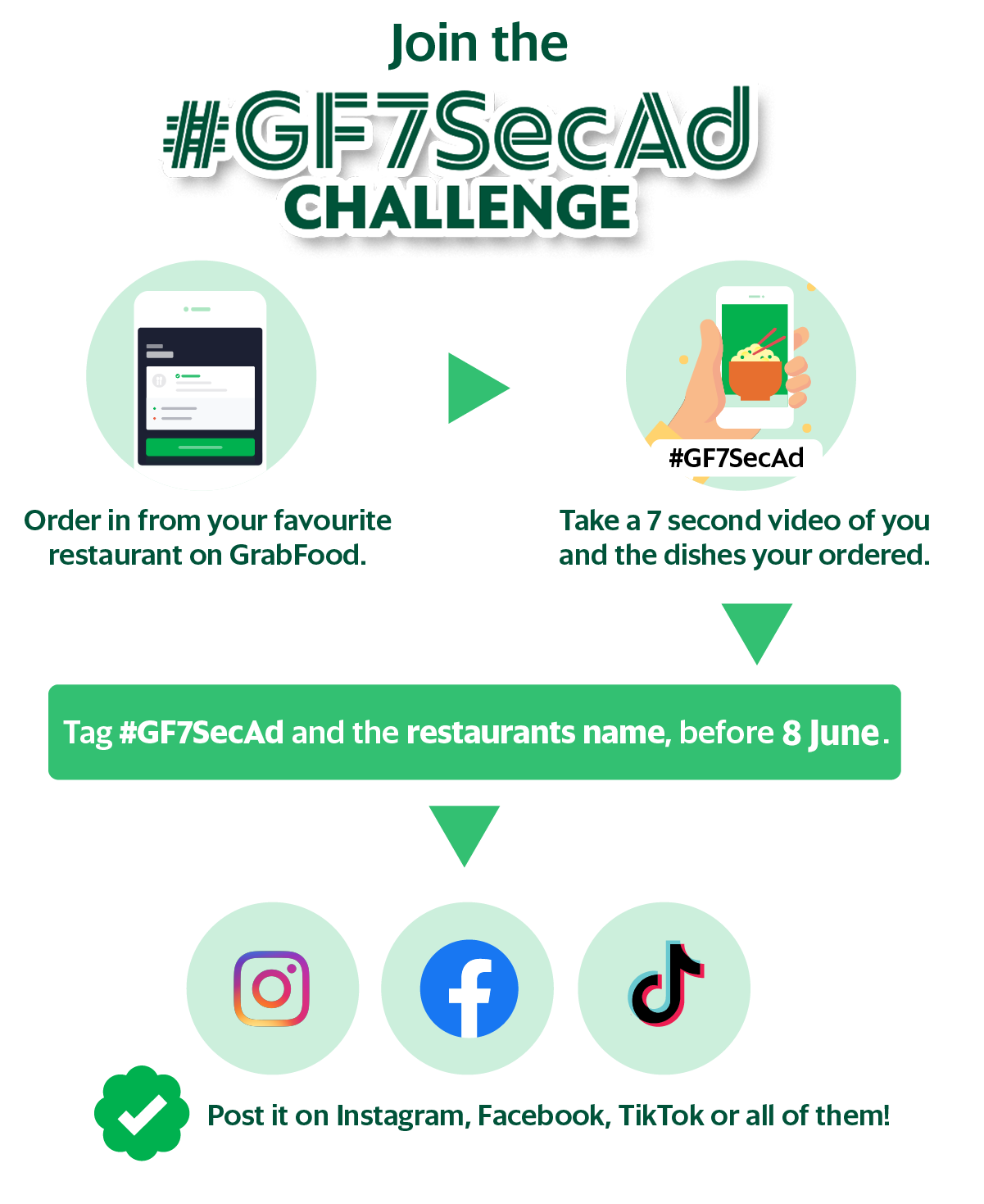 Why 7 seconds? Because that's all the time it takes for a person to form an impression.
But don't forget to switch your profile to public mode so people can see your 7 second shout out. And so we can find it because the 20 most creative videos will enjoy a $20 OFF GrabFood voucher.

Help your favourite restaurants, hawker stalls, cafes, drink and snack stalls, reach over 800,000 new customers on these channels, in just 7 seconds!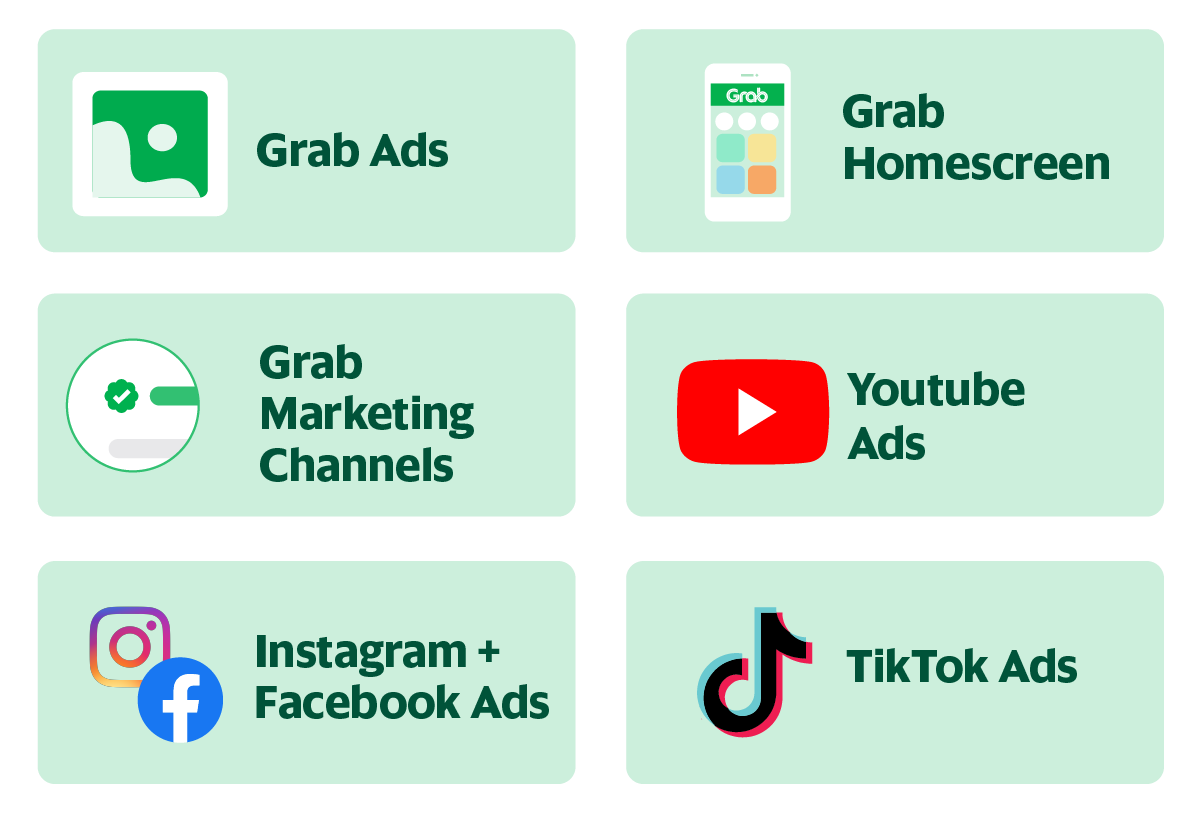 There are no limits to how many 7 second ads you can submit but the more videos an outlet gets, the more they'll get featured! So if you love them, show them!

BUT THIS IS ONLY THE START...
The #GF7SecAd Challenge is the beginning of a series community support efforts aimed at helping F&B businesses affected by COVID-19. As the situation evolves, we'll be introducing new ways we can work together to leverage the Grab platform to support restaurants with getting not just the awareness they need, but other ways they can adjust to the new normal. Check back here again soon to find out how you can show your favourite restaurants some love.
#GF7SecAd Challenge Terms and Conditions
HOW TO ENTER: Share a video of our #GF7SecAd Challenge on your Facebook/Instagram with your favourite dish you ordered from GrabFood. Tag @grab_sg, the merchant and include the hashtag #GF7SecAdChallenge – and make sure your profile is set to public from 21 May 0000 – 8 June 2359. 

PRIZE TO WIN Top 20 most creative video will get awarded 2 x $10 GrabFood vouchers on 16 June 2020.

WINNER QUALIFICATION & NOTIFICATION:
Food and merchants featured in the post must be listed in GrabFood.
Only posts during the campaign period are qualified.
Winners will be notified via social DM.
Winners will be determined by Grab in its sole discretion, and are only allowed to win once throughout the contest period.

Terms and Conditions
– By participating in this campaign, you represent and warrant that all entries and submissions are that of your own and you agree that Grab shall not be responsible in the event of any claim brought by any third party in this regard.
– We do not claim ownership of the content you post. You own all rights to the content in the post(s) you publish pursuant to this campaign and shall be solely responsible for them in accordance with the applicable terms and conditions of the relevant social media platform.
– To enable Grab to further the purposes of this campaign, you grant to Grab (including all its affiliates), its agents, licensees, and assigns, an irrevocable, perpetual, worldwide, royalty-free, non-exclusive right and permission to reproduce, use, distribute, encode, store, copy, transmit, publish, post, broadcast, display, publicly perform, adapt, modify, translate, create derivative works of, exhibit, and otherwise use your entry as-is or as-edited (with or without your name, image and likeness) in any media throughout the world for any purpose, without limitation, and without additional review by, compensation to or approval from you.
– Grab reserves and retain all our rights to any and all intellectual property or content we own, regardless of whether they are licensed to you for use or not.
– Grab reserves the right to replace the vouchers given/to be given with another equivalent prize at its discretion without prior notice.
– Grab reserves the right to amend the terms and conditions listed for this campaign as it deems fit.