Indian food has always had their charm in the different spices and flavours that make our taste buds work in overdrive. Within the Indian cuisine, it is mainly split into North Indian cuisine and South Indian Cuisine. Srisun Express has an extensive menu that serves noodles, rice and traditional Indian food that are both perfect for a delicious main course or a light snack. With 4 outlets situated in Singapore, Srisun Express aims to cater to every taste bud with extensive and delicious menu choices.
You would be amazed to find out that Srisun Express has 28 different variations of noodles available. Noodles come in all shapes and sizes and at Srisun Express, there are mainly 3 types of noodles that you need to familiarise yourself with, namely, Beehoon (thin vermicelli), Maggie (instant noodles) and Kway Teow (flat noodles). The go-to dishes for Singaporeans are usually delicious fried noodles like Maggie Goreng and Kway Teow Goreng. If you prefer to have a little more protein in your meal, you can choose to add extra meat like Chicken, Ikan Bilis or Mutton to your noodles. There is also an option for Pattaya noodles, which is essentially having the freshly cooked noodles and meat fried omelette and topped with chilli sauce. With so many options for us, we are truly spoilt for choices!
Looking for a simple dish for dinner? Look no further than Srisun Express Nasi Goreng selections. You can choose from 9 different styles of meals, including chicken, mutton or even just a plain fried rice. One of the must-try dishes is the Nasi Goreng Kampong, a dish that is different from the other fried rice dishes available as Srisun Express infused traditional kampong flavours into this dish. The flavours from the crunchy anchovies and spiciness from the sambal belacan heightens the overall taste of the dish. Srisun Express also serves Nasi Goreng Pattaya where the fried rice is wrapped with a perfectly cooked omelette on top with a generous amount of chilli sauce. This is also a must-try dish for all egg lovers!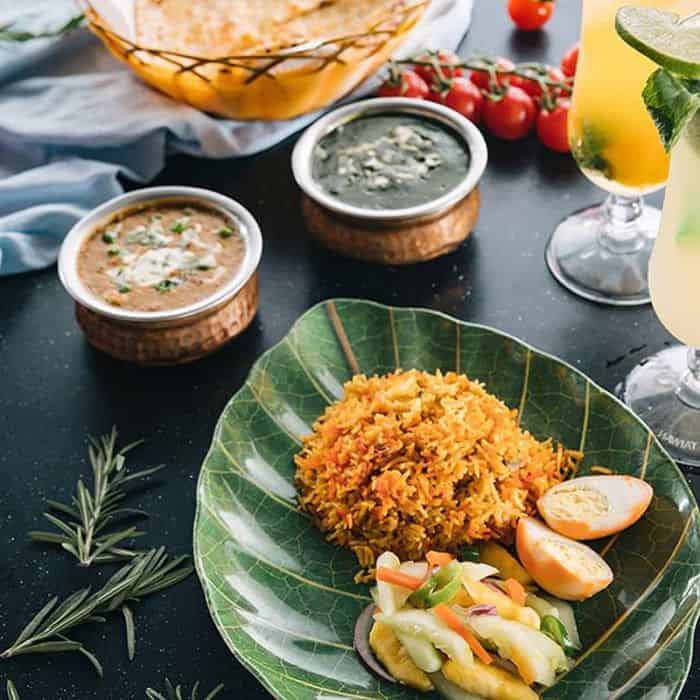 Did you know that Prata is a South Indian speciality? The process of making the prata is a sight to behold where the chef would stretch the dough by slapping and swinging it in one skilful motion to the shape of the flatbread that we are familiar with. A perfectly made prata would be crispy on the outside and soft on the inside. Srisun Express offers Singaporean favourites like the Plain and Egg Prata that have become a staple comfort food over the years. If you are up for something different and special, Srisun Express also serves interesting flavours like Banana Cheese Prata, Nutella Prata and Paper Prata with Chocolate that are modern variations of this seemingly traditional dish. Don't underestimate the Prata, as this savoury snack can be surprisingly filling when eaten in excess!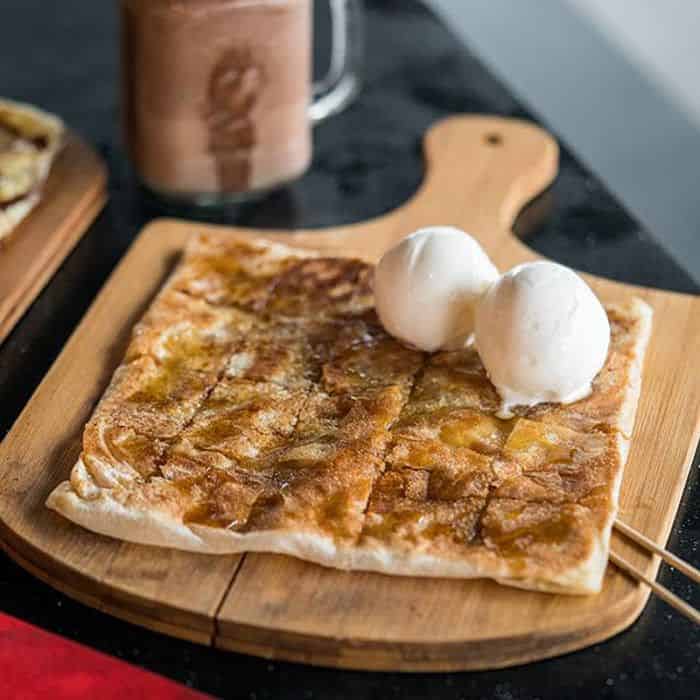 Other than South Indian specialties, Srisun Express also whips up savoury North Indian cuisine. Start off with the traditional Samosa, a fried pastry that is stuffed with delicious fillings that include mashed boiled potato with curry, onions and spices. Next, be sure to try the highlight of North Indian Cuisine, the Naan. Naan is a type of flatbread but is different from prata as they are traditionally baked in a hot clay tandoor oven with charcoal or wood fire. They are stuck on the walls of the oven and is cooked at very high heat which allows the inside of the flatbread to be filled with air pockets and allowing it to be perfectly cooked. Srisun Express offers a large selection of naans, including Plain Naan, Butter Naan, Cheese Naan and Garlic Naan. Pair it with the quintessential Tandoori Chicken which is a chicken dish marinated in yoghurt and spices before roasting it on the tandoor oven. Don't forget the Butter Chicken Masala that has juicy cuts of chicken in creamy butter gravy that doubles up as a dip for your naan. Finish your meal with a lassi, a yoghurt based drink, that is a must try. Choose between the Sweet Lassi or Mango Lassi if you have a sweet tooth!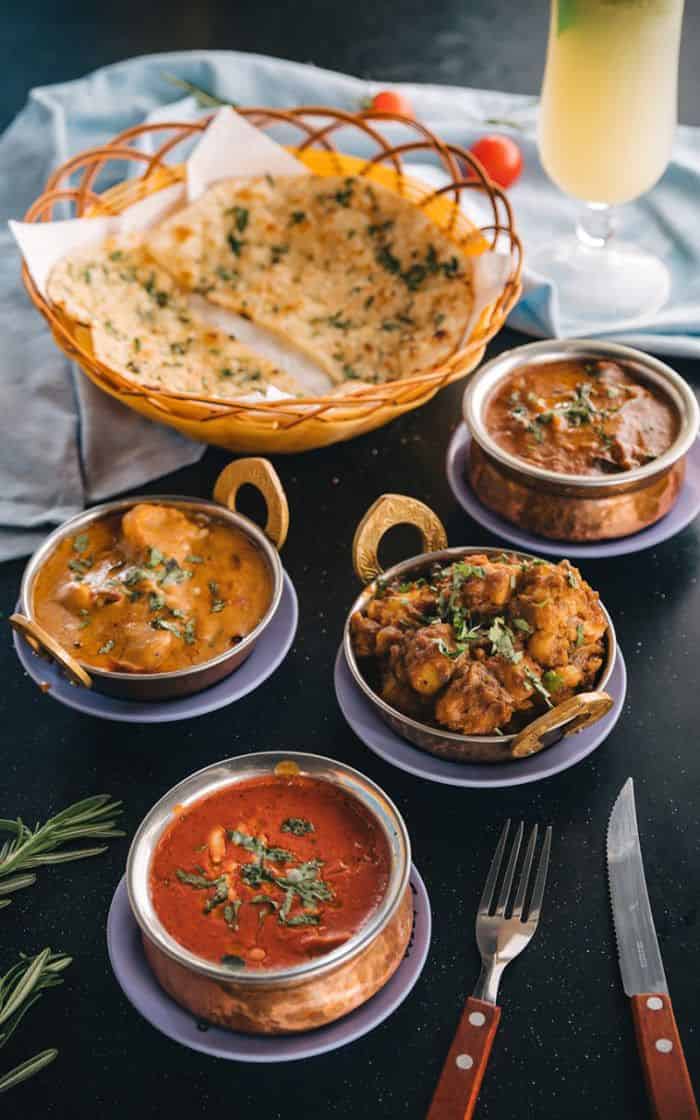 For those of you who find it difficult to decide on a meal, why not have the best of both worlds? Srisun Express offers value sets that combine the different types of cuisine together with a hot drink. Try the Maggie Goreng and Teh Tarik set that includes the must-try Maggie Goreng along with a hot milk tea beverage known as Teh Tarik. If you are thinking of getting a meal for 2 people, the Chicken Briyani and Mutton Briyani set is ideal for you. Enjoy these sumptuous dishes of fluffy long grain basmati rice cooked along with delicious chicken and mutton that has an aroma that makes your mouth water. To top it off, the set includes 2 refreshing ice lemon tea to wash down the spices and rejuvenate yourself after a long day's work.
That was so much Indian food covered in such a short period of time! Ordering Indian Food has never been easier with GrabFood's Srisun Express delivery service. Did you know that all the food listed above and many more can be found on GrabFood? Save yourself the hassle of preparing ingredients and whipping up a huge meal and order delicious food of your choice from Srisun Express to your doorstep today. All you need to do is locate the nearest Srisun Express outlet near you and place your order today!
The images used are for illustration purposes only*
Be it some savoury pasta for a romantic date night in or a piping hot pizza to share with friends or colleagues, you can count on GrabFood's Italian food delivery service to deliver the magic of Italian cuisine to you, fuss free!
Read More »
With GrabFood's food delivery app, find yourself the perfect vegetarian meal to be delivered right to your doorstep and satisfy your tummy while staying healthy at the same time.
Read More »
With an array of exciting fast food options under our belt, you'll be able to treat yourself to freshly prepared food that is swiftly delivered to your doorstep!
Read More »