Chinese cuisine is a go-to meal for many families in Singapore as it is synonymous with spending time together after a hard day at work or school. With individual meals to sharing dishes, Dian Xiao Er offers us the best Chinese style cuisine. Dian Xiao Er aims to replicate the experience of inn-dining experience through sumptuous food and meticulous preparation of ingredients and most importantly, for everyone to interact and build relationships over a hearty meal. Dian Xiao Er is also an award-winning brand having been awarded both the prestigious TripAdvisor Certificate of Excellence and Singapore E50 Award for years 2016 and 2017. With 11 branches in Singapore, ordering a good Chinese meal from Dian Xiao Er has never been easier! Here are some of the items that Dian Xiao Er offers:
Dian Xiao Er is famous for their roasted ducks paired with the freshest ingredients. The ducks are prepared and roasted daily for all of us to get the most delectable and tender duck meat. Each duck is first marinated with a collection of herbs and spices for hours and carefully roasted at the right temperature to keep all the juices within crispy and golden brown skin. Along with the special concocted herbal sauce, each tender and juicy slice of duck meat would leave you wanting more. The different herbal elements will bring about different health benefits. For instance, the Roasted Duck with Angelica Herb nourishes your blood, promotes blood circulation and treats blood deficiencies and habitual constipation whereas the Roasted Duck with Wild Ginseng reduces body heatiness, soothing effect on lungs and promotes the secretion of body fluids. The signature Roasted Duck with Ten Wonder Herbs relieves mental stress, promotes longevity and offers a calming effect. There are different sizes of Ducks, mainly Small, Medium and Large. With so much health benefits that taste good, what's stopping you from having Dian Xiao Er's roasted duck for your next meal?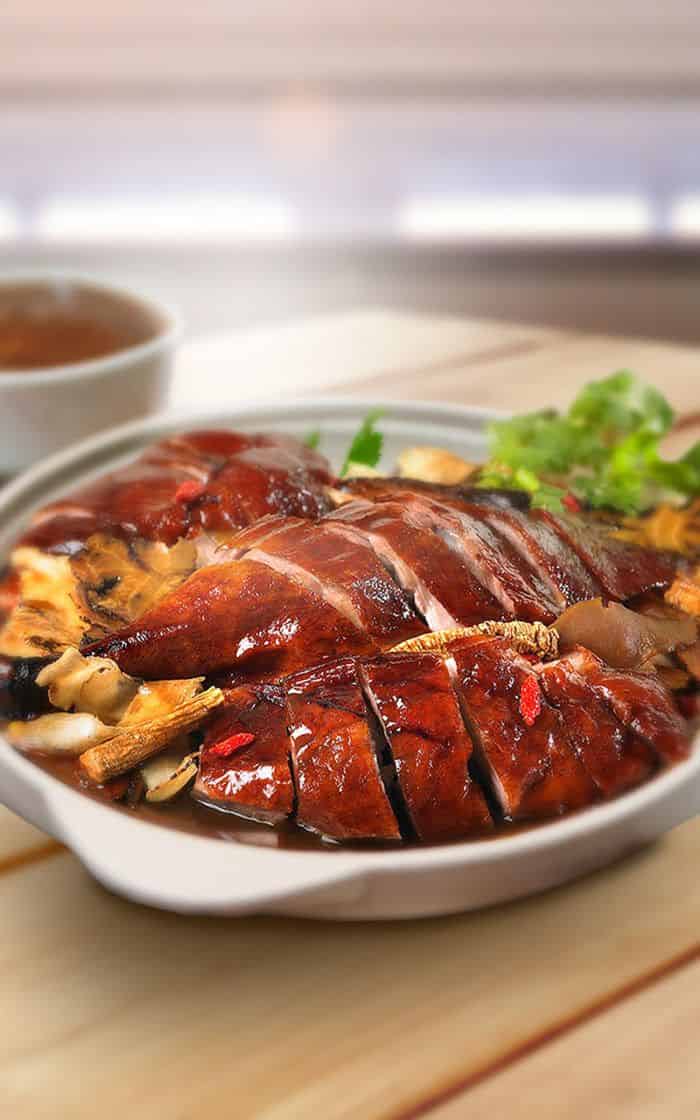 The common saying of having 2 servings of vegetables a day cannot be understated. Luckily for us, Dian Xiao Er has 6 different vegetables to go so that we can enjoy greens along in our family meals. The traditional Chinese Spinach in Superior Stock is one choice that will not go wrong. If you like a little heat in your meal, be sure to order the Kangkong with Belacan which is a top favourite among Singaporeans in Chinese restaurants. Lastly, an all-time favourite of Dian Xiao Er's customers is the Stir Fried Lotus roots with Macadamia Nut where the ingredients like lotus roots, nuts, celery and water chestnut provides different textures of flavours with that extra crunch added.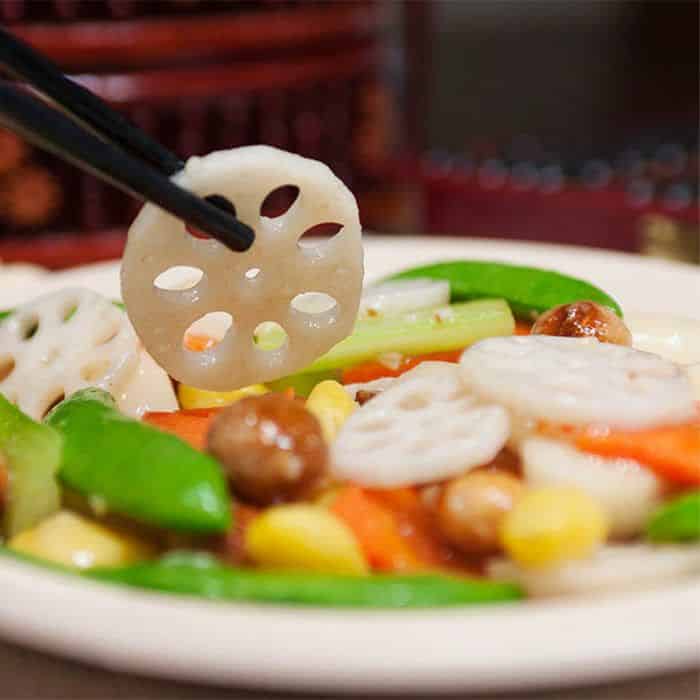 If you are looking for meat other than duck, Dian Xiao Er has selections of meats that is sure to be a hit among the elderly or children. Firstly, everyone's favourite Sweet and Sour pork is available on the menu – known for the sweet and tangy flavour in the sauce that coats the deep-fried pork cuts. If you are a fan of the British food spread Marmite, you'll be pleased to find Marmite Superior Chicken on the menu too. Deep fried chicken coated with marmite sauce, it does not get any better tasting than that. For the elderly, the Dong Po Pork (Braised Pork Belly) and Steamed Fish Slices would be most appropriate with their easy to chew textures.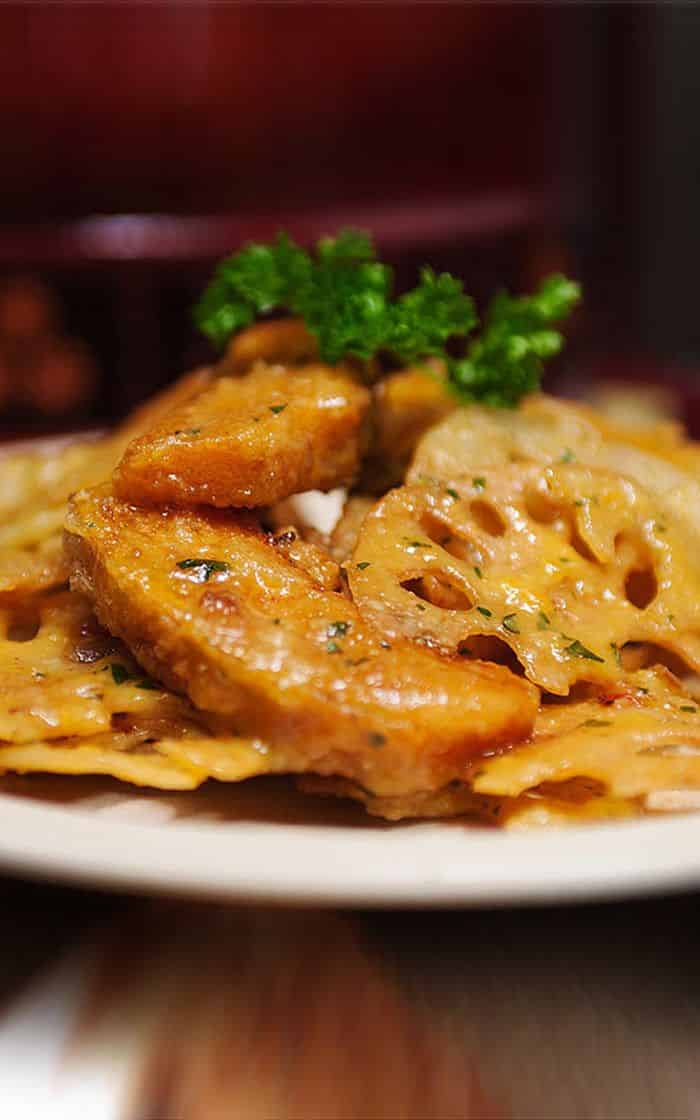 Looking for something to pair with your meal or after meal treats? Be sure to consider the double boiled soups that also holds high nutritional value like the Double Boiled Winter Melon with Conpoy which has the natural sweetness of dried scallops and helps to eliminate heatiness and lethargy. If you are looking for traditional Chinese dessert after the wonderful meal, there are Gui Ling Herbal Jelly and Collagen Jelly with Black Sugar for those who are looking for a healthy way to end a sumptuous meal with family.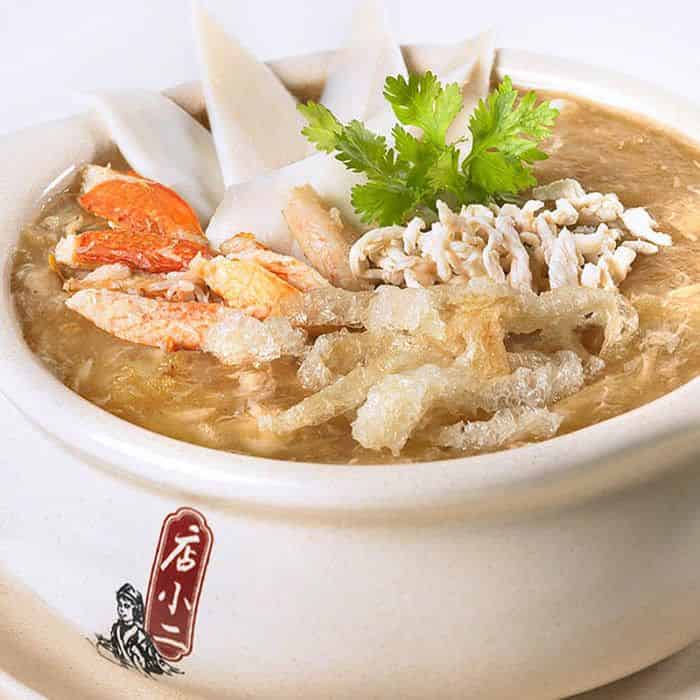 Having Chinese food is always a blessing, especially when you enjoy it with your loved ones. Now, you can save yourself the hassle of cooking and order delicious food from Dian Xiao Er right to your doorstep! If you have any cravings for any of the food items above, simply locate the nearest Dian Xiao Er restaurant on your GrabFood app and order it today!
The images used are for illustration purposes only*
GrabFood now offers food delivery services, so you can tantalise your taste buds with a variety of cuisines such as Japanese, Korean and Thai – which are all Halal-certified!
Read More »
When you feel like shaking up your meal choices, you can always count on GrabFood's food delivery app to provide you with fresh, quality food options. Be it Middle Eastern fare or any other cuisine for that matter, discover a whole new world of sensational eats effortlessly.
Read More »
Satisfy your cravings for nostalgic local food right at the comfort of your home. Try out GrabFood today!
Read More »