To help your business evolve and digitise for the Circuit Breaker period and beyond, Enterprise Singapore (a statutory board under the Ministry of Trade and Industry), has put together a Food Delivery Booster Pack.

As part of the pack, you'll get upfront commission reductions of  5% from 7 April– 30 June. This has been automatically applied for merchants who are eligible and no application is required. Enterprise Singapore will absorb 5 percentage points of GrabFood commission costs, with no caps on the qualifying delivery transaction value. Learn more here.
Do you know what triggers customers to try new restaurants on GrabFood? Or how to make your promos perform 2X better?
Everything you need to give your business a boost and run a successful marketing campaign, is right here in the GrabFood Capability Development Pack. Put together in partnership with Enterprise Singapore, it contains a wealth of resources like marketing entitlements and personalised data insights for each of your outlets, worth $1,500/outlet. 
It even includes $400 per outlet worth of promo credits that you can use to encourage customers to order from you.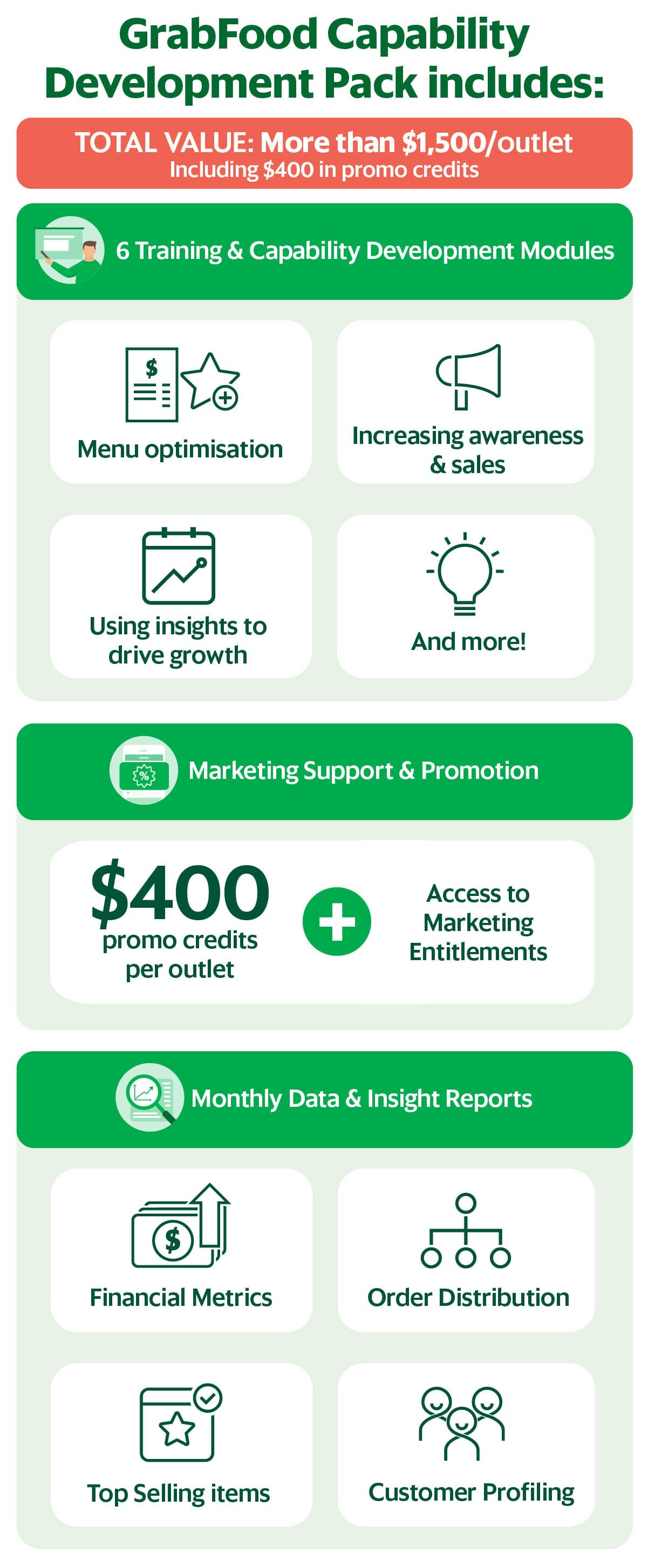 Optimise your business and drive orders to your store for just $100 per outlet.
For a limited time, you can tap into all these resources at a promotional price of just $100 per outlet. That's over $1,400 in savings! But hurry because limited packs are available, on a first come, first served basis.
And just in time too… Because we've got a new 'Deal of the Month' marketing campaign running every month.
As part of the pack, you'll also receive $400 in promo credits which you can use them to offset against existing campaigns you've signed on for, or new ones. 
Promotions that run as part of a bigger GrabFood marketing campaign perform 2X better than when they run alone. So don't miss out on reaching new customers, by signing up now!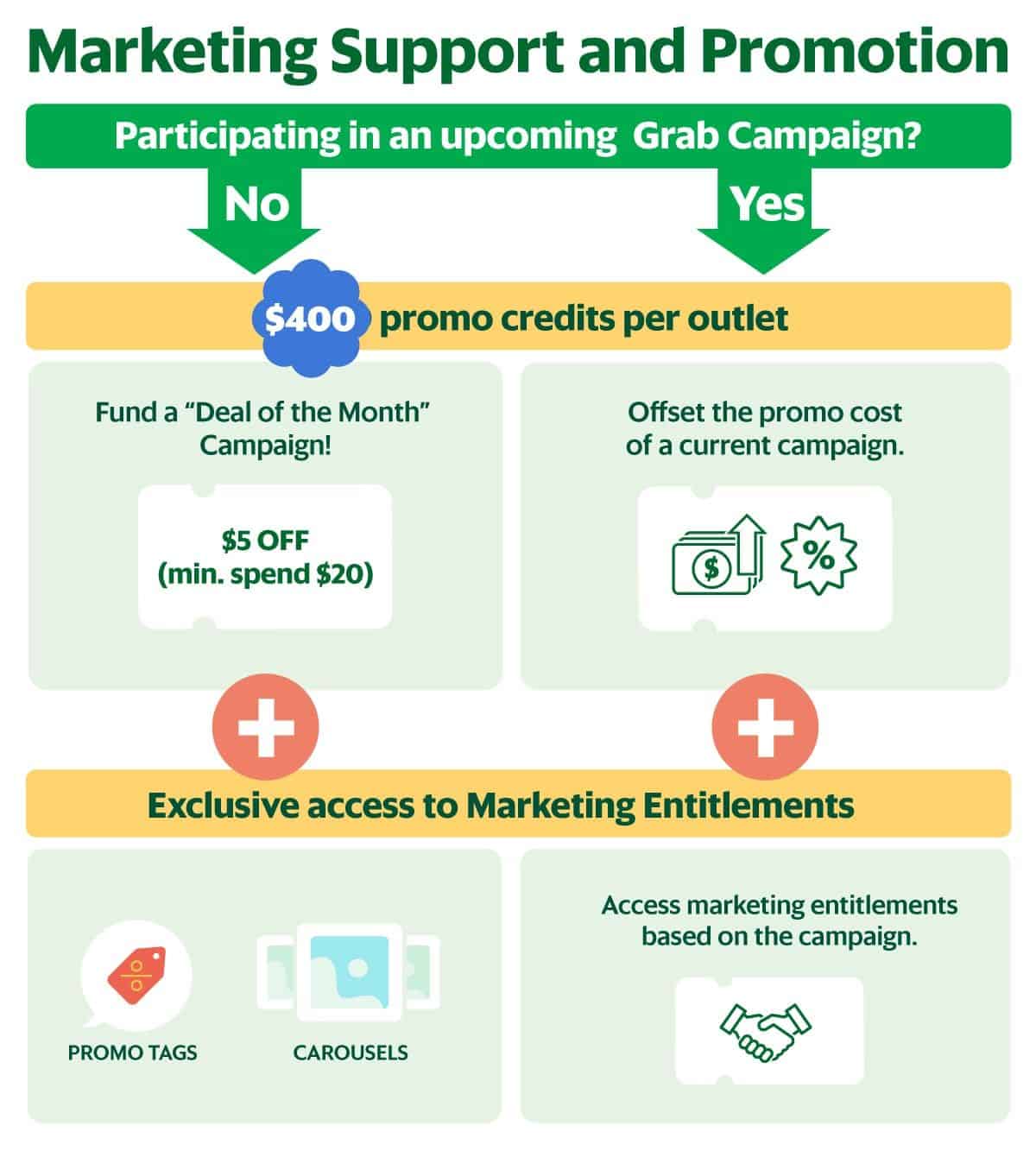 ---
Ready to sign up?
If your business meets the following criteria, just click on the link below!
---
Applications are now open first come first serve limited basis. Apply now!
APPLY NOW

We're committed to supporting businesses in Singapore and will do all we can to assist you during this period.
---
Frequently Asked Questions (FAQs)
I have multiple UENs. How do I sign up?
Please fill in the form based on the number of UENs you possess. Each form can only capture one UEN. E.g. If you have 3 sets of UENs, please fill in the form 3 times.
I would like to select specific outlets that I wish to sign up. How do I do so?
Please note that all outlets tied to the UEN provided will be signed up for this package. However, if you possess multiple UENs, you may sign them up based on selected UENs. E.g. If you have 5 sets of UENs, you may wish to sign up only 3 sets of UENs. Please note that by signing up with your chosen UENs, you are agreeing to sign up all outlets that fall under that specific UENs.

What is the deadline to sign up?
As part of the pack, you will be entitled to $400 worth of promo credits per outlet. In order to redeem this, you are required to indicate your choice of participation in one of our marketing campaigns. The deadline for indicating your participation falls on the 15th of every month. Do note that the GrabFood Capability Development Pack is only valid in 2020.

I have signed up. When will I know if my application has been successful? 
A confirmation email will be sent out 5 to 7 days after the marketing campaign participation deadline (which falls on the 15th of every month – see point 3).Those participating in current campaigns or the following month's GrabFood Capability Development Pack campaign will be prioritized first for application processing. 
If your application has been rejected due to incorrect UEN or NRIC number, please sign up again as a new application.

Can I sign up multiple times?
If your application is approved, you may only sign up once per UEN.
When can I start to view the online Webinars? 
Merchants will be informed via email when the first set of webinars are ready. Do keep a look-out for these emails.
When will I start to receive my monthly outlet reports?
Monthly outlet reports (for the preceding month) will be sent on the 8th of every month to your registered email address. If the 8th falls on a public holiday, the report shall be sent out within 3 working days thereafter.
When will I receive the $400 promo credits per outlet?
The $400 promo credits per outlet shall be credited to you within the following month after the end of your participation in the marketing campaign that is used for this pack, and shall be reflected in your GrabFood statements.
When will the $100 sign up fee per outlet be offset from my outlet sales transactions? 
The $100 sign up fee shall be offset from your GrabFood transactions within the following month after the end of your participation in the marketing campaign that is used for this pack, and shall be reflected in your GrabFood statements.
---
Terms & Conditions
The sign up fee of $100 per outlet will be offset against future orders.
The $400 per outlet promo credits will only be credited after the merchant has participated in and completed the GrabFood campaign(s) offered to them. All campaigns have to be completed by 2020 or risk being forfeited.
Strictly no backing out of campaigns once the merchant has agreed (this includes receiving the first month of reports or training videos, whichever is earlier).
Strictly no change in campaigns (both period and mechanics) will be entertained once Grab confirms your application and campaign.
There is no limit on number of outlets allowed for sign up per merchant.
Sign up limited to once per UEN number only.
All participating merchants must agree to the terms and conditions GrabFood and Enterprise Singapore has set.
Grab reserves the right to change the terms & conditions at their own discretion.
Merchant eligibility and application approval is based on the company's own discretion.
By signing up, the merchant agrees that Grab can contact them (via Email, Phone) for follow-ups specific to this programme.