In the last two decades, digital maps have become an indispensable part of daily life. Geographic information systems have advanced remarkably; early online maps bear little resemblance to today's feature-rich mapping apps with detailed directions and images to help people locate places of interest and find their way around.
As individuals have come to appreciate the convenience of using these apps, they've also learnt that doing so can expose them to inadvertent disclosure of information about their daily routine or the location of their homes. At Grab, we respect the privacy of citizens and our consumers. Therefore, we have measures in place to protect individual privacy and to ensure that individuals are not identified when we capture street images.
In 2018, the European Union set the benchmark for privacy protection by introducing the Global Data Protection Regulation (GDPR), and other jurisdictions have followed suit. In Southeast Asia, some countries have specific privacy protection regulations like the GDPR, while others enshrine personal privacy protection measures across several pieces of legislation.
Data Privacy Officers are an integral part of the GrabMaps product development process. They guide the product teams and take advice from legal experts to ensure full adherence to regulations. At the same time, Grab's Public Affairs team engages constructively with government and stakeholders on policy discussions and initiatives to protect privacy. 
For example, the innovative cameras used by our driver-partners when collecting imagery for a mapping campaign include EDGE artificial intelligence (AI) that blurs detected faces and license plates in real-time at the device level. By doing this at the source, we avoid having recordings that include identifiable people stored on our servers. As an additional check, images are scanned again using more powerful computational resources when uploaded to the cloud. Finally, a review by operational staff ensures that Personal Identifiable Information (PII) has been removed. These measures ensure that we incorporate "privacy by design" in our mapping processes.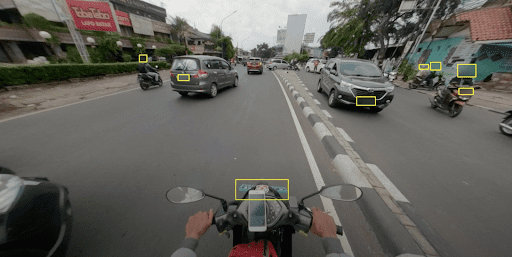 When the KartaCam and EDGE AI were introduced, our goal was to improve PII accuracy to more than 95%. After many rounds of labelling and training, our machine learning model accuracy rate has reached 98.68% which is aligned with top industry performance. 
Other privacy protection measures include giving individuals the option to request the blurring of their homes if they are not happy to have them included on KartaView, and KartaCam programmed to automatically stops recording when they are indoors to prevent the accidental recording of sensitive internal areas and also protects the privacy of driver-partners who take their equipment home.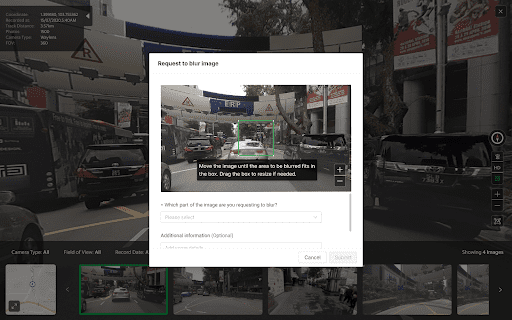 Finally, with experience from working across eight diverse countries, GrabMaps has developed the systems and protocols necessary to ensure we have legal clearance for all local recording campaigns before they start. And with millions of driver-partners joining us to produce our comprehensive, reliable, and accurate navigational systems, we provide local language compliance policies and training for participants, so they understand and respect their obligations.
GrabMaps is committed to protecting privacy as we lead the way in developing innovative navigation solutions for local problems across Southeast Asia.