Anyone who encounters an unexpected road closure, or new barrier on a familiar path, is immediately annoyed that they weren't warned of the change early enough to change course. At Grab, we use geofencing to help our driver-partners avoid areas that have been unexpectedly or temporarily closed to traffic.
Geofencing is a technology that enables virtual barriers to be drawn around physical locations. In simple terms, it's accomplished by pinpointing an object's latitude and longitude coordinates and then drawing a perimeter around it. Picture the temporary barrier or fence erected around a construction site to prevent people from wandering into a dangerous area. In a mapmaking system, geofencing allows us to create a similar barrier.
As COVID-19 swept across the region in 2020, authorities implemented systems and protocols in an attempt to control the spread. In Jakarta and Vietnam, a zoning system was introduced to alert people to areas where cases were increasing or decreasing. GrabMaps used geofencing to keep drivers safely away from pandemic danger zones.
With red zones of varying sizes scattered throughout the city, while others were within yellow or orange zones with differing levels of restriction and changing on a daily basis, transportation and delivery systems could have become chaotic if driver-partners had to check the map every few minutes. Geofencing was the ideal way to manage these changes as boundaries could be drawn quickly and implemented through GrabMaps immediately. This initiative kept our driver-partners safe at a time when the locals increasingly relied on them for regular deliveries.
GrabMaps also uses geofencing for temporary road closures that are implemented when major events are underway. Pre-pandemic, the Singapore Grand Prix brings thousands of enthusiasts into the city every year to enjoy world-class entertainment, local food and culture, and the excitement of watching Formula 1 drivers trying to outdo each other. The racetrack winds through city streets, blocking access to shopping malls and hotels at one of the busiest times of the year. Road closures affect regular pick-up points and the routes that driver-partners can take.
Here, it's not a matter of drawing a simple shape around the entire area because many businesses continue to operate inside the perimeter. Delivery requests keep coming in and passengers need to be picked up throughout the day.
Local expertise is invaluable when working out how to keep delivery and transportation services operating efficiently in and around the track area, especially as traffic restrictions start days before the event and some roads are closed for the duration while others are opened for short periods during the morning and evening peak periods.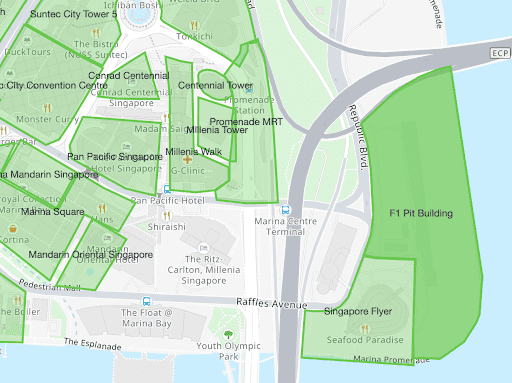 Extensive knowledge of the local environment, along with superior mapmaking technology, supplemented by data gathered by driver-partners every day, comes to the fore when managing such complex traffic conditions. Geofencing can be fine-tuned and updated live in moments in response to changing circumstances throughout the event to ensure driver-partners always have reliable information.
Whether working in the virtual or physical environment, GrabMaps uses updates and insights from local ground teams to ensure our merchants, driver-partners, and consumers benefit from reliable and safe transportation services every day. Geofencing at a hyperlocal level has allowed us to continue deliveries through the pandemic and lets us contribute to the smooth running of major events throughout Southeast Asia.
As we drive Southeast Asia forward, we'll continue to expand our virtual boundaries for the benefit of all our partners and consumers.