Picture this: you're taking your daily route to work, ready to clock in on time. But suddenly, you encounter an unexpected road closure, and now you're late. We know you'll feel absolutely annoyed, just as anyone does. That's why at Grab, we use geofencing, to ensure our driver-partners can safely navigate through areas despite unexpected or temporarily closed off roads. 
This is because with geofencing, users can identify pick-up points and avoid waiting at areas that are not accessible or marked as entrance points.
What is geofencing?
Geofencing is a technology that pinpoints an object's latitude and longitude coordinates and then draws a perimeter around it. Simply put, it allows you to establish virtual boundaries (a.k.a. geofences) around real-world areas on the map. 
For example, a construction site may temporarily put up fences around it to prevent people from wandering into a dangerous area. When you use geofencing, you can create similar barriers around that area on the map.
Geofencing in real-world situations
While we kept our first example simple and personal, there are many different fields and scenarios where the use of geofencing has been extremely advantageous.
In 2020, when COVID-19 swept across the world, authorities implemented systems and protocols in an attempt to control the spread. For example, in Indonesia and Vietnam, citizens received alerts on which areas increased or decreased their number of cases using a zoning system. 
Similarly, GrabMaps used geofencing to integrate such information into the app. As restriction levels continued to change across different areas of the city on a daily basis, there was a danger for transportation and delivery systems to become chaotic if driver-partners had to check the map too frequently. However, with the help of geofencing, Grab was able to establish virtual perimeters immediately and keep our driver-partners safely away from pandemic danger zones, especially during a time when locals heavily relied on them for essential deliveries. 
As the world returns to a semblance of normalcy, so do major events that draw big crowds and force temporary road closures. This kind of information is also integrated into GrabMaps using geofencing. 
After a two-year break, the 2022 Singapore Grand Prix once again closed down a number of roads to make way for its racetrack, which winds through city streets and blocks access to shopping malls and hotels at one of the busiest times of the year. Road closures like this affect the routes and pick-up points our driver-partners normally use. 
On top of that, with the event drawing a record crowd of 302,000 in total and an average daily attendance of 100,667, more people availed of transportation and delivery services throughout the day.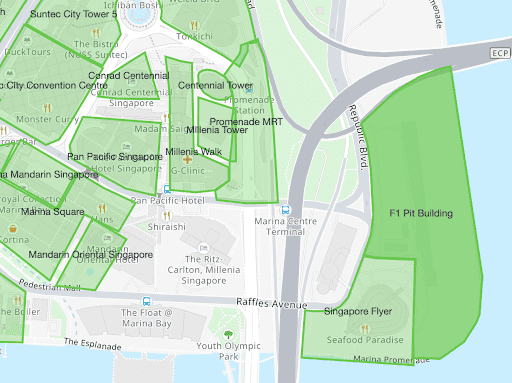 So it's not a matter of drawing a simple shape around the entire area because many businesses continue to operate inside the perimeter. A few traffic restrictions also start days before the event. Some roads are closed for the duration, while others are opened for short periods during the morning and evening peak periods. 
In such complex traffic conditions, it is vital to manage delivery and transportation operations smoothly and efficiently around the racetrack area. To do so, GrabMaps utilises invaluable local expertise, including extensive knowledge of the local environment and data gathered by driver-partners everyday, combined with superior mapmaking technology and geofencing. 
During major events like this, geofences support the feature of guiding users to designated Grab entrance points. This ensures users can meet their drivers at the correct pick-up points without a hitch.
GrabMaps uses geofencing to make navigation safe and efficient
In both the virtual plane and real-world locations, GrabMaps uses live updates and insights from local ground teams to ensure our merchants, driver-partners, and consumers benefit from reliable and safe transportation services every day. 
Geofencing at a hyperlocal level has allowed us to continue deliveries through the pandemic and contribute to the smooth implementation of major events throughout Southeast Asia.
As we drive Southeast Asia forward, we at Grab will continue to expand our virtual boundaries for the benefit of all our partners and consumers.