For centuries, maps have helped us find our ways around the world. And we at Grab are no different. Maps have allowed our driver-partners to bring passengers to and from their destinations safely. 
But back when we were using third-party maps, our driver-partners didn't get the most precise routes to provide the best service. With Southeast Asia's unique infrastructure, routes require specific pick-up and drop-off points to meet consumer expectations. Unfortunately, to create such maps with hyperlocal information, a lot of money is needed. 
That's why Grab tapped Steve Coast, now Grab's Head of Engineering, Geo Innovation, to discover and integrate new mapping models and make Grab truly independent. 
Making maps accessible
As a student at the University College London, Steve worked in two research labs in the geography and architecture departments. He ran significant computer systems at the Bartlett School of Architecture and worked at The Centre for Advanced Spatial Analysis (CASA), an interdisciplinary research institute focusing on the science of cities. 
During that time, he found it difficult to get his hands on mapping data, which had restrictive licensing policies in the UK and wasn't easily accessible for a student like him. Such experience pushed him to create a mapping tool from scratch using his knowledge in both geography and software programmes. 
In 2004 London, Steve commuted using a bicycle to save money, and that gave him an idea. Hooking up a GPS into his bike, he collected tracepoints through various routes. He developed a software programme to gather these tracepoints and layer place and street names to create a comprehensive map. 
To amass more data, Steve hosted mapping parties, where volunteers walked and biked lesser-known locations and routes to gather hyperlocal street-level information. This is how his simple idea became a worldwide crowdsourcing venture called OpenStreetMap (OSM). Now, in 2023, OSM has nearly 10 million contributors and 16 million uploaded GPS points worldwide. 
With Steve at the helm, Grab has used a similar process to generate crowdsourced maps by collecting data from driver-partners across Southeast Asia.
Integrating model mapping into Grab 
In Grab's daily operation, hyperlocal features play a critical role. For instance, traditional maps cannot provide contextual information like the odd-even licence plate access in Jakarta, and details needed for moped and tuk-tuks. Likewise, when driver-partners need to make deliveries using bicycle lanes and side streets, they need more information than what general-use maps can provide. As such, Grab has collaborated with our driver-partners to use helmet cameras and collect and own the necessary data to create value for users at a fraction of the cost. 
To get a first-hand experience of the life of a Grab driver-partner, Steve worked a day as a Grab delivery driver navigating the winding streets and malls of Singapore. "Delivering coffee and food gave me the opportunity to understand what our driver-partners experience," Steve shared.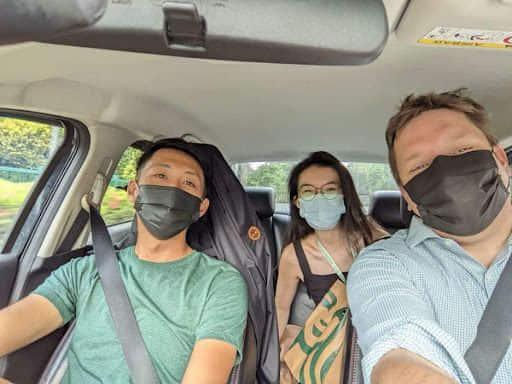 In our effort to take mapping to the next level, we at Grab are turning our attention to indoor mapping. Such map data isn't readily available in many places, since GPS doesn't work if you can't see the sky. "Delivery drivers spend a lot of time inside buildings, from apartment buildings to shopping malls. If we can speed the process up with indoor mapping, it's easier for everyone," added Steve. 
From entering through the nearest door to finding ramps for accessibility, these seemingly little details Grab is collecting can make navigation easier for everyone.
The future of mapping
Looking ahead, Steve aims to remove any barriers Grab driver-partners encounter while also reducing the cost of mapping. In the future, he hopes to see detailed hyperlocal maps ingrained into our everyday lives and to make maps a feature we don't even realise we are using, just like how the first spell-check software has turned into a given in any writing software we use today.
"We want maps to follow the same path. We once had to go to a service station to buy a paper map, but we're slowly getting to where every app will have a map."
That may be a little far off, but just on the horizon is the process of creating maps that elevates navigation into a more human experience. Because one day, Steve wants mapping and innovation to help us navigate the world without looking at a map or a phone.
To turn that vision into reality, Grab will continue to develop innovative mapping models and data collection methods through crowdsourced imagery, purpose-built cameras, and our fleet of driver-partners.