Maps have helped us navigate for centuries. But what happens when you turn a two-dimensional tool into a human experience that creates a force for good in the world?
Grab's Head of Engineering, Geo Innovation, Steve Coast, is discovering new models for mapping so Grab can be truly independent. 
Relying on third-party maps doesn't give our driver-partners the precision needed to be reliable. The intricacies of Southeast Asia's infrastructure require specific pick-up and drop-off points to meet consumer expectations. And the price for these maps, which lack the needed information, is expensive.
As a student at the University College London, Steve worked in two research labs in the geography and architecture departments. He ran significant computer systems at the Bartlett School of Architecture and worked at The Centre for Advanced Spatial Analysis (CASA), an interdisciplinary research institute focusing on the science of cities. 
"I quickly realised that map data wasn't accessible for a poor student in London." Mapping data has restrictive licensing policies in the UK and wasn't freely available to the public. Combining his experience in geography and building software programs, Steve set out to create a mapping system from scratch. 
Biking was his primary means of travel for economic reasons when an idea struck. With a GPS and his bike, he set up to collect tracepoints and then developed a software program to collect the points and layer place names and streets to create a comprehensive map. In 2004, the project turned into a worldwide crowdsourcing venture called OpenStreetMap. 
To create a larger dataset, Steve enlisted others by hosting mapping parties. Volunteers walked and biked lesser travelled locations to gather street-level detail. Grab has used a similar process to generate crowdsourced maps by collecting data from driver-partners across Southeast Asia.
Hyperlocal features are critical to Grab's operation. For instance, the odd-even license plate access in Jakarta and details needed for mopeds and tuk-tuks are contextual information that traditional maps lack. Maps created for general use aren't always helpful for deliveries using bicycle lanes and side streets, especially in Southeast Asia. Collaborating with driver-partners using helmet cameras allows Grab to collect and own the data needed to create value for users at a fraction of the cost. 
Steve spent a day last March as a Grab delivery driver navigating the streets and malls of Singapore to get a first-hand experience of the life of a Grab driver-partner. "Delivering coffee and food gave me the opportunity to understand what our driver-partners experience."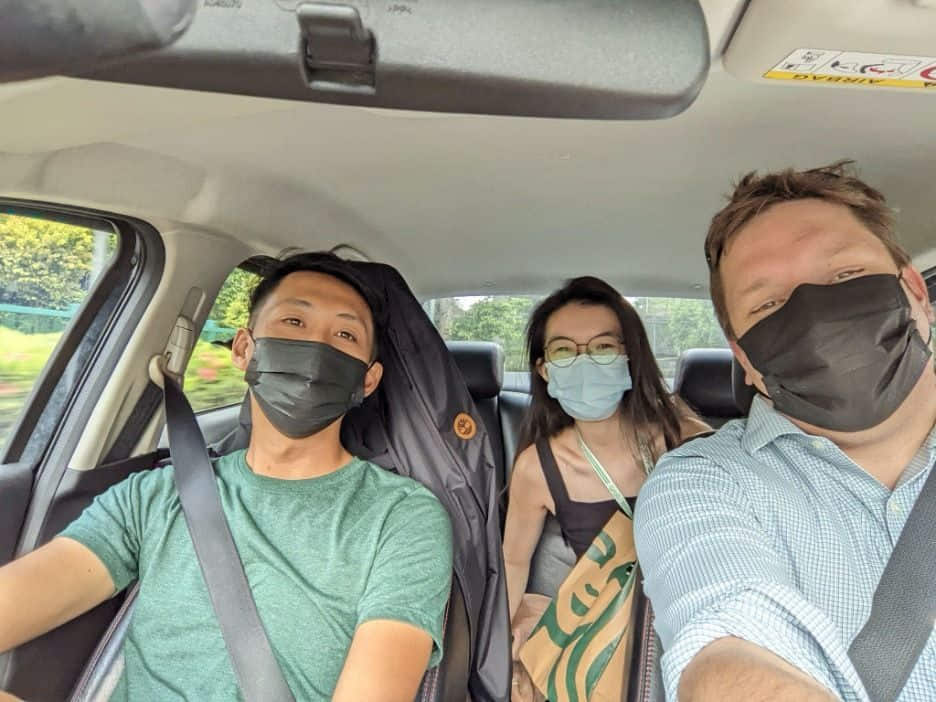 To help take mapping to the next level, Grab is turning their attention to indoor mapping, which isn't readily available in many places for obvious reasons. If you can't see the sky, GPS doesn't work. "Delivery drivers spend a lot of time inside buildings, from apartment buildings to shopping malls. If we can speed the process up with indoor mapping, it's easier for everyone." From finding the right door to locating ramps for accessibility, the details that Grab is collecting will make navigating easier. 
Looking into the future, Steve wants to remove barriers for Grab driver-partners and reduce the cost of mapping. His vision is to keep perfecting maps so one day they become an invisible piece of infrastructure that is ingrained in everyday life and a feature we don't even realise we are using.
Steve uses the analogy of the first spell-check software. It started as a list of 10,000 words in the early 1960s but wasn't widely available for another two decades. The software that helped millions of students and writers was a standalone product that users paid for. Today, spell-check is automatically included for free in softwares we use every day. 
"We want maps to follow the same path. We once had to go to a service station to buy a paper map, but we're slowly getting to where every app will have a map."
On the horizon is the process of creating maps that function in more human terms. Because one day, Steve wants mapping and innovation to help us navigate the world without looking at a map or a phone. To get there, Grab will continue to develop innovative data collection methods utilising crowdsourced imagery, purpose-built cameras and their fleet of driver-partners.