Building a better life for our driver-partners and their loved ones
The Emerald Circle Bursary is our way of embracing your next generation and to thank you for being a part of our ever-growing Grab Family. Because the people who matter to you, matter equally to us.
500* Grab Bursaries for local primary/secondary schools (up to $350 each) will be awarded each year. No bonds included!
Here's all that you need to know: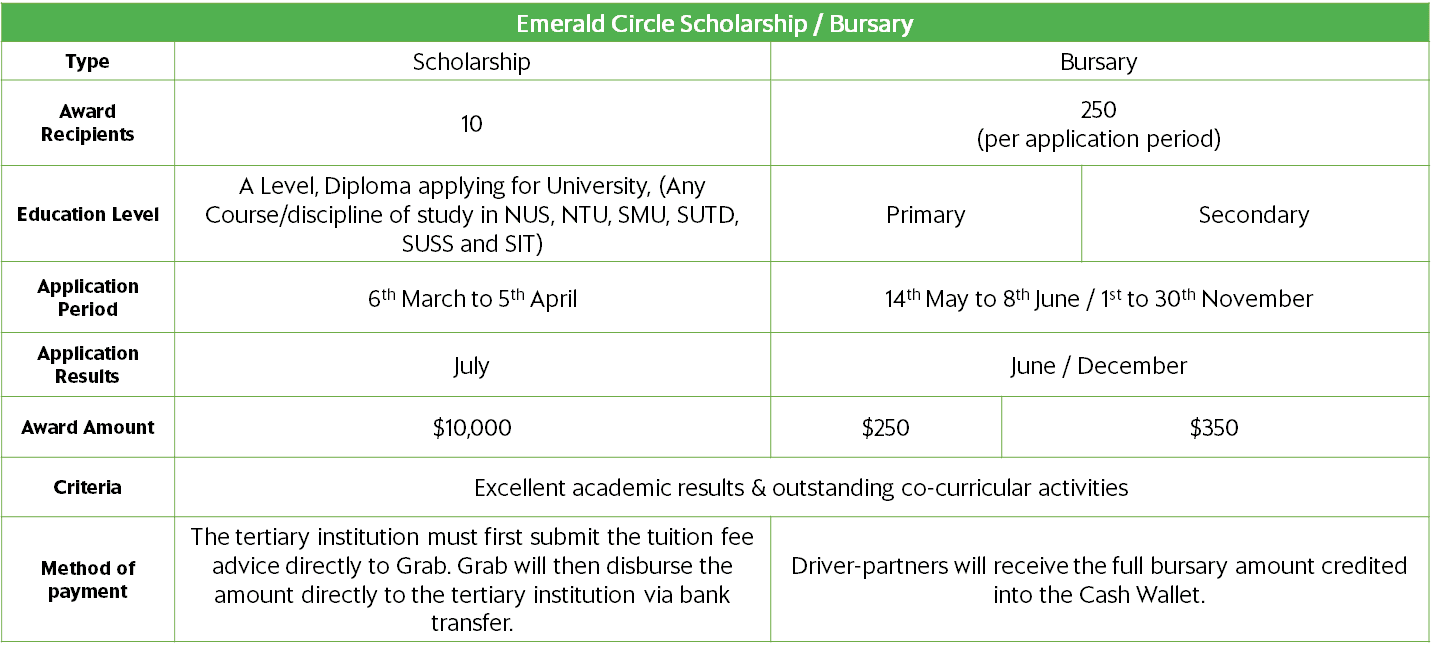 Application Process:
Bursary
Driver-partner or student must sign up with the following documents:


Driver partner's NRIC
Student's Birth Certificate/Proof of Relationship
Student's NRIC
Student's latest report slip
For students who are currently in Primary 1 or 2, please attain the student holistic assessment report from the school.
Terms and Conditions
Driver-partner:
Active on Grab (Singapore) Platform for at least 12 months upon application.
Complete at least 30 trips in a month on average (NOTE: This requirement has been lowered only for this application period, in line with our other support measures)
Has good service levels and behavior across the past 12 months upon grant application
All cases reviewed on a case-by-case basis
Education Bursaries:
Valid only for driver-partners who meet the requirement
Valid for 1 child per driver-partner each application period
Priority will be given to first time applicants.
Opened to students studying in Singapore. The selection process is merit-based and considers relative performance of all applicants.
Eligible for valid academic years following the award of the bursary
The year of study will be based on the applicant's age in the same year of applying for the Bursary
Each driver-partner can claim a maximum of $500 (for primary) OR $700 (for secondary) per year.
Immediate family member (Parents, Grandparents, Siblings) meet the driver-partner criteria
All of the above requested documents must be submitted (e.g. Student's NRIC, Student's latest report slip etc)