GRBeyond Loyalty Program is back with more benefits and privileges!
Cashback Scheme - (Under Review)
Updated on 22 Mar 2021
We are currently reviewing our Cashback Scheme. Keep a look out for the latest updates!
Be rewarded for your loyalty! Enjoy up to 3.88% cashback on your car rental.
Exclusively for hirer-partners who recontract with GrabRentals!
Note: This Cashback Scheme is only eligible for hirer-partners recontract on regular contract.
Here are the eligibility criteria for this Cashback Scheme:
Recontracted on regular contract promotion.
Is eligible for GRBeyond Loyalty Program.
Recontracted offer is eligible for GrabRentals' Cashback Scheme.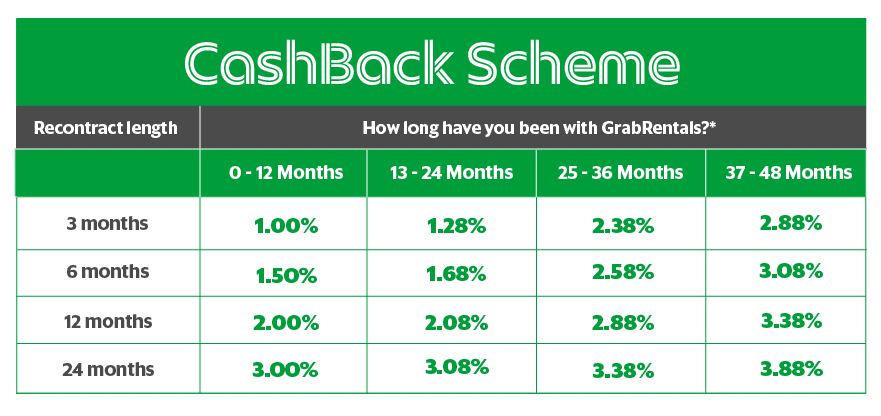 1. Who are eligible for cashback?
Only existing GrabRentals Hirer-Partners who are eligible for recontract and do so are eligible for the cashback scheme under the GRBeyond Loyalty Programme. No-Frills and Open contracts are not eligible.
2. How will cashback payouts be made?
Cashback payouts are made on a quarterly basis to the cash wallet. Usually on the last week of the first month of a new quarter.
Can't find your question above?
Click here for more FAQ. Alternatively, you may wish to contact us at 3138 8644 or email us at grabrentals.sg@grab.com.
Rent from GrabRentals today!