How To Calculate Your Total Redeemable Points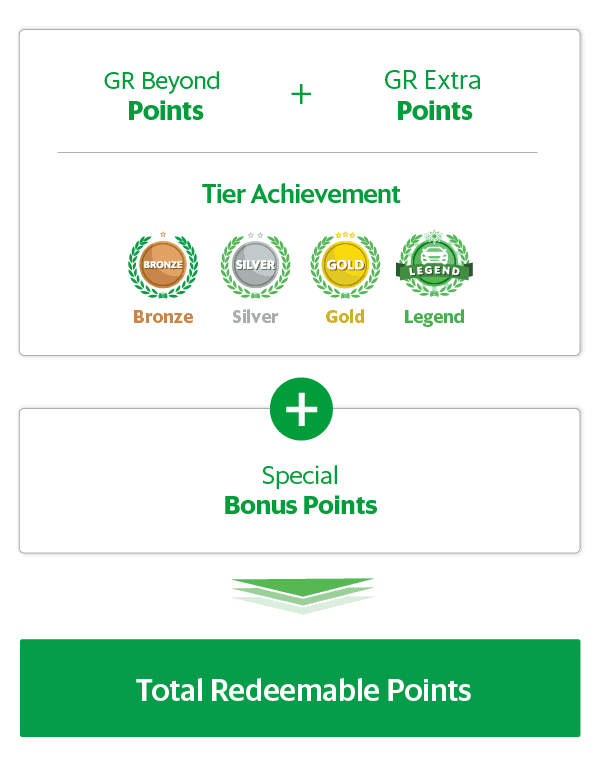 Here's an example you can refer to!
---
How To Exchange Your Points For Rewards
Check out these great rewards you can redeem!
---
Overview/Membership
What is GR Beyond?
GR Beyond is the first & official GrabRentals loyalty programme that offers a range of benefits exclusively for GrabRentals hirer-partners to get the most out of their rental experience!All GrabRentals hirer-partners with valid contracts are eligible for and auto-enrolled into GR Beyond.
---
Are GrabRentals hirer-partners on open contracts eligible for GR Beyond?
GrabRentals hirer-partners on open contracts are eligible for GR Beyond.
However, certain benefits like rental holidays or medical rental recovery days require them to re-contract for 3, 6, or 12 months as these benefits depend on their current GrabRentals contract length.
---
How does GR Beyond differ from Emerald Circle?
Although both follow the same quarterly cycle, Emerald Circle is the loyalty programme for all GrabCar drivers, while GR Beyond is the loyalty programme exclusively for GrabRentals hirer-partners only.
Hence, GrabRentals hirer-partners are able to enjoy benefits from GrabCar's Emerald Circle AND GrabRentals' GR Beyond simultaneously!
Benefits & Rewards
What benefits do I get by renting from GrabRentals?
Since all GrabRentals hirers are auto-enrolled into GR Beyond, you are eligible to receive GR Beyond benefits such as rental recovery days, petrol discounts, exclusive access to events, subsidised car washes & more–from the very first day of your contract! 
Furthermore, you can earn points that can be used to redeem even MORE rewards by fulfilling certain criteria each quarter.
---
What additional rewards could I receive from the GR Beyond programme?
By fulfilling a series of criteria each quarter, you earn GR Beyond points that could be used to redeem additional rewards such as Grab credits, shopping vouchers, car accessories, discounts & more! 
We are constantly adding on our rewards selection, stay tuned!
Points & Tiers
How do I earn GR Beyond points?
You can earn points by fulfilling a variety of criteria.
We want it to be easy for you to earn points; hence, we intentionally chose targets that are easily achievable, and that many of you are already practicing,  such as regularly paying your rental, being safe on roads, and attending car servicing on time. Scroll up this page for the link to the full list!
No AR/CR, DR or trip count requirements here!
---
What is a GR Beyond Tier?
GR Beyond has four tiers (or ranks) – Bronze, Silver, Gold & Legend.
Each tier has a minimum number of points required (see table above), and your tier would be determined based on how many points you accumulated over a given quarter.
---
Will GrabRentals update me regarding my latest GR Beyond points & tier?
Yes! We send out regular GrabRentals newsletters via email to update you on your total points & tier for that particular quarter.
You will automatically be subscribed to the emails as a GrabRentals hirer; hence, kindly make sure you have not unsubscribed from our email list in order to get the latest updates about your progress & GrabRentals news as well!
Alternatively, you could also drop by the Grab Driver Centre at Midview City to track your points & tier.
---
Do my points have an expiration date?

Points are valid for one quarter; hence, they will refresh every 3 months.
---
What happens to unused points in the previous quarter?
Unused points in the previous quarter will be forfeited. We will be sending you reminders to utilise your remaining points either via email or SMS nearing the end of the quarter.
Reward Redemption
 How can I use my points to redeem GR Beyond rewards?
You could redeem rewards through our online reward redemption form: [insert link].Kindly ensure that the total points value of your selected rewards are equal to or less than the total points you currently have.
Upon approval, Grab credits will be topped up your credit wallet within 14 business days, while physical rewards like vouchers or car accessories must be claimed (also within 14 days) at the Grab Driver Centre at Midview City.
Alternatively, you could also do the entire redemption process at Grab Driver Centre at Midview City.
---

When can I redeem GR Beyond rewards?
You could redeem GR Beyond rewards every calendar quarter (i.e. Jan-Mar, Apr-Jun, Jul-Sep, Oct-Dec).
Since points are refreshed every quarter, we strongly suggest that you redeem your rewards before the last month of each cycle, and to max out your points in one go to minimise the risk of forfeited or forgotten points.
It may also be beneficial to redeem your points at the first half of each quarter as the high-demand rewards may run out before quarter end.
Feedback & Other Enquiries
How could I give feedback on GR Beyond or find information not listed here?
You may reach us via our hotline at +65 3138 8644. We are available from 10.30am-6pm every Monday-Friday, excluding Public Holidays.