GrabRentals Cashback Scheme
Be rewarded for your loyalty! Enjoy up to 3.88% cashback on your car rental.
Exclusively for hirer-partners who recontract with GrabRentals!
How it Works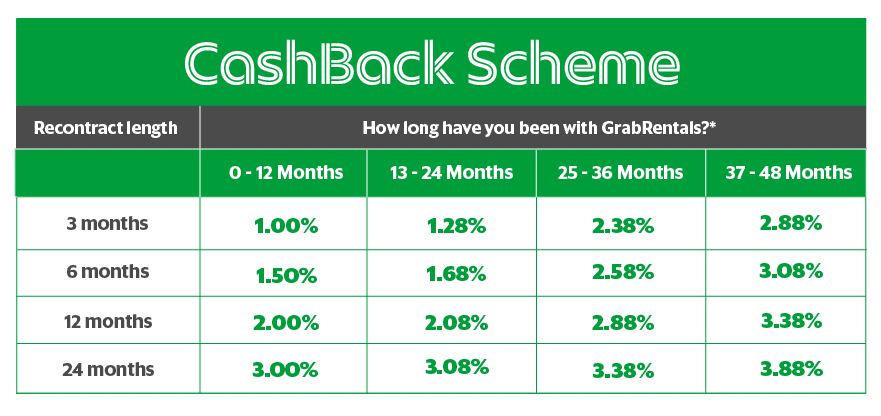 *Tenure (How long have you been with GrabRentals?) is calculated based on your completed and continuous rental period with GrabRentals.
For avoidance of doubt, any vehicle return of 30 days or more will result in a refresh of tenure.
– The cash back estimates above are for illustrative purpose only and may not reflect the actual amount of cash back credited.
– Cashback payout every quarterly.
Example 1
Mr Tan is an existing GrabRentals hirer-partner who decided to recontract on a 12M contract with the same rented car.
He has been a GrabRentals hirer-partner throughout from year 2017 to 2019, a total of 36 months.
Therefore, he would enjoy 2.88% Cashback.
His current rental rate is $79.95/day.
Mr Tan will receive a daily cashback of $2.30 = 2.88% x $79.95
Find out your daily cashback below
Terms & Conditions
Only existing GrabRentals Hirer-Partners who are eligible for recontract and do so are eligible for the cashback scheme under the GRBeyond Loyalty Programme.
Active contract with GrabRentals.
Hold a valid TDVL/PDVL.
Cashback amount may vary depending on whether driver choses to stay with his current car/switch to another model/take up a brand new car.
(added as 20 Dec 2020) Total cashback value may vary if you decide to switch vehicles / rental rates during the cashback period.
(added as 20 Dec 2020) In such cases, your cashback will be revised based on the lower rental rate.
(added as 20 Dec 2020) If you switch to a No-Frills package, any unpaid cashback benefits will be voided
(added as 20 Dec 2020) Total cashback will be split up and paid every last week of the first month of the new quarter.
(added as 20 Dec 2020) After the end date of your cashback period, your final cashback payout will be done in the following quarter.
(added as 20 Dec 2020) Cashback value depends on your completed tenure with GrabRentals as at the end of month preceding the date of your recontract.
Recontract for an additional minimum rental period of 3, 6, 12 or 24 Months.
Rental Rates will be reverted back to the prevailing Open Contract Rate after the minimum contract period is over.
Sign-up for Collision Damage Waiver (CDW)
Cashback earned this quarter will be paid out into your cash wallet in the first month of the next quarter.
Grab reserves the right to claw back any amount paid if the Hirer is found ineligible for the scheme.
Grab reserves the right to withdraw, amend and/or alter any part of the terms and conditions of this scheme at any time without prior notice.
In addition to the T&Cs above, all cashback value presented are calculated based on, but not limited to,

Continuous tenure completed
Committed Contract lock-in
Mutually agreed Rental Rate
and are subjected to fulfilment of the Rental Agreement with Grab Rentals Pte. Ltd.
Any breach in contractual details may result in the clawback or forfeiture of benefit(s) awarded under this programme.
In the event where Rental is reimbursed for reasons such as, but not limited to, vehicle downtime, the respective cash back may be excluded from the payout. All eligible payout accumulated within the quarter will be issued in the last week of the first month of the next quarter.
Should there be any changes in the contractual agreement between the Hirer and Grab Rentals, for reasons such as, but not limited to, temporary return and change of vehicle, the Hirer has the obligation to inform Grab Rental Pte Ltd via out hotline or in writing. In such cases, Grab Rentals Pte Ltd can, at its absolute discretion, to make a decision on the continuity of such benefits. In avoidance of doubt, the outcome will not affect the minimum contract fulfilment period and any GRBeyond Benefits such as, but not limited to, Rental Recovery days are strictly non-transferable.
Any benefit associated with the enrolment of this Cashback Programme may be subjected to individual scheme's terms and condition.

For any queries, please call the GrabRentals hotline at 31388644, or proceed to Grab@Sin Ming for further assistance.