Bringing you more savings on fuel
Enjoy 30% discount instantly on each fuel purchase
In partnership with Caltex, GrabRentals presents to you the highest fuel discount! With the new GrabRentals Caltex CARD,
eligible driver partners can receive an upfront 30% discount at any Caltex station from January 2019.
What's more, you can also get your car washed at a discounted rate of only $6!
---
Save up to $300* in petrol every month!
*Based on average petrol consumption across common vehicle models.

You can enjoy this offer if you are one of the following:
• A GrabRentals Hirer from ANY Emerald Circle Tier
• A Diamond or Sapphire Partner renting from Participating Fleet Partners
• A Diamond Partner renting from a non-affiliated fleet or driving your own car
---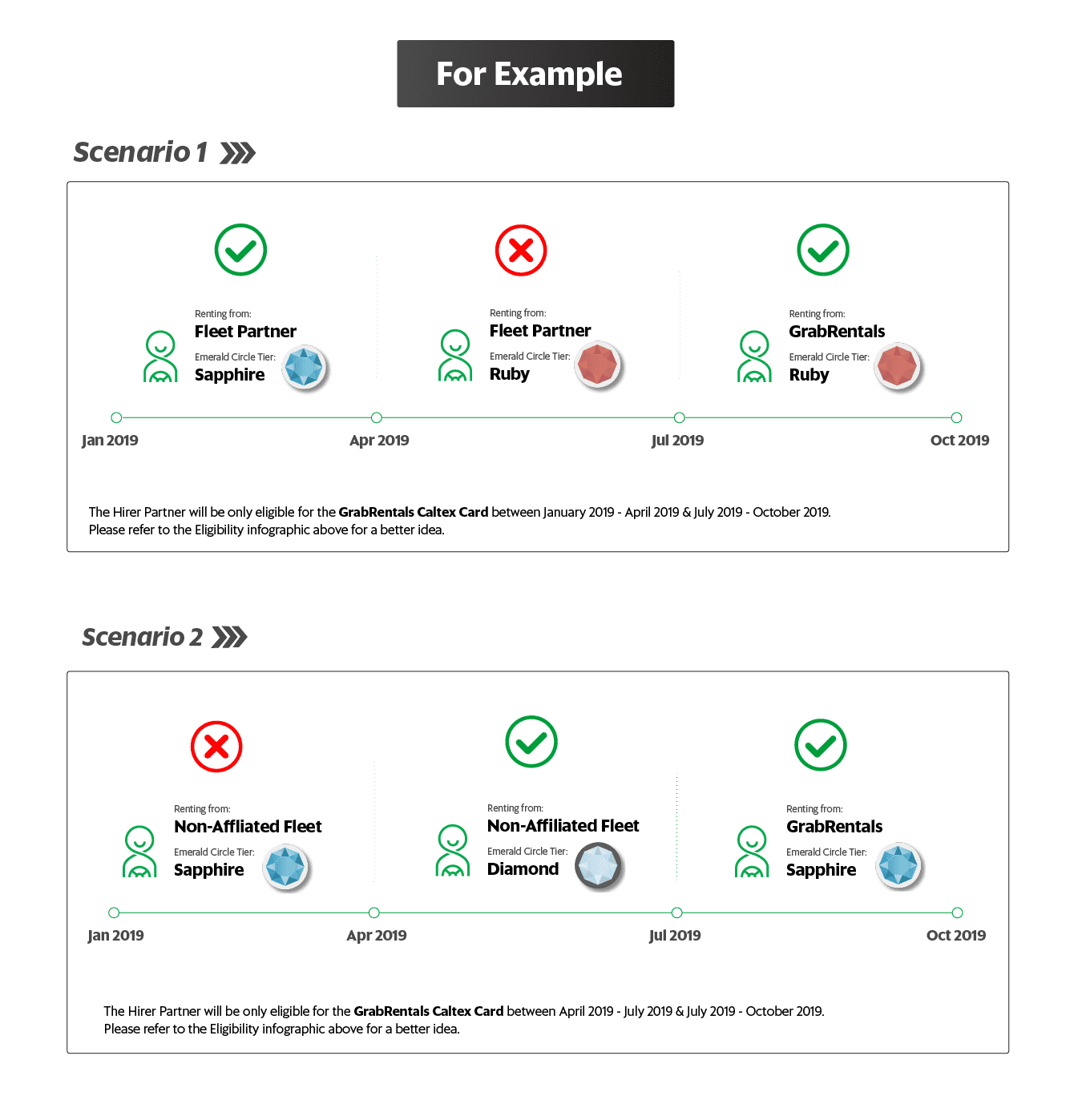 ---
Terms & Conditions
1) Applicable to all grades of petrol & diesel.

2) Discount applicable for up to 1,000 litres of fuel per card per month.

3) Eligibility for the GrabRentals Caltex Card can be affected by changes to your fleet and/or Emerald Circle tier. Fleet eligibility will be reviewed weekly based on your opt in and Emerald Circle tier eligibility will be reviewed quarterly.

4) Eligibility of the temporary card will be based on your Emerald Circle tier of the first quarter of 2019 and your fleet.

5) Applicable to all hybrid/petrol vehicle only.

6) Usage of the GrabRentals Caltex Card does not entitle the user to LinkPoints or be accounted for CPF Medisave contribution benefits under the Cabbie21 Program Benefits.
Who is eligible for the card?
| | | | | |
| --- | --- | --- | --- | --- |
| Fleet | Diamond | Sapphire | Ruby | Emerald |
| GrabRentals | ✔ | ✔ | ✔ | ✔ |
| Fleet Partners | ✔ | ✔ | | |
| Non-Affiliated Fleet | ✔ | | | |
Note: Fuel discounts not applicable to electric vehicle drivers
What other benefits can I enjoy my new GrabRentals Caltex Card?
Discounted car wash from $6 & other Cabbie 21 offers!
What is the validity period of my card?
Validity of the card will be reviewed weekly based on the fleet eligibility and quarterly based on Emerald Circle tier.
What if I become ineligible in the middle of the quarter?
We will be reviewing your eligibility weekly & deactivate your cards if you become ineligible.
You will be required to return the card within 7 days to our office at Sin Ming Lane, Midview City, Blk 28, #01-143.
What happens if i lost the card or fail to return the card?
There will be an administrative fee of $100 charged to your Grab Driver Cash Wallet.